Pranab Mukherjee is starting to look worryingly like a feckless heir squandering his generous inheritance while his fretful guardian in the person of Duvvuri Subbarao tries to board up the door and keep the wolves at bay with a nail here and a nail there.


The "history sheet" is simple and clear. Later this month, Mukherjee will present his third
budget
since the United Progressive Alliance came to power in the 2009 election. UPA-I, by hugely increasing social-sector expenditure in its two final years, 2007-2009, effectively torpedoed the Fiscal Responsibility and Budget Management Act, which mandated that the fiscal deficit be cut to 3 per cent of GDP by 2008-09.
India's financial mandarins argued that fiscal stimulation was called for to battle the global downturn and to deepen "inclusive" growth. The fiscal deficit shot up to 6 per cent in 2008-09, 6.7 per cent in 2009-10, and is projected at 5.5 per cent in 2010-11. As a Royal Bank of Scotland analysis put it, even if you take the windfall from the 3G spectrum auction into account, achieving next year's 4.8 per cent target seems impossible. And to think that back in 2004, flush from its victory, the UPA actually predicted a balanced budget by 2008-09.
Experts will tell you that once the
economy
had come through the recessionary shoals, the aam aadmi stimulus ought to have been pulled back and more funds poured into infrastructure and manufacturing. Instead, populist spending is only likely to increase, said Dr Rajiv Kumar, Director General of the Federation of Indian Chambers of Commerce and Industry, or FICCI. Mukherjee, ever the fixer-upper for the Congress party, will have to keep an eye out for five key state elections this summer, including West Bengal, Tamil Nadu and Kerala. The spending cannot stop. The Uttar Pradesh state election in 2012 will call for some huge sops. Then comes 2013, and the general election - assuming the UPA government is still in power, scandals, legislative gridlock and all.
An international economist who closely watches India said with ample revenues in its coffers, the fiscal situation ought to have improved. "But it has not. Instead, all the revenues (and more) are being spent on new social programmes. Now it is true that social indicators are poor, and more needs to be done to help the poor. But it is hard to avoid the impression that the government sees the poor as vote banks, which it can tap as long as it provides them with funds. And surely at least a portion of the revenues could be saved, to give India some manoeuvring room in case a crisis hits?"
"There has been too much stoking up of consumption demand," said Kumar, "and not enough capacity expansion." The central bank, too, says only by spending more on capital expenditure will the government be able to fight some of the bottlenecks that contribute to supply-side inflation. Inflation is now entrenched, and food price inflation is here to stay, fuelled by rising consumption of proteins as buying power increases in the countryside. The Reserve Bank of India's review of the September-December 2010 economy commented drily that "The rise in food inflation has not only persisted for more than two years now, the increase has been rather sharp in the recent period." And RBI Governor Subbarao, in his January 25 statement after the central bank raised interest rates for the seventh time this fiscal year, said: "Food inflation has remained at an elevated level for about two years and the prospect of it spilling over to the general inflation process is rapidly becoming a reality."
And so the RBI has raised its estimate for inflation to 7 per cent by March-end. "If you chart inflation, there seems to be a clear break in 2006. Before that, inflation wasn't much of a problem; since then, it has been. Initially much of this was because of food price increases. But now prices are rising more widely, and it is hard not to conclude that monetary policy needs to be tightened substantially, so we can put inflation 'back in the box'," Joshua Felman, a former International Monetary Fund, or IMF, representative in India, said. But monetary policy is a blunt instrument to beat inflation over its head with. The RBI rubbed this in: "Monetary policy works most efficiently while dealing with an inflationary situation when the fiscal situation is under control."
Because of poor storage and infrastructure, there are huge productivity losses. "And supply is unable to keep up," said Kumar. "At the same time, cereal yields have been stagnating." A Nomura paper on food prices last September noted that the food weighting in consumer price inflation, or CPI, in advanced economies was typically between 10 and 20 per cent, whereas it was about one-third in China and as high as 46 per cent in India. "A sustained surge in food prices can have more pernicious effects if it unmoors inflationary expectations, impelling workers to demand higher wages to compensate for rising food costs, thus setting off a wage-price inflation spiral," the Nomura report said. This is exactly what is happening in India.
Dr Chakravarthi Rangarajan, Chairman of the Prime Minister's Economic Advisory Council, said food inflation has been a problem for over two years. "In a situation like this, management of the supply side is critical," he told
Business Today
. Rangarajan said prices of cereals like wheat and pulses have dropped, but the prices of meat, fish, eggs, vegetables and fruit have risen sharply.
Rangarajan said the central bank can moderate the demand side through interest-rate management. But with bank lending rates upward of 11 per cent, manufacturers face a nasty squeeze. FICCI's Kumar pointed out that 90 per cent of State Bank of India lending over the past three quarters went towards infrastructure projects, and only 10 per cent went to manufacturing. "The cost of capital is likely to go up further," said Kumar.
Felman, who now works in the IMF's research department in Washington, D.C., said he was worried about whether investment is truly recovering. "Here the signs are very mixed. Credit is growing nicely, and infrastructure projects such as power and roads seem to be moving ahead. But other greenfield projects seem stuck, held back by investor caution, land issues and the complex process of securing environmental clearances. So, investment does not seem to be booming the way it was before the crisis, and this is worrisome."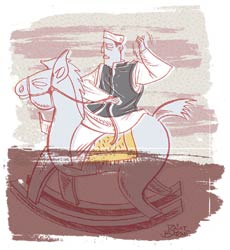 The RBI's quarterly review echoed with warnings. The current-account deficit, or CAD, will hit 3.5 per cent this fiscal year, and is "unsustainable", the central bank said. But with global commodity prices rising, import bills look like staying high. Foreign direct investments, or FDI, could help finance this deficit, but the bad news is that FDI flows into construction, real estate, business and financial services have declined, while foreign institutional investors' equity investments accounted for 79 per cent of net capital inflows of $36.7 billion during April-September 2010. This is clearly not desirable or sustainable, and the central bank said that "environment sensitive policies" - read Jairam Ramesh's activism - have triggered a fall-off in FDI. "Added to this are the persistent procedural delays, land acquisition issues and availability of quality infrastructure," the RBI said.
Will the UPA government quicken reforms to address these problems? The international economist was not sanguine. "Everyone expected that once the Left Front was kicked out of the coalition, reforms would accelerate. Instead, they've slowed down," he said. The IMF's Felman said his final concern was the "governance deficit". "A decade ago the question for reformers was whether the government would give the market sufficient space to operate," he says. "Now, the issue is the reverse: whether the government has sufficient room to do what it needs to do, namely set fair rules of the game in which firms would operate. In a nation where there are more than one billion competing people, each striving for a fair chance in life, this is not just a problem. It is a tragedy."