B-school is a lot of hard work but the campus life is also full of fun. A few snapshots from the personal archives of some corporate honchos.
Days Of Mirth and Mischief

RAVI SUBRAMANIAN, President, Shriram Union Finance


The author of bestselling titles such as God is a Gamer and If God was a Banker says his interactions with diverse people outside the classroom shaped his personality. He recalls how birthdays were celebrated on the campus. "First you smashed the melon and then they smashed you," he says. "The photograph was taken on my 23rd birthday, on C-TOP, the floor known for its notoriety and intellect in the campus hostel. This encapsulates the joy and excitement of the two years that I spent there."
ALMA MATER: IIM Bangalore, 1991-93

Apurva and Sanjay Purohit
Sanjay Purohit, MD, Levi Strauss India, and Apurva, CEO of Music Broadcast Pvt Ltd, at a party thrown after everyone in her hostel block got job offers. Apurva says the two years she spent on the campus were full of fun and hard work. "It was the best of times, it was the worst of times, it was the age of wisdom, it was the age of foolishness, it was the spring of hope, it was the winter of despair," she says, citing Charles Dickens.
ALMA MATER: IIM Bangalore (Sanjay from 1988 batch, Apurva from 1989 batch)

HARSHA and ANITA BHOGLE
Cricket commentator Harsha Bhogle and wife Anita on the day they announced getting married (right) and at an IIM-A reunion recently. They say meeting each other on the campus was the biggest turning point in their lives. Harsha says IIM-A was his test cap. "For all my struggles there, at the end of it, I knew I belonged," he says.
As for Anita, she says IIM-A gave her the humility to stay grounded and the confidence to take on the world.
ALMA MATER: IIM Ahmedabad, 1983-85
MEENA GANESH and GANESH K.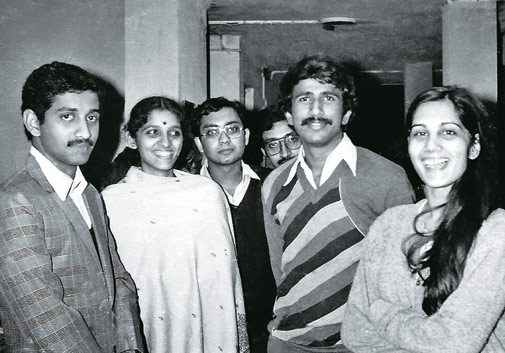 Serial entrepreneurs
The husband-wife duo with friends in a picture taken during Diwali of 1983. Meena says IIM-C gave her the confidence to work in any area in the corporate world. Ganesh K. recalls that June 26, 1983, was a life-changing day for him. The day India won the cricket World Cup was when he first met Meena on the IIM-C campus.
ALMA MATER: IIM Calcutta, 1983-85

AJIT BALAKRISHNAN
Founder & MD, Rediff.com


His ID card as a student at IIM Calcutta. What is the most important skill he learnt there? Critical thinking, he says.
ALMA MATER: IIM Calcutta, 1969-71

SANDEEP GOYAL
Founder Chairman and former JV partner of Dentsu India
Goyal with batchmates including Network 18 Group Founder Raghav Bahl, at the FMS annual convention in 1983. (Below) With FMS friends including Tata Sky MD Harit Nagpal.
"My fondest memories of FMS," says Goyal, "are from lounging around in 'The Cage', chatting, gossiping, eating … even snoozing through the day. And playing table-tennis between classes."
ALMA MATER: FMS, 1982-84

LEENA NAIR
Senior Vice President, Leadership and Organisation Development and Global Head of Diversity, Hindustan Unilever
Nair with batchmates on what they called the JLT (Just Like That) steps on the campus. What was the biggest learning at the B-school? "Dream big, take charge of your own life and go beyond the obvious," she says. ALMA MATER: XLRI Jamshedpur, 1990-92

VINEET NAYAR
Former CEO, HCL Technologies, and Founder, Sampark Foundation
Nayar, with batchmates. Nayar says camaraderie blooms in XLRI's environment. "It is an oasis of self-discovery in the middle of nowhere which changes lives and creates lifelong friendships."
ALMA MATER: XLRI Jamshedpur, 1983-85

PATU KESWANI, CMD, Lemon Tree Hotels


Keswani by the lake on the campus in 1984. He says his fondest memory was sinking the last boat in the lake one night.
ALMA MATER: IIM Calcutta, 1983-85

SAUMIL MAJUMDAR, Co-founder and CEO, Edusports


Majumdar playing soccer. He says his fondest memory on the campus was meeting some amazing and smart people who knew how to have loads of fun and also deliver results.
ALMA MATER: IIM Bangalore, 1993-95
FULL COVERAGE:India's Best B-Schools 2014