There is a new spring in Uday Shankar's step. The entertainment channels of Star India, the Indian unit of Rupert Murdoch's News Corp empire and the company that Shankar leads as chief executive, are back firmly at the No. 1 spot by viewership in the country elbowing out Johnny-come-lately rivals.

Revenues, estimated at nearly Rs 6,400 crore, have expanded at 25 per cent in the last five years - vaulting it to among India's biggest media companies.

But the hunger for growth is a constant in any business and Shankar is willing to risk all his success on the next big bet he's making to grow the Star India franchise: on sports. The punt is an expensive one and, if it goes wrong, could crash his 23-year career that is spectacular by any count. Star is in the middle of spending Rs 5,000 crore on bootstrapping sports viewing in a country of some 650 million cricketcrazed consumers. In doing so, Shankar and team aim to make sports the new religion in the world's youngest population: by taking broadcasting to local-level tourneys; producing sports programming in regional languages; expanding beyond cricket into sports such as hockey and, even, kabaddi; and powering digital delivery of content via the Internet.


"So unless the way sports is organised and distributed and played in this country, unless that changes, the landscape of sports will not change and the business of sports will not change. We are hoping to work with the sports authorities and the boards, to make local sports popular. If we fail to do that, then our punt will be wasted."
What's in it for Star that runs 28 channels in India? Shankar concedes a big structural weakness in Star's India success story is that a disproportionate share of its viewers is female. The female viewership on Star's channels was as high as 70 per cent in 2010. "Sports was the offshoot of thinking about ways of getting the male audience," Shankar, 50, says. "Women like to consume drama, but for the male audience, their primary source of content consumption is movies, news and sports." Star fixed its movies handicap in 2012 with the buyout of Viacom 18's movies library and a renewed push with the launch of its Movies OK channel as well as a raft of regional channels for cinema.
Today, excluding sports, the composition of Star's viewers is roughly 48 per cent female and 33 per cent male; the rest of the audience is children. With sports, say company insiders, it hopes to correct that ratio to 42 per cent female and 38 per cent male. A young male viewership adds appeal to advertisers selling to that audience.
"Sports targets the young male group, a category which the automobile companies and the telcos prefer to target. By investing in sports, Uday has captured the entire TV watching universe as well as all kinds of advertisers," says Shashi Sinha, CEO, IPG Mediabrands, which buys space or airtime on behalf of its advertiser clients.
The hardnosed drive into sports is expected to
add fat revenues at Star India
. The sports business of six channels, currently housed under a company called ESPN Software India and accounting for about 20 per cent of the Star Group revenues in the country, will be brought into the Star India fold soon. Sports revenues are expected to accelerate and grow about 30 per cent annually in the next two to three years.
To be sure, the increased spending on sports will dent profits at Star India. Vivek Couto, Executive Director of Media Partners Asia, a Hong Kong-based media consultancy, says Star India, which has in the past enjoyed operating profit margins of 30 per cent, will find profits under pressure for the next two-three years because of the additional investment in sports.
Shankar keeps away from the numbers (Star India is not listed and it is not obliged to make financial numbers public) and is modest when he talks about breaking even on Star India's sports bet: "It's a long-term investment; it will take a few years."
THE BOY FROM PATNA
Sussing up Shankar is important to understand the strategy he has crafted for Star and, while doing so, first discount his modesty. He's won most of the battles since taking over the reins at Star India in May 2007. He's lost a few, too: he talks about how he was worried about retirement when he travelled to New York for a review with Murdoch and other senior News Corp executives of the disastrous
Kya Aap Panchvi Pass Se Tez Hain
show in 2008. What he inherited was hardly something anyone could envy. "The top 170 people walked out with the two former stars of the system. He was left with a skeletal team and he has, to his credit, proven ground on many fronts," says Paritosh Joshi, former CEO of Star-CJ Network, Star India's home shopping channel. Joshi is referring to the exit of Peter Mukerjea, then Star Group CEO, and Sameer Nair, Star Entertainment's CEO.
As Star India CEO, Shankar came into a market set to change: 2008 was a tough year for Indian television when a rash of entertainment channels such as NDTV Imagine, 9x and Colors were launched. One of them, Colors, stole the thunder pushing Star Plus, the flagship Star channel briefly to No. 2 by viewership.
Rs 4,000 cr Indian sports TV revenue
Rs 1,600 cr Star India's sports revenue
Source: Industry
That was also the first summer when the
Indian Premier League
cricket tournament, better known as IPL, debuted. A big believer in regional markets, Shankar finalised the majority acquisition of Asianet Communi-cations, a leading Kerala television company, in April 2008, and used it as a springboard into the Karnataka market. This was followed by the launch of Star Jalsha, in September 2008, to address the Bengali-speaking market and next in line was the Marathi general entertainment channel, Star Pravah, the same year. Virtually, all the launches and acquisitions hit pay dirt.
Channel [V], too, climbed out of the morass it had slipped into, and staked its claim to the No. 1 spot in 2012. "He has re-arranged the deck very well," says Mukerjea of his successor.
What has emerged is a Star India that is well diversified with revenues spread out among its channels. "Dependence on our flagship channel (Star Plus) has been reduced to 45 per cent from 74 per cent in the heydays of even the K-serials," says Sanjay Gupta, Star India's Chief Operating Officer. By K-serials he is referring to the family drama programming - the popular ones were Kyunki Saas Bhi Kabhi Bahu Thi and Kahani Ghar Ghar Ki - that was the big draw on entertainment channels in the last decade until 2008, when Shankar decided to pull the plug on them because they made Star's programming look dated. Regional advertising makes for about 25 per cent, Hindi movie channels 11 per cent, English entertainment channels 12 per cent, and other channels
around seven per cent.
In the programming refresh, Shankar's experience with content programming - he started his career as a reporter at The Times of India edition in Patna, a city he grew up in - shone through. Atul Phadnis, Founder and CEO of TV guide company What's-On-India, says he admires "the ruthlessness or brutality with which (Shankar) threw out the K-serials... that had become impossible under former heads".
As he went around dusting up the company, Shankar rejigged his team, bringing in top managers with backgrounds in telecom and consumer goods. Gupta worked with Hindustan Unilever for 16 years and then Bharti Airtel. Nitin Kuckreja, the the head of the sports broadcasting business, comes from Morgan Stanley. Anita Maheshwari, who runs the human resources function in a company of 1,400 people, comes from the insurance sector.
Legal head Deepak Jacob is from eBay. Such a team has allowed Shankar to take many cutting-edge decisions such as being the first broadcaster to launch high definition (HD) feeds or offering regional content in the sports genre.
People who have watched Shankar say he is unafraid to experiment. An M.Phil in Economic History from Jawaharlal Nehru University, New Delhi, Shankar had a quick succession of jobs after his stint at The Times of India. "Anything new interests me. Television was just starting and I just decided to quit my job and explore this medium. My wife supported me for seven months, when I had no job and was struggling," he says of his shift into TV in 1995 when he joined Zee. One of his subsequent jobs was with the Aaj Tak and Headlines Today channels, both part of the India Today Group that also publishes Business Today. He stepped into the News Corp. empire as Editor and CEO of Star News, which operated as a 26:74 joint venture between Star and the Kolkata-based ABP Group. Star exited that venture in 2012, selling its stake to ABP - a decision made by Shankar as Star India's helmsman.
"We are clear that if we have no say in the management and ability to determine the destiny of a venture, we will not stay in it," he says.

LET'S PLAY
Star India's strategy on sports shows its - and Shankar's - obsession with being in control of its destiny. Even if it comes with an expensive tag: it is paying the Board of Control for Cricket in India (BCCI, the body that runs cricket in the country) Rs 3,851 crore for broadcast rights until 2018, and it plans to invest Rs 1,000 crore to develop its sports business. This doesn't include the $335 million last year (about Rs 1,675 crore then) that News Corp paid for Disney's 50 per cent stake in the ESPN Star Sports joint venture - a key platform for its splash into sports. Nor the Rs 100-crore Star paid for ground rights in the IPL tournaments.
90% share of cricket in India's Sports Market
Some context behind the strategy first: sports in most developed markets constitutes almost a quarter of the total TV viewing and revenues, while in India it is just two per cent. "We realised that most channels merely put live content on television and then slept over it. There was no meaningful content created to keep the buzz alive," says Star India COO Gupta. A school-level hockey player, he believes there is a sports fan in almost every Indian.
"This is make or break for Uday," says an industry observer. Advertising on sports is worth about Rs 4,000 crore annually, of which cricket commands a 90 per cent share. The BCCI deal ensures Star will get a share of that pie - the rights to the popular IPL are with MSM India which broadcasts Sony and SET MAX channels - even if it forks out Rs 42 crore a match starting this year. The deal, for six years to 2018, covers 96 matches, including all the international matches India plays at home and local tournaments such as Ranji Trophy, Duleep Trophy and Irani Trophy. Barring that it also has rights for the International Cricket Council's Champions League T20 until 2017 (it bagged this in 2008) and the ICC World Cup until 2015 (it won this in 2007).
Still, some professionals are sceptical. Only Indian matches played on home ground or in key markets get the desired viewership and life can be nightmarish for an ad seller if India doesn't do well. Shashi Kalathil, who led the Neo Sports channel in the 2005 to 2006 period, recalls how tough it was to sell ads after India's tour of South Africa in November 2006.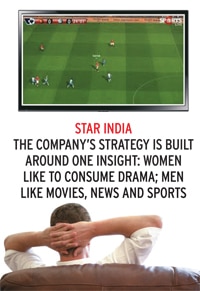 "This series was followed by a double One Day International (ODI) home series, first against the West Indies then Sri Lanka. For the early matches, I could hardly sell any inventory because we lost in South Africa," says Kalathil. "But as India won early against the West Indies, selling inventory for subsequent matches and for the following Sri Lanka series was not a problem." Likewise, Sony lost some Rs 1,500 crore in the ICC World Cup of 2007 when the Indian team didn't even make the quarter finals.
Unlike other broadcast businesses, in sports, a bulk of the inventory is not pre-sold, and that's where the Star ad sales team will face challenges. Digitisation could help a little. "There are three million Indians who watch tennis, 18 million who watch football. If I can get them to pay for the content that I give them, it will make more economic sense. If I wait for the advertiser to invest on the basis of ratings, it will never yield much money," says N.P. Sathyamurthy, President & Head (Media), Mudra Max, a media-buying agency. The one difference for Star India, Kalathil says, is its deep pockets and the ability to weather losses for a longer period.
Not just that. There's also a small yet fundamental shift in the sports consumption habits of Indians, especially in big cities. And this is reflected in Star rival MSM's moves. It doesn't want more cricket for its new sports channel, Sony Six.
MSM has acquired the rights for Euro 2016 and the European qualifiers for both Euro 2016 and the 2018 FIFA World Cup They also have rights for the NBA till 2015. "The Indian youth is moving away from the traditional form of cricket. The ratings for ODI and Test matches are very low, even advertiser interest is dying out. The IPL has shown us that Indians are looking at the fast form of the game," says Manjit Singh, CEO, MSM India. The ESPN acquisition, to be sure, gives Star access to properties such as the English Premier League and the Hockey India League.
PADDING UP
How then does Star India team plan to monetise sports? The strategy, according to Nitin Kuckreja, President (Sports), Star India, is creating content around cricket. "We are going to experiment with innovative content - have interesting debates and analysis of various sports, do series of shows on the players, we may even try out sportsbased fiction," he says.
He gives the instance of the Hockey India League when Star unveiled a high decibel campaign a month before the tournament began across the network. It roped in actor Akshay Kumar as the brand ambassador and did around 1,000 promos around the event. "The time spent on each match increased from seven minutes in the first few matches to 14 minutes in the finals," says Kuckreja. A 5,000-seater stadium at Ranchi was packed for the final match, he adds, and about double that number watched the match on a large screen outside the stadium. Similar packaging is at work in the ongoing ICC Champions Trophy T20 tournament.
Star has launched two chat shows, Champion of Champions and Jai Ho, with commentators Navjot Singh Sidhu, Harsha Bhogle and Saurav Ganguly.
150 mn internet users in India
12 mn unique visitors to starsports.com
Source: Industry, Star India
The plan to go upcountry involves creating a buzz around the Ranji Trophy and Deodhar Trophy as also introduce regional feeds of coverage to bolster the Hindi commentaries and analysis that was introduced last year. Next, "you may get to see cricket in Star Jalsha with Bengali commentary," says Gupta. Adds Kuckreja: "We have realised that language is a big deterrent in getting eyeballs. The commentators speak in English and the analysis is also done in English.
This has kept the masses away from sports channels." India has about 125 million people speaking English and, at some 400 million, more than three times as many who understand Hindi; some 85 million people speak Bengali.
Another quiet push Star India is making is into content delivered on its website, starsports.com. Take a leaf out of the book of some content owners in the west, the website has a paywall. Coverage of the ICC Champions Trophy matches can be accessed for a fee of Rs 110 a month. Star has tied up with broadband companies such as Bharti Airtel and Reliance Communications, and has also launched applications for the iPad, iPhone and Android. Gupta says starsports.com got 10 million unique visitors when the site was at the beta stage, which has grown to 12 million. To put that in per spective, the Rediff portal gets 16
million unique visitors.
Consultancy firm McKinsey projects India will overtake the US by number of Internet users with at least 330 million online by 2015, only behind China. That growth is reflected in the digital ambitions of Star India. According to industry insiders, its sports digital revenues spread over six years will be around Rs 650 crore.
Shankar's plan on digital media is well founded. The same can't be said unequivocally of Star India's bet on sports, which is playing out at time when 21st Century Fox, a company with entertainment businesses hived off from parent News Corp, begins a life on its own; it begins trading on July 1. The number of "ifs" before Shankar's and Star's strategy are several - if Star India executes brilliantly, if it deepens the cricket market to regional and local levels, if viewership for non-Indian cricket matches jumps, if appetite for sports other than cricket grows, if its digital presence explodes... but this is all balanced by another if. If anyone can do it, Shankar is as good a bet as it gets.