Many foreign business people scheduled to visit Mumbai in the coming days might have cancelled or put off their trips, but the expatriates who have made this country, and more so Mumbai, their home are not packing their bags yet just because of the terror attacks. Yes, the expats have been shocked by Mumbai's four-day ordeal.
But none of them feels that Mumbai or other parts of India have become unsafe. So what if the scale of the attack was unprecedented? Such things can happen in any country in today's world, they point out. There have been terrorist attacks in Madrid, London and New York, and they say Mumbai is the safest at any time of the day.
In the bustling Colaba Causeway shopping area, foreign tourists say they have not been deterred from travelling to or around India, noting that the attacks, while shocking, were not unique.
Most expatriates working and living here are registered with their consulates, which kept them posted during the crisis.
BT spoke to a few highly-placed corporate expatriates in Mumbai to know what they feel about this city and the attacks.
Quentin Staes-Polet, CEO, Kreeda Games
In Mumbai, I have more Indian friends than I ever had before
Quentin Staes-Polet, a Belgian who sees himself as an economic migrant, says he is very happy living in Mumbai. After five years of continuous business visits to India while he was with IBM Digital, Staes-Polet decided to drop anchor in Mumbai two years ago and has no plans to go back.
Has he changed his mind? "Of course not! I have my company and my staff here," he says. He admits that the attack was traumatising, and says the government should fix things.
He co-founded Kreeda Games, an online gaming company, in India. "I am more comfortable here than anywhere else now," he says. Staes-Polet says he was in Hong Kong for eight years but could make only three friends. "Today, in Mumbai and across India, I have more Indian friends than I ever had before. They are like the friends I had in my childhood," he says.
Trevor Bull, CEO, Tata AIG
I am not allowing the attacks to change my life
Trevor Bull and his wife have been in India for the last three years while their three children study in the UK and come down during vacations.

Is he worried that the terrorists had sought out British and US passport holders? "No, I am not," Bull says, "if you look at the number of people killed… you will see that the majority are Indians… It is apparent that the British and the US citizens were singled out to get global media attention but after that, it was just indiscriminate killing."
Will his kids be visiting India soon? "Yes, they will... they are international kids who have seen terror attacks in South Korea and the earthquake in Japan," he says. He says he is more alert nowadays: "If I am in a crowd, I keep my eyes and ears open. Other than that, I am not allowing the attacks to change my life."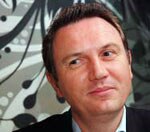 Peter Kronschnabl, MD, BMW India
I am more worried about slowing economy
Kronschnabl's company was practical: "We had a travel advisory not to travel to Mumbai till December 2 until we were confident enough to travel back." He says three associates were in one of the hotels when the attack took place. "We advised them to take the first flight and get out as fast as they could," he says.
Has doing business in India changed after these attacks? "I don't think so… yes, there is a heightened sense of security right now, but I believe that BMW Group has a solid security policy in place for its executives. Also, right now, what worries me more is the slowing economy and thus softening demand," he says.
BMW did not have any visits to India scheduled by its global leadership right now. An expatriate, who is due to join BMW here in 2009, has been in India over the past few weeks, and he has not changed his plans for the next year.
Has he been scarred personally? "Yes, I would be lying if I said that I wasn't worried, but not unduly so."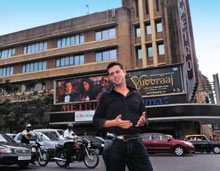 Oliver Kaye, Business Head, Calvin Klein Jeans
People are extremely hospitable and it's they who make this city
British national Oliver Kaye, who has been living and working in Mumbai for a little over a year, says: "There is a lot of nervousness but I am not leaving the city or this country for this reason. I have my career and friends here and I really love this city. Mumbai is better than any other city in the world."
Kaye said it has been an amazing experience for him in Mumbai— people are extremely hospitable and it's they who make this city. "I travel by train daily in the second-class compartment… and I thoroughly enjoy it. The people involve me in their discussions, some of them offer me Indian knick-knacks to eat. In London, people don't even talk to you or say a polite hello to you in the Underground," says Kaye, who admits he is nervous after the attack.
"The only thing I feel anxious about at this point is the way these attacks have been handled by the local and state authorities," he says.


Maarten Kerbert, COO, IDBI Fortis Life Insurance
This can happen anywhere in the world

Maarten Kerbert, a Dutch national, has been working and staying in Mumbai for the last two years with his family. He says he and his family love this "magnificent and energetic city". "What I like most about this city is its people. They are friendly and hospitable," he says.
Do they plan to go back now? "No, we do not. We do not have any plans to go back. I see no reason to do that. Terrorism and security concerns, today, are a global issue and are not country- or city-specific. This can happen anywhere in the world," he says.