A recent study by National Council of Applied Economic Research (NCAER) and Roopa Purushothaman of Future Capital Research declares Surat as the city with the highest average household income (pegged at Rs 4.57 lakh) in the country. This might surprise many. But keen students of history are unlikely to be among them. For it's in this city that the East India Company set up its business in India (in 1608) before expanding across the rest of the country. Warriors from neighbouring states periodically sacked the city in that era.
Today, Surat's pole position among India's most prosperous cities can be attributed to its booming industries, its demographic make-up, the entrepreneurial skills of its populace, its pot-pourri of cultures and support of the local government. The two key industries in Surat—diamond cutting and polishing and textiles—form the backbone of the city's economy.
Close to Rs 45,000 crore worth of diamonds are cut, shaped, polished and exported from Surat. The diamond industry employs about 5 lakh people in Surat. The Rs 45,000-crore textile industry, on the other hand, employs about 8 lakh people and accounts for 20 per cent of India's total textile output. In all, more than 1 lakh looms, and 475 dyeing and printing mills churn out 25 million metres of fabric a day. The city has over 60,000 wholesale fabric trading shops.
"Surat is geographically very well placed. It has been a port historically. The city is almost equidistant from Ahmedabad and Mumbai, the twin centres of commerce in Western India," says Pravin Nanavati, a leading diamond merchant. The NCAER study also found out that nearly 33 lakh Surtis—74 per cent of the city's population—were below 35 years of age. That has led to an explosion of the consumer culture, which, in turn, has resulted in a mushrooming of malls and other shopping centres. "More than 28-odd shopping complexes are coming up. There is a construction boom going on," says Gopal Goswami, a city-based entrepreneur who works on infrastructure projects.
Fact file
Location: Southern Gujarat; 230 km from Ahmedabad, 256 km from Mumbai
Industries: Diamond polishing, textiles
Local government: Oldest municipality established in 1852
Population: Close to 45 lakh (including floating population)
Annual household income (AHI): Rs 4.57 lakh
Percentage of population below the age of 35: 73.8
Percentage of population living in slums or slum-like dwellings: 20
Sex ratio: 764:1,000
Literacy rate: 83%
Decadal growth rate: 62.3%
"About 16 lakh sq. feet of mall space is coming up by mid-next year in the Piplod Dumas area alone. The area will have 24 multiplex screens around the same time next year," says Kamlesh Patel, a Partner with Vrundavan Developers, which is constructing a mall called Imperial, which will have a built-up area of 4.85 lakh sq. ft. Over 72 national and international players will have space in the mall.
Surat's success story is incomplete without a word about its entrepreneurial culture. "I am blessed to be in this city," says Ajoy Bhattacharya, Honorary Secretary of the Southern Gujarat Chamber of Commerce. A Bengali by birth, Bhattacharya was raised in Madhya Pradesh but later moved to Surat.
"There is no city that can stand up to the attitude, the simplicity, the resilience and the happy-go-lucky attitude of the people of Surat. Bombs are found in the city and in a couple of hours people are eating paani puris at the galas," says Bhattacharya, who also believes that the city's welcoming attitude towards immigrants is also responsible for its prosperity.
Bhattacharya, a Ph.D in Economics, came to the city to teach at the local university but ended up setting up his own business there. In fact, Nanavati, Goswami and Bhattacharya were neither born nor raised in Surat.
Proactive help from the state and local governments has helped Surat's cause in no small measure. Its municipal corporation, the oldest in the country, is among the most professionally-run.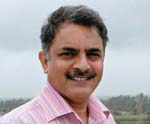 Surat is among the few cities that is planning ahead, as far as 2031. "Surat's population has experienced a decadal growth of over 62 per cent over the last three decades. We expect the population to touch 85 lakh by 2031. We have a City Development Plan in place to manage the growth of the city with an investment of Rs 7,483 crore. Now, we are working on a city plan to upgrade infrastructure keeping in mind the city's population in 2031," says Surat's Municipal Commissioner S. Aparna.Above all, the city and its industries aspire to achieve international standards rather than be happy with being the best in India. As Bhattacharya says: "Mumbai is no competition for us. Industries from Mumbai are moving to Surat. We, as industrialists, benchmark ourselves against the best in the world and we beat them. Recently, 200 Surtis attended an exhibition of textiles machinery in China to acquaint themselves with the latest technologies. That's an indicator of how we think."
Surat story–2031
Surat's municipality is among the best-run in the country. Here are the plans of Municipal Commissioner S. Aparna for the city.
Major push in areas of urban transport, including improving road network.


Launched bus transport in August for the first time. Over 200 buses will ply on 45 routes. At present, 45,000 passengers already use the service with 102 buses.


A BRTS (bus rapid transit system) has been approved. Expected to be on the road by 2010, covering 2 lakh passengers. Phase I will cover 30 km at an investment of Rs 459 crore.


Surat plans to upgrade transport infrastructure by 2031, with a proposed investment of Rs 10,000 crore.


The corporation had developed a City Vision Plan in 2005. That was upgraded to a City Development Plan in 2006, with an investment outlay of Rs 7,483 crore for the next decade or so. That plan is being reworked and upgraded with a vision of developing the city infrastructure up to 2031, assuming that the city will grow to a population of 85 lakh (from 38 lakh-plus currently).


The plan factors a whole lot of physical and social infrastructure investments like flyovers, roads, sewage treatment plants, roads, drainage systems, gardens and schools.