When you have spent decades in the truck-making business, you have a sense of what is coming around the corner. For that reason alone perhaps it is instructive to listen to Ashok Leyland Managing Director R. Seshasayee's troubles in running a new factory in Pantnagar, Uttarakhand.


Set up around 11 months ago, the commercial vehicle maker had spent close to Rs 1,300 crore on the latest technology and a world-class industrial architecture at a plant sprawled over nearly 200 acres and of 75,000 vehicles capacity a year. Pride-swollen chests gave way to severe headaches by December, though. The roads connecting the plant were choked. "We had ramped up our production but soon faced serious challenges. We could not get our supplies in nor could we move out the fully built chassis," says Seshasayee, which resulted in "severe delays" at the factory. Other major investors in Pantnagar, a new hub of manufacturing in north India, face this same problem today, adds the Ashok Leyland MD, who in 2006-07 was president of Confederation of Indian Industry, or CII, the country's most powerful business lobby.
Badly stretched infrastructure is coming in the way of the barrelling Indian economy. India's busiest port, run by the Jawaharlal Nehru Port Trust, or JNPT, near Mumbai, presents another sorry state. On an average, it takes less than a day to unload a ship - a sea change in turnaround time from a decade ago - but takes three days for a container to move out of the port. Add another four to five days for transportation to, say, a Gurgaon factory, by rail lines. In other words, a container from Singapore can reach the JNPT port in as little as four days but takes more than a week from there to reach Gurgaon.
Such problems compound all over India as a government that performed with aplomb after the global financial crisis appears to have buried its head in the sand now. Even Reliance Industries, India's biggest private company by revenues, finds approvals from the government delayed - something that is rare for the behemoth. "You will appreciate that such delays impact production... schedules for exploration, appraisal and development programmes," Executive Director P.M.S. Prasad recently wrote to Oil Secretary S. Sundareshan on clearances relating to the company's D6 gas field in the
KG Basin
. "Normally, the work programme and budget for a year is approved at the beginning of the financial year but it has not been approved yet even though only two months are left in the financial year."
All these troubles are yet to add up to a trend reflecting in the headline numbers, but the Indian economy looks like it is headed into rough waters, if not already there. Moderation is already visible in the growth of industrial output, which hit an 18-month low of 2.7 per cent in November, the latest period for which data is available. The pressures of runaway food inflation are fast spilling over into the manufacturing sector. Input costs are rising. The sole weapon in use in the fight against inflation - quite inappropriate in the current situation of supply bottlenecks - remains the interest rate hikes by the Reserve Bank of India, or RBI, which in turn are resulting in a rise in the costs of borrowing.
To be sure, there are few signs of domestic demand slowing in reaction to these rate hikes - resulting in housing and consumer finance rates rising by half to a full percentage point in the recent months - but many worry that a slump in purchases is just around the corner. "The real worry is from some of the economic indicators this year, such as inflation and the monetary tightening by RBI," explains Y.V. Verma, Chief Operating Officer at LG Electronics and President of Consumer Electronics & Appliances Manufacturers Association.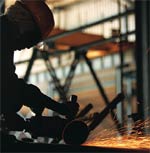 There are also new risks looming large from global developments that the government has no control over: rising commodity prices, especially of food and crude oil, for instance. Global oil prices are ruling above $90 per barrel and will only march northwards as the recovery in advanced economies strengthens. The government's fuel and food subsidy bill is mounting. The Food Price Index of the Food and Agriculture Organization of the United Nations hit a record high in December.
Countries like China, Vietnam and Brazil all face double-digit food inflation. India is not a major food importer yet, but high global prices can af fect price sentiment here. "International food prices have surged sharply this year and the floods in Australia are likely to exert an upward pressure on grain prices," says M. Govinda Rao, Director, National Institute of Public Finance and Policy, a New Delhi-based think tank. "Increasing commodity prices are a major threat to growth."
In short, the overall outlook for the economy is less optimistic than it was just three months ago. The central bank, known to choose its words carefully, flagged the heightened risks in its latest policy statement on January 25. It expects the rate of growth to slow down. It will announce by how much on May 2, 2011. (See interview 'The Growth Rate May Come Down'). "The combined risks from inflation, the current account deficit and fiscal situation contribute to an increase in uncertainty about economic stability that consumers and investors will have to deal with," the RBI warned. "To the extent that this deters consumption and investment decisions, growth may be impacted… Slower growth … can also have a significant impact on capital inflows, asset prices and fiscal consolidation," it said.
It worries A. Subba Rao, Group Chief Financial Officer, GMR Group, that there is no effort from the government to trigger growth. "Inflow of capital is going to be scarce. Capex will go down and the negative sentiments will affect consumption too. Corporates will find it difficult to raise capital this year. Such a situation will last for the whole of 2011-12," he fears. That could make for a weak footing to start the Twelfth Five Year Plan, 2013-17, on - a Plan that will count on half of the Rs 40-trillion total investments in the period to come from the private sector.
Subba Rao's prediction of weak capital expenditure in the next fiscal year stems from the seven interest rate hikes by the RBI over the past 12 months. The latest increase of 25 basis points in the rate at which the central bank finances banks had the CII crying foul. "RBI is setting the stage for a series of rate hikes that will have a negative impact on the investment momentum," Director General Chandrajit Banerjee reacted in an unusually sharply worded statement, referring to the slowdown in investments.
If GMR, CII and others in corporate India are so down on India, how come the government is unruffled? New Delhi, panned recently by leading businessmen and lawyers for what they called "a governance deficit", is optimistic that the growth story is intact. Part of this is because the government is faced with - or chooses to deal with - data that comes with a lag of six weeks to three months. If it looked around for some forward-looking cues, it might not be so comfortable.
The latest quarterly industrial outlook survey conducted by the RBI in October-December indicates a marginal moderation in overall business expectations for the January-March quarter. HSBC Purchasing Managers' Index, too, shows some moderation in the pace of manufacturing sector expansion in December. And, the Indian equity markets have shed 10.5 per cent in value in January.
Ahead of a year with five state elections (see
It's The Elections, Stupid
), when Finance Minister Pranab Mukherjee presents the 2011-12 Union Budget in Parliament on February 28, there will be few signs that a robust economy is turning. He is likely to be within the 5.5 per cent fiscal deficit target he had set for the government.

Ajit Gulabchand
Chairman and Managing Director, HCC


We are losing Rs 2 crore a day due to the abrupt closure slapped by the Ministry of Enviroment & Forests on our Lavasa project. India should have environment standards in place rather than arbitrary action against projects.




Impact:

A McKinsey study estimates that land acquisition and environment clearances-related time/cost over-runs for projects average ~25%.
But, as the Economic Advisory Council to the Prime Minister and the RBI have warned, the deficit target will be met purely thanks to non-permanent sources of revenue and without any expenditure reform. For 2010-11, Mukherjee will also be helped by a sharper-than-expected rebound in agriculture from a bad year - statisticians call it the 'base effect' - and consumption demand that will likely buoy the rate of economic growth for 2010-11 to the projected 8.5 per cent or close to it.
But the real worry is that the industrial and services sectors have performed below expectations and may not look up unless there are strong positive signals. "The threat (of a slowdown) is real. The existing momentum could lose steam quickly," says Ajit Ranade, Chief Economist, Aditya Birla Group. "Steep hikes in interest rates now could spook growth more than inflation as the time to be proactive is past." Foreign direct investment is down 27 per cent to $19 billion in 2010 while rivals such as China have increased their inflows above $100 billion.
But Singh is showing no signs of emerging from the stupor the 2G spectrum scandal and the Andimuthu Raja episode cast him into last year. Analysts point out to a telltale sign in the mid-January Cabinet reshuffle: Singh did not drop the poor performers.

A V Dharmakrishnan
ED (Finance), Madras Cements


Coal prices have more than doubled in two years to $140 per tonne and power tariff has risen by 10 per cent, besides interest rate hikes.




Impact:

In addition to increased costs, cement makers in South India face demand contraction and a glut in manufacturing capacity

In a world run by realpolitik, Cabinet colleagues and key allies like Agriculture Minister Sharad Pawar are clearly untouchable despite repeatedly not reading inflationary signals right or taking steps beyond Band-Aid fixes like export curbs. Deeper supply chain and distribution bottlenecks have just not been addressed.
Cracks in the Cabinet under a leader perceived as not decisive and strong came out in the open when Commerce and Industry Minister Anand Sharma, worried about the impact of the rate hikes on industrial growth, wrote to Mukherjee a couple of weeks ago. "The high inflation in primary articles, particularly vegetables is more on account of supplyside constraints and monetary policy may not be the most suitable intervention to deal with the situation," he argued. Mukherjee did not reply.
Little is coming by way of signals from the government on its strategy on the economy. Mukherjee held two press conferences in the last two weeks of January but said precious little. Two big questions loom before businessmen and the Indian workforce: how bad could matters get for the economy and growth in gross domestic product? And, how long could the rough patch last? Three of the five economists BT spoke with ) predict GDP growth will be less than 8.2 per cent in 2011-12. Even the RBI, which has retained its 8.5 per cent estimate for 2010-11 with an upward bias, is cautious on the outlook for the next financial year saying "growth may decline somewhat" due to a high base effect this time for agriculture.

R. Seshasayee
Managing Director, Ashok Leyland


In December, we had ramped up our production in Pantnagar and soon faced serious hurdles. Roads were not taking the load. We could not get our supplies in nor could we move out the fully built chassis.




Impact:

Until Sept 2010, 118 roads and highway projects - 37% of total projects - were running behind schedule. As a result, fewer than 4 km of roads were built a day compared to the 21-km target

In the non-food economy, increasing the pace of infrastructure rollout is a difficult target given that project completion comes with significant time lags - three years after a road project, for instance, is awarded to a developer. By that yardstick, the low measure of road projects awarded in 2008-09 - 643 km - will come to haunt the UPA this fiscal year and the next. The road projects awarded in 2009-10 and to date in 2010-11 are a healthy 3,360 km and 3,860 km, respectively, but they are caught in poor project execution, and time and cost overruns, partly due to problems over land acquisition and environmental approvals.
Ask Ajit Gulabchand, Chairman and Managing Director of Hindustan Construction Company, or HCC, who has acquired a poster-boy status over his fights with the government over green clearance for his under-construction hill station at Lavasa. The Rs 3,000-crore project is one among the 64 Environment Minister Jairam Ramesh has halted. Prior approvals to another 469, some dating back to 2006, are at various stages of review - amounting to about one project halted a day since Ramesh got his job. Even the HCC chairman does not grudge environment standards but wants consistency in policy. "We are losing Rs 2 crore a day. India should have environment standards in place rather than arbitrary action against projects," he insists.
In spite of the latest hiccups, few dispute a sound future of the Indian economy in the long term. If anything, what worries professionals like Akhil Gupta, Chairman and Managing Director of buyout fund Blackstone in India, is whether the high inflation will change from one of cyclical nature to "a structurally high inflation". Or, whether India will chug along but will have to live with high inflation, a la Latin American economies. The fix for this, he recommends in an echo of the RBI, is fiscal discipline.
Whether India will get to tackle its troubles and stoke investment back to the levels seen a few years back is anybody's guess. One instance from the Congress Plenary meeting at Burari, a town northwest of New Delhi, a week before Christmas does not inspire confidence. Party President Sonia Gandhi's call to her senior leaders and party workers to clean up corruption, especially around land acquisition, was greeted with silence.
"So, no clapping for this one," asked a surprised Gandhi. That surprise, showing the disconnect between the Congress leadership and its rank and file, is not good news for business.
Additional reporting by Rishi Joshi, Manu Kaushik, N. Madhavan, K. R. Balasubramanyam, Anand Adhikari, Shamni Pande, Suman Layak and T.V. Mahalingam