AIRLINE
Deccan
If India's first low cost carrier Air Deccan shook up the organised players of the Indian skies, the chief reason was not its scale of operations, but the way it did things. "Our innovations in distribution brought down the cost of tickets compared to our competition by 20 per cent,'' says Deccan Co-founder Capt. G. R. Gopinath.
He made buying an air ticket almost as simple as buying a shampoo or a toothbrush. Now part of Vijay Mallya's Kingfisher Airlines, Deccan continues to innovate to survive in a fiercely competitive industry.
- K.R. Balasubramanyam
Jet Airways
For two years, as the airline worked on its award-winning first-class cabin on its long-haul routes, there was one man paying close attention to the details: Jet Airways' Chairman Naresh Goyal. "I am rarely satisfied, but I think with this new first-class suite, we will have many satisfied customers," a beaming Goyal told reporters at the launch.
It is Jet's intense focus on customers, then, that makes it innovative. Be it the three (SMS, web, and airport kiosks) self-service check-in options or IVR-based payment and ticketing services, Jet doesn't take its leadership position for granted.
- Anusha Subramanian
Innovation in auto sector
AUTO
Mahindra & Mahindra
Be it a soft-top, 10-seater rural transport vehicle (Commander), an urban utility vehicle (Armada), or a stylish and contemporary sports utility vehicle (Scorpio), Mahindra & Mahindra (M&M) has been innovating its way up in the auto industry. It has now introduced the concept of customised vehicles. The Scorpio Passion, Scorpio CEO and Bolero Commando will be made and sold exclusively as per customer request.
For example, the Scorpio CEO offers office-like interiors, including a laptop with GPRS and LCD screen. "Innovation is part of our DNA," says Arun Jaura, Sr. VP (Product Development), M&M. "We believe that innovation is new ways to create value across the organisation and for the customer." M&M, which employs an "Idea Shoebox" for employees to send in their suggestions, is also working on making its vehicles more fuel efficient. It recently introduced a hybrid Scorpio, hydrogen fuel-powered three-wheeler Bijlee, Asia's first 100 per cent bio-diesel UVs-Scorpio and Bolero-and a tractor powered by 5 per cent bio-fuel (India's first).
- The Monitor Group (TMG)
Tata Motors
Because a promise is a promise". With those words Tata Motors Chairman Ratan Tata gave India its newest 'people's car' and rewrote global automotive history. At Rs 1 lakh, the Nano is the world's cheapest car and a unique example of innovation. It's barely 10-foot long and 5-foot wide, sports a two-cylinder 623cc engine that churns out 33 BHP and can do 65 miles per hour. How did Tata Motors make a car at the price of a motorbike? "If you want to be successful in a market like India… it is critical to deliver value at a lower price unit," says Ravi Kant, the company's MD. How Tata Motors' crack engineering team built the Nano despite all the challenges is well documented by now. What not too many people know is the crucial role the company's leadership played in making the impossible happen. "By constantly challenging existing paradigms and beliefs, the leadership creates a culture where people are encouraged to question entrenched beliefs from time to time," explains Kant. If you want to know what drives innovation, it is this.
- TMG
Maruti-Suzuki India
As the market leader, Maruti must continuously innovate to stay ahead of the other car makers.
Result: it has gone after nontraditional customers (school teachers and lower-level government employees), tried to improve productivity by a whopping 50 per cent on the assembly lines, and now it's even training the drivers of its delivery trucks to improve productivity. "Innovation is what has kept our results so good," says Shinzo Nakanishi, MD, Maruti-Suzuki India.
- Kushan Mitra
BANKING
Citibank India
Sure, subprime is a problem for CITI, but in India, the banking giant has been at the forefront of innovation among foreign banks.
Be it its low-balance Suvidha savings account (subsequently launched in at least six other countries), biometric ATMs with voice navigation for rural users, or kiosk-based EasyPay for corporate customers. "Smart use of technology has contributed significantly to our business and industry," says Sanjay Nayar, CEO, Citi India.
Like in the case of other innovative companies, it is Citi's desire to serve customers in every which way that drives its out-of-the-box thinking.
- Anand Adhikari
HDFC Bank
It is India's best bank (for the fifth consecutive year, according to a BT-KPMG ranking of banks) for a simple reason: it hasn't let its rapid growth affect the quality of its assets or its profitability. What helps? Use of technology.
HDFC Bank uses sophisticated analytics to understand the customer's needs and risk profile and to speed up delivery. "We can give you a loan in three hours flat," quips Aditya Puri, the bank's Managing Director.
It has roped in Cisco to wire up its operations and make banking seamless for its customers as they move from the branch to the internet to the mobile phone. "We have a major project in terms of financial inclusion, where we will take our product right into the interiors through the use of mobile phones," he says. It is also using a "hub-and-spoke" model (where HDFC Bank is the hub and rural cooperative banks the spoke) to reach out to villages.
- Anand Adhikari
ICICI Bank
How does one go from being a lumbering development financial institution to a private sector market leader in a matter of six years? By making innovation one's way of life. "In an environment where innovation is driving change at a tremendous speed, as an organisation, the need is to innovate products and processes to bring sustainable growth," ICICI Bank's Managing Director & CEO, K.V. Kamath, told audience recently at the fifth CFO Summit organised by CII in Mumbai. Two-and-a-half years ago, ICICI set up an "ideas laboratory" that has generated 44,700 ideas of which 14,700 have been implemented. "What differentiates us from the other banks is the participation of people at the ground level," says Madhabi Puri-Buch, the bank's Executive Director. Its latest innovation is mobile banking. Using their handsets, customers can execute transactions such as paying utility bills and insurance premium. "We have built the technological capability to handle large volumes of small ticket-sized transactions," says Kamath. That's something even ICICI's global rivals can't boast of.
- Anand Adhikari
CONSUMER DURABLES
Philips Electronics
It invented the X-Ray tube, audio tape, VCR, Audio CD, DVD and even the HDTV, over its 100-year journey.
After teetering a bit globally and in India, Philips has repositioned itself in the consumer lifestyle, healthcare and lighting space, and (under its new India CEO Murali Sivaraman) is innovating with a vengeance.
Sample: A smokeless woodstove for villagers, Rip All (it converts cassette music into MP3 files), and Aurea TV that uses LED technology and has lights at the side, which enhance the viewing experience.
- Shamni Pande
Samsung Electronics India
One size doesn't fit all, and no one knows that better than the South Korean giant Samsung Electronics. Almost five years ago, it tied up with IIT Delhi to set up a "usability lab" where all its products- no matter how hi-tech-are studied for customisation for India.
Using IIT's students of industrial design, Samsung studies consumer response to how its products look, feel and work. For that it relies on some hi-tech equipment such as eye-tracking systems, force sensors, and CAD stations for 3D modelling.
All that work has led to some unique product features like the "saree wash course" and "memory re-start" (to deal with frequent power cuts) in its washing machines, "Easy View" for TVs that includes on-screen channel menu and channel scheduler among others, and Direct Cool refrigerators with built-in stabilisers and frost-free refrigerators that are highly energy efficient.
Evidently, Samsung drives innovation by "creating a sense of urgency and a willingness to change". It also has an internal 'innovation team' and most members of the company's India leadership team are each assigned specific innovation-related responsibilities. Samsung's goal: win Indian consumers with its superlative products.
- TMG
LG Electroncs India
About 10 years ago, LG India had revenues of RS 125 crore. Last year, that figure stood at Rs 9,500 crore, making LG the #1 consumer durables player in the country. A lot of LG's success is due to its superior marketing and distribution strategies compared to its peers, but that doesn't mean it has lost the innovation battle to rival Samsung. Last year, for example, it launched a home air-conditioner with "Neo Plasma Plus Technology", which employs a bacteria-killing air filter.
- Shamni Pande
FMCG
Dabur India
Not too long ago, when the head honchos at Dabur sat down to draw up their fouryear plan until 2010, they ended up resting their future strategy on three pillars: Expansion, acquisition and innovation.
While it is listed here as the final pillar, innovation at Dabur is core to everything it does.
That explains why it has been able to make the transformation from a manufacturer of ayurvedic medicines to an FMCG company that operates in eight consumer categories, including health supplements, oral care, home care and foods. "We reward employees who implement a new idea more than an employee who does a great job on an existing product," says Sunil Duggal, CEO, Dabur India. Clearly, the policy is working.
- TMG
ITC
If what was once a thriving but persecuted tobacco company is today a conglomerate with a booming FMCG business, it's because of ITC's ability to constantly reinvent itself.
That means, innovation at ITC isn't something that goes into only its products and services but into the organisational DNA. ITC's divisional CEOs, for instance, run their businesses almost independently, yet there's a high level of synergy across those businesses. Indeed, that's what made ITC's successful foray into foods, among others, possible.
- Ritwik Mukherjee
Marico
You are an FMCG company, and a manufacturer of laser hair removal equipment approaches you for distribution.
You: a) laugh at the proposal and turn it down, b) strike a deal to distribute the machine, or c) spot an opportunity to create an entirely new line of business.
If you don't work for Marico, you've probably ticked a or b and missed the opportunity to create a highly successful skin clinic business-Kaya-that in two years has grown to 48 clinics and attracted over 2 lakh customers. "To us innovation means 'uncommon sense', which, in turn, is a mindset that seeks to create and unlock new value by challenging prevailing rules of the market," says Ameya Naniwadekar, Marico's Head of Strategy. An innovative approach to innovation? You bet.
- TMG
HEALTHCARE
Apollo Hospitals
Where is one of the world's biggest telemedicine hubs based? It is in Hyderabad, courtesy Apollo Health City, an integrated healthcare facility that offers "totality of wellness". Apollo's Centre for Innovation works on identifying new applications that benefit both the sick and the healthy. Example: its Virtual Patient Visit service, which allows relatives of patients admitted at Apollo, Chennai, to watch videos of the patients and email them greeting cards over the Net. Under another innovative project, Holistic Health, Apollo is trying to harmonise different forms of medicine to come up with better treatments. "It is very easy to copy a model that exists abroad but we know it would not work in India," says Dr Hariprasad, CEO, Apollo Hospitals, Hyderabad.
- TMG
Aravind Eye Care
It's the toyota of eye care. Despite treating seven out of 10 patients for free or at minimal charges (it screens 2 million patients and performs 2.7 lakh surgeries a year), Aravind Eye Care System operates on a 40 per cent profit margin. How? Thanks to big and small innovations. It has reduced the time of surgery for each surgeon by using paramedical staff for the preparatory and post-operative work on each patient, and allowing the surgeons to perform only a 10-20 minutelong surgery. Operation theatres are equipped with two tables so that the doctor can perform two surgeries without a loss in momentum. It also manufactures inhouse intra-ocular lenses, driving their cost down from $100 to $2-3 apiece. Says Dr. Namperumalsamy, Director, Aravind: "Innovation need not be some big discovery-any small change like time management that helps to serve patients better is innovation." Aravind's patients will more than agree.
- TMG
SRL Ranbaxy
God forbid, should the bird flu ever strike Delhi, the capital's best chance of detecting and responding to it may start from the testing labs of SRL Ranbaxy. Thanks to its state-of-the-art equipment and processes, it can provide accurate results in one day compared to some other labs that take two to 10 days.
Several other firsts and innovations, including an ERP system that integrates all test data into one system, make it the only lab of its kind in India. Says the lab's CEO, Dr Sanjeev K. Chaudhry: "Innovation is at the core of our strategy. We are being innovative by re-positioning ourselves as a wellness company." SRL is now planning to create a Future Innovation and Strategic Team (FIST) to help drive innovation-related initiatives, and also rolling out innovation-related metrics for the top 20-50 per cent of the employees to assess the progress on such initiatives.
- TMG
Narayana Hrudayalaya
If Aravind eye is the toyota of eye care, then Narayana Hrudayalaya is the Wal-Mart of cardiac care.
The Dr Devi Shetty-founded hospital performs 23-25 heart surgeries a day-one of the largest in Asia-simply because it has restricted the surgeon's job only to surgery and not the entire patient process.
Such "Wal-Martisation of healthcare", as the hospital executives describe the strategy, has enabled Dr Shetty to offer heart surgeries at a cost as low as Rs 65,000 compared to Rs 1.50 lakh at other hospitals-and that despite offering 70 per cent of the treatments below cost or for free.
- TMG
IT
TCS
It's a company that virtually invented the IT services industry in India and continues to be its flag-bearer. Consider this: back in 1981, when N.R. Narayana Murthy was still putting together his plans to set up Infosys and Wipro Technologies was barely a year-old, TCS was already setting up its R&D arm, Tata Research Development and Design Centre (TRDDC).
Today, it has 19 innovation labs across the world and even has a Corporate Technology Office that drives innovation initiatives. TCS' Chief Technology Officer, K. Ananth Krishnan, says that it is his job to ensure that 30 per cent of the company's time is spent on 'platform' innovation and another 20 per cent on 'disruptive' innovation. Innovation guru Clayton Christensen is on the TCS board!
- TMG
Infosys Technologies
Innovation and improvement are constantly at work at India's best-known IT services company Infosys, right from designs for its new buildings at its 80-acre HQ in Bangalore to new solutions meant to enhance employee efficiency . "There are multiple tasks for our innovation teams and in a fast-changing market, innovation is critical to stay ahead of the market," says S. 'Kris' Gopalakrishnan, MD and CEO. A key component of Infosys' innovation machine is the Software Engineering and Technology Laboratories (SETLabs), a 500-person unit that works on a variety of initiatives ranging from open source and grid computing applications to projects in personalised information (areas like enterprise content management and business intelligence) to research on areas such as pervasive access, including mobile computing and convergent technologies. "While we have made over 100 patent filings in the last 18 months, this lab isn't about esoteric research," says Subramanyam G.V, Head of SETLabs. "We have many projects that have been commercialised." Adds Gopalakrishnan: "We lean on our innovation teams to feel our way in an evolving market." After all, innovation is what makes a company competitive.
- Rahul Sachitanand
Wipro Technologies
Successful innovative ideas at Wipro are usually spun off into centres of excellence. Wipro also has a mash-up portal, iGrid (innovation grid), to create a collaborative environment for innovation.
That apart, Wipro says it is the first IT services company to apply 'lean' principles to software development. "Innovation is integral to our business; we got 7.5 per cent of our revenues from technology and industry innovations and our target this year is 10 per cent," says Ayyagari Lakshman Rao, Wipro's COO.
- Rahul Sachitanand
ITES
IBM Daksh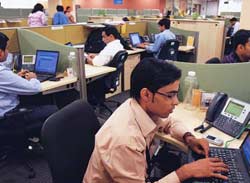 Never mind that it has a parent who spends $6 billion annually on R&D and files the largest number of patents every year, IBM Daksh believes in innovating ground up. "To us, innovation is the core ingredient of creating and adding value to business and to our clients," says Pavan Vaish, CEO, IBM Daksh.
For the past few years, the BPO has been using a webbased tool that allows its employees to share their ideas. For more critical innovations, the BPO taps IBM Research Labs to come up with applications such as a call-back management tool that enables automatic assignment of call-back requisition and prioritisation of pending contacts.
- Pallavi Srivastava
Wipro BPO
From fixing a struggling business model to finding ways to enhance employee efficiency and using technology (Second Life) to give prospective employees an inside look at their future workplace, Wipro BPO has used innovation in different places to stay relevant.
Two years after it bought its way into the BPO business, Wipro realised that it had a time bomb on its hand, with over 200 per cent attrition and sliding margins. It decided to move away from its legacy business mode, and into higher value businesses; it also built a series of platform solutions to boost productivity. "These platform solutions help us improve agents' efficiency and act as templates when we need to enter new markets or pitch for large contracts," says T.K. Kurien, CEO, Wipro BPO.
- Rahul Sachitanand
TCS BPO
In an industry where the buzzwords are processes and repeatability, TCS BPO believes that there is a lot of scope for innovation. For starters, TCS has set up its BPO business by industry verticals. "To further drive industry knowledge, a customer-facing and process-oriented organisation is established.
Secondly, each area is analysed on the basis of process complexity, using a common scale. This complexity is assessed on the basis of training lead time, process difficulty and impact analysis and skills required to perform the job," explains V.K. Raman, Head (BPO Services), TCS. To further employee engagement, TCS BPO has set up groups called Communities of Practice (CoP) that allow them to share ideas. "TCS BPO functions in a collaborative manner with crossfunctional teams," Raman says. After all, one never knows who may have the best idea.
- T.V. Mahalingam

PHARMACEUTICALS
Dr Reddy's Laboratories
Our business is innovation, be it NCES (NEW DRUGS) or generics (copy-cat drugs)," declares G.V. Prasad, Vice Chairman and MD. "To create value in the generics business, you also need to be innovative, else you cannot do it," he adds. In the high-risk but fiercelycompetitive world of pharmaceuticals, innovation makes all the difference between success and failure. No wonder, the company's top leadership drives innovation. Chairman Anji Reddy, for instance, focusses only on R&D. One of the key components of Dr Reddy's innovation strategy is partnerships. "Through partnerships we can bring together resources and capabilities, leveraging which we can create more value for ourselves and for our partner," says Prasad. Last year, the company partnered with ClinTec (UK) to develop a cancer drug, and with the University of Auckland for clinical trials of the polypill. Baby, but crucial, steps in Dr Reddy's long journey ahead.
- TMG
Sun Pharmaceutical
It's not the biggest, but it is the industry's most valuable. That in short explains how the Dilip Shanghvi-promoted Sun Pharmaceutical has been able to stand out and create superior value in a crowded industry.
Sun recently de-merged its research arm as Sun Pharma Advanced Research Company (SPARC), which will focus on creating new drugs and novel drug delivery systems. "Our philosophy is to 'Embrace and Enhance-how can we continue to improve', and this is where innovation fits into our organisation," says Shanghvi, who plans to reward innovators differentially.
- TMG
Ranbaxy Laboratories
Decades before the process patent regime ended in India, Ranbaxy's visionary builder Parvinder Singh was already thinking basic research.
Today, his company is the biggest R&D spender not just in pharma but across sectors. CEO and son Malvinder Mohan Singh spends a third of his time on innovation-related activities. "It is a long-term objective of Ranbaxy to build a proprietary prescriptions business based on prowess in NDDS (novel drug delivery systems) and new drug research," says Singh.
Recently, Ranbaxy spun off its new drug discovery unit into a subsidiary. "Ranbaxy Life Science Research will allow us to carry out path-breaking research at a faster pace," says Singh. Along with Cipla, Ranbaxy has played a key role in dramatically lowering the cost of AIDS drugs, especially for patients in India and Africa. It's an innovation that's saving lives.
- Pallavi Srivastava

TELECOM
Airtel
Just as Tata Motors' small car Nano set a new benchmark in cost for the global car industry, Bharti Airtel's "least-cost business model", where just about every activity from network operation to IT is outsourced, has got the global cellular phone operators sitting up and taking note.
"In Indian telecom, which has the highest competitive intensity, lowest tariffs and infrastructural problems, innovation is more of a necessity and a survival issue," says Manoj Kohli, President & CEO, Bharti Airtel. Over the years, Airtel has brought to the market a number of innovative products and services such as HelloTunes (caller ring-back tones); Easy Charge, and BlackBerry services. What makes Airtel more innovative than its peers? "We want to take chances. We want our leaders to make mistakes and hence we have a big portion of our innovation portfolio in breakthrough projects," explains Kohli.
As Airtel looks to rural markets, it will need to be even more innovative. For starters, it is focussing on a "four-pillar strategy" covering Network, Distribution, Service and Brand-building. It is already present in 3.2 lakh villages (out of 6 lakh) and 4,900 towns (out of 5,100). "I go to villages where there's no road, no bridge, no water, but there is Airtel," boasts Kohli. Now, that's something.
- TMG