R.K. Pachauri
Nobel Peace Prize
Rajendra Pachauri, Head Of The United Nations Climate Panel (IPCC), and his team have won a much-deserved recognition for long and arduous work, making every Indian proud. The award— the 7th Nobel claimed by any Indian to date—is jointly shared by former US Vice President Al Gore. IPCC is the top authority on global warming, comprising more than 2,000 leading climate change scientists and experts.

Pachauri (67), born in Nainital, started his working life as a mechanical engineer who built diesel railway engines, before moving on to study energy and economics. He believes that he is well-placed to combat environmental damage posed by rapid industrialisation. He is very concerned about India and other developing economies which will be hit hardest by climate change. An avid cricket buff, Pachauri is also the Director General of The Energy and Resources Institute (TERI).


Vijay Mallya
Whyte & Mackay Acquisition

It's been a year of takeovers for the liquor baron and airlines supremo. The much-publicised marriage between Mars and Venus—Mallya-controlled Kingfisher Airlines and Capt Gopinath's Air Deccan—pits the former in direct competition with another Indian giant, Chairman of Jet Airways, Naresh Goyal. In May, Mallya (52) bought a 26 per cent stake in the low-cost carrier Air Deccan for Rs 550 crore.

Later, he increased his stake to 46 per cent and rejigged the tariff structure to turn around the bleeding airline. In another major acquisition of the year, Mallya took over yet another liquor giant—Glasgow-based 163-year-old Whyte & Mackay— from its Chairman Vivian Immerman and other investors for $1.18 billion. The acquisition made Mallya the second-largest spirits manufacturer in the world.
Arun Sarin
Vodafone acquires Hutch
It was perhaps the most talked about deal in the country. Vodafone, the world's largest telecom company, taking over Hutchison Telecom International's 67 per cent stake in Hutch Essar jointventure for $11.1 billion makes it the king-sized deal of the year. For Arun Sarin, Chief Executive, Vodafone, it was a dream come true.

Getting a foothold in India—the world's fastest growing mobile telecom market—was something Vodafone needed to do to consolidate its position in Asia. Recently, Sarin (53) said Vodafone Essar plans to increase its market share from the current 17 per cent to around 25 per cent over the next five years. Such growth plans depend on the launch of services in other regions of the country for which additional spectrum is yet to be allocated. It is to be seen whether Vodafone's billion-dollar gamble pays off as the average revenue per user (of mobile phones) in India is lowest in the region.
Mukesh Ambani
Richie Rich

In late October, the more pre-emptive of our media had suggested Mukesh Ambani, Chairman and Managing Director, RIL, riding an unprecedented bull run, had become the richest man in the world. The claim was rebuffed the very next day, but the writing on the wall was clear.

The market cap of Reliance flagship RIL, where Mukesh (50) has a 48 per cent stake, has surged 83 per cent to over a staggering Rs 4,00,000 crore in the past year. Already, the Ambanis (including younger brother Anil) are the richest family anywhere. With the Ambani brothers' net worth pegged at Rs 3,76,000 crore, they have displaced Wal-Mart scions, the Walton family. Mukesh continues to make waves on the retail front, too. Fittingly, in Fortune's billionaire list for 2007, Mukesh Ambani came at #14, from #56 a year ago.
Subhash Chandra
Big League

Subhash Chandra's run-ins with the BCCI for cricket rights is old news. In 2007, however, the jousting took on a whole new dimension when Chandra (56) announced plans to launch his own Indian Cricket League.The concept—six cities, international marquee names, and a 20:20 format—must have seemed like a sure recipe for success. But, the board struck back with its own Indian Premier League and weaned away some of the star power.

The timing for the inaugural tournament (from November 30-December 16) also proved inopportune, coming in the midst of an India-Pakistan series. But ICL proved a great way for upcoming players to rub shoulders with the likes of Brian Lara, Inzamam-ul-Haq and Lance Klusener, and earn top money in the bargain.
For fans, it was an opportunity to cheer their throats out, away from the fanaticism of normal cricket, in what was clearly just entertainment.
K.P. Singh
India's realty juggernaut
Kushal Pal Singh, Chairman, DLF Group, knows how to raise comfort levels. After all, he managed to convince thousands of farmers to part with their land, to make way for one of Asia's biggest townships. So when DLF's IPO was stalled for almost a year due to a dispute with minority shareholders, there was confidence that he'd see it through. And what a debut it was. His company notched up the single-largest, single-day gain in market capitalisation in the history of Indian stock markets.

In the process, India's #1 real estate tycoon became the country's third rupee trillionaire. On one particular day, K.P., as close friend Jack Welch calls him, made a cool Rs 18,000 crore on the bourses. Singh, 76, might have been 'embarrassed' by the media spotlight that followed, but we're sure he isn't complaining.

It's been a long road for the urban planning pioneer. HDFC Chairman Deepak Parekh recalls Gurgaon 25 years ago and muses on what the presumptuous K.P. saw in such desolation.

Today, DLF has over 224 million sq. ft of completed development, and saleable area of over 738 million sq. ft. While Gurgaon, the Delhi satellite, has almost become synonymous with DLF, the Group has quietly been acting on its credo of 'Building India'.
Indra Nooyi
Most powerful woman

"There are no limits to what you can do," Indra Krishnamurthy Nooyi, Chairman and CEO, PepsiCo, one of the world's largest food and beverage company, once told an audience.

But cautioned them not to let others define the concept of success for them, adding, "not even me."

"Performance with purpose": that seems to be the concept promoted by Nooyi, 52.
Among her trophies: Ranked Most Powerful Woman in Business in 2006 and 2007 by Fortune; ranking of #5 in Forbes' The 100 Most Powerful Women in 2007.
Anil Ambani
On the go

The younger Ambani truly came into his own in 2007. Be it his successful bid for the proposed 4,000-MW Sasan plant from the jaws of Lanco, the bitter spectrum war, or his company Reliance Communications being heralded as the world's top CDMA player (and now getting a GSM licence for 14 new circles), or his social networking site BigAdda, the R-ADAG Chairman grabbed headlines.

While the buzz around Reliance Power's IPO is palpable, with projects worth Rs 70,000 crore apparently in the kitty, there's also plenty happening at RCL, the financial services arm. RCL has quietly moved into third place in this space, after ICICI Bank and HDFC.

Reliance Entertainment, meanwhile, is looking to leverage the 88,000 km of fibre-optic cables the group has laid across the country, aiming for a convergence of entertainment and telecom. That's the kind of quickfire scale Anil, 48, goes in for. For the record, the Wharton alumnus also became a rupee trillionaire.
Ratan Tata
Everywhere man
He took the world by storm with the biggest acquisition ever by an Indian company— Tata Steel's $12-billion takeover of Anglo-Dutch steelmaker Corus. Soon after he was again making headlines. At the Geneva Motor Show, Ratan Tata (69) had everybody's attention—there were finally some details about the specifications of the Rs 1-lakh car from Tata Motors.

The car was in BusinessWeek's list of "Most Important Trends for 2007". It also named Tata among the world's "Most Important People" for 2007. In October, Tata accepted the Carnegie Medal of Philanthropy.
Buddhadeb Bhattacharjee
W. Bengal's messiah
Until a few years ago, West Bengal was synonymous with dwindling industrial growth, entrepreneurial apathy and lack of blue-collar jobs. However, things have been changing since Buddhadeb Bhattacharjee (63) took over as the Chief Minister.

Besides getting software firms to open shop, he convinced Tata Motors to rollout its Rs 1-lakh car from the state and wooed the Salim Group, an Indonesian business house, to set up a petrochemical plant in Nandigram.
Perhaps, he relied too much on his party loyalists.

His dream of bringing industrialisation in Bengal seems to have been brought to a halt—with Nandigram erupting in violence and bloodshed.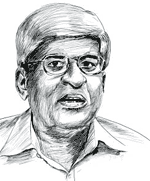 Prakash Karat
In your face

This was perhaps the most memorable year in Indian politics, thanks to CPI (M) General Secretary Prakash Karat (56).

He swayed the government in the direction he wished—from stalling the Indo-US nuke deal, to keeping the NDA government on tenterhooks, and then, overruling the Congress' choice of the Presidential candidate four times before agreeing to Pratibha Patil for the position— undoubtedly, he had the things his way.
The last has not been heard from this Marxist veteran.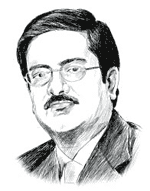 Kumar Birla
Novelis acquisition

It is another Deal—Besides Tata's takeover of Corus— that India Inc. is unlikely to forget in a hurry. Kumar Mangalam Birla-controlled Hindalco's acquisition of Canada-based Novelis, an aluminium major, for $6 billion in February was watched with bated breath. Not everyday does an Indian company manage to buy a foreign company twice the size of its gross revenue.

The acquisition gave a fillip to Birla's plan of making Hindalco a truly global company. Apart from scale, the big gain for Birla (40) is the access to technology. The acquisition has paved the way for Hindalco to create a special aluminium alloy that could replace steel in cars.

This technology can make an Audi much lighter than a Maruti 800, and thus more fuel efficient. Though there's still sometime to go before Birla makes headway, he surely has a goldmine in the Novelis buyout.