Akamai is a Nasdaq 100 old hand in web services, whose origins can be traced back to the emergence of the World Wide Web itself. After breaking through with one of the four top performing initial public offerings in history, in 1999, Akamai went on to survive the tech wreck at the turn of the century.
A year later, it survived a much bigger tragedy. Danny Lewin, one of the Co-Founders of Akamai, perished aboard an American Airlines flight that terrorists crashed into the World Trade Center in New York on September 11.
A little over seven years later, Paul Sagan, one of the three Co-Founders of Akamai, was scheduled to visit Mumbai to announce the company's expansion plans for India. The President & CEO of Akamai, who is also the second cousin of renowned astronomer Carl Sagan, was to address the press on December 10 in the country's commercial capital. That visit has now been cancelled.
Akamai would be apprehensive of losing another co-founder in a terrorist strike. Call it a fear psychosis or a plain reluctance to be in an apparent "war zone", there's little doubt that the country's growth engine is hurting. A fortnight after 10 welltrained terrorists stormed into two five-star hotels, which are second homes to the movers and shakers of India Inc.—and also sprayed bullets in a railway station on hundreds of nameless faces, many of whom were humble but vital cogs in the machines of the capital markets, the banking system and the corporate world—Mumbai is still feeling the pain. And when Mumbai aches, the soreness spreads across the entire economy.
The real cost of terror
Rs 1,000 crore or 10,000 crore or 1,00,000 crore? No figure can capture the true cost of terror attacks. Here's why.
Life
In 2008 alone, more than 300 people were killed in terror-related violence in India.
Property damage
Over Rs 4,000 crore in Mumbai alone; estimates for the country, between Rs 25,000 and 50,000 crore.
Productivity
Days and hours of work lost due to full or partial absence from work.
Opportunities
Business opportunities lost as a fallout of such attacks.
Sentiments
Already hit by economic slowdown and financial crisis, terror knocks another blow.
Cancellations
Events, flights, travel, appointments, postponements and outright cancellations.
Longer waiting
Extra time at airports, malls, hotels, cinema halls, etc.
Loss of freedom
Lengthier and more frequent checks, explanations for your conduct.
Inconvenience
From all the above.
The costs listed could have some overlap
The anger last fortnight was over the top, perhaps triggered by a couple of other primal emotions: fear and frustration. Fear knows no borders. Sagan is just one of the global head honchos who has either postponed or cancelled an India visit. The few who are coming are opting for what are perceived to be safer domestic destinations, like Delhi.
Just a few days after the last bullet was fired in Mumbai at The Taj Mahal Palace and Tower, the Federation of Indian Chambers of Commerce and Industry (FICCI) and the Defence Research and Development Organisation (DRDO) were scheduled to conduct an open house meeting on—irony of ironies— 'Managing Defence R&D'. The conference, which coincided with DRDO's Golden Jubilee, was converted into a closed-door session. Reason? Security measures in the aftermath of the Mumbai terrorist incidents, as a FICCI spokesperson put it.
Not too far from the national capital, in the idyllic environs of Chandigarh, Rohit Garg, Director, SafalTek Software, is keeping his fingers crossed. "There's a European business delegation expected in January 2009 and while there's no indication from them on whether they might reconsider their decision, I have a strong feeling they could cancel their visit," muses the ex-Mariner. The company, which has a few foreigners on its rolls, is mulling limiting company events to its official premises.
The total cost of last fortnight's terror can never be quantified. The biggest expense of the 26/11 attacks in South Mumbai is the 172 lives lost, and there's no way of recovering that. Still, the country's centre of commerce—and India itself— has to pick itself up, and tackle reduced business activity, the higher cost of doing business, and weakened sentiment. These attacks came at a time when the economy was beginning to stall after years of rahrah growth; this coupled with the global scarcity of liquidity was hitting business where it hurts most.
"These attacks will have a huge impact on long-term economic growth. Anybody who thinks otherwise is living in a fool's paradise," says Anand Jain, Chairman, Jai Corp., who is also a member of the Government of Maharashtracreated 'Empowered Committee for Transformation of Mumbai into a World-class City'. Adds Rajeev Chandrasekhar, President, FICCI: "The issue of terror in itself will not have any impact on the economy except for the immediate short term… the bigger challenge remains that of the economy itself." If ever there was a stimulus needed, it was now. And the government and the Reserve Bank duly obliged. Will this be enough to kick-start a reversal in confidence and in activity? Perhaps. "I feel the entire issue of security and governance will, in fact, be revisited and hopefully we will see improvements," says Adi Godrej, Chairman, Godrej Group. Adds Ness Wadia, Joint MD, Bombay Dyeing: "This is a long-awaited wake-up call."
What we already know
Immediate cost estimates
RS 4,000 crore* loss to the financial capital


RS 500 crore* estimated cost of restoring just The Taj


RS 640 crore* estimated cost of restoring The Taj and The Trident-Oberoi


15-18,000 rooms expected to remain empty in Mumbai and Delhi's luxury hotels


25% cancellations in inbound travel in the first week of December


35-40% expected dip in inbound tourism

*Approximate figures
The immediate damage, however, has already been done. The 60 hours of terror, spread over four days, has resulted in a loss of roughly Rs 4,000 crore to Mumbai, estimates industry body ASSOCHAM, after talking to companies and industries in the city. There are other stand-alone losses, too. Gurunath Dalvi, President, Indian Institute of Architecture, estimates that it will take "not less than Rs 500 crore" to restore the grandeur of the pure gothic architectural marvel of The Taj Mahal Palace and Tower (the heritage wing).
Of course, the travel & tourism and hospitality sectors will take an immediate, direct knock in what's left of the busy season. The numbers are nothing to be sneezed at. According to data from Ministry of Tourism, the tourism industry contributed $11.66 billion (Rs 46,640 crore) in foreign exchange earnings in 2007-2008. The terror strikes are proving to be the proverbial final nail in the tourism coffin. A senior executive at Thomas Cook, on condition of anonymity, puts the picture in perspective in the post-26/11 scenario: "Even before the attacks in Mumbai, we were expecting a 30 per cent drop in business. But with this incident, we have already witnessed an additional 12 per cent drop in arrivals and the total decline post the terror attacks could be 40 per cent," he discloses. "We were already in a downturn, with companies levying travel restrictions— these attacks are a body blow to tourism," admits Nakul Anand, Divisional Chief Executive (Hotels), ITC. Anand, in fact, puts the occupancy drop rate in Mumbai's hotels at almost 50 per cent, and at 25-30 per cent across hotels in India's major cities in the aftermath of the attacks.
His own chain, ITC Hotels, is seeing a 20 per cent drop in occupancies across its properties already. According to industry estimates, the dip in India's inbound tourism stands at 35-40 per cent. Across the industry, almost 60-65 per cent of hotel rooms are used by business travellers. This translates into 30,000 rooms in Mumbai and Delhi, where the occupancy level is expected to go down by 50-60 per cent. Says Anil Madhok, MD, Sarovar Hotels and Resorts, which is witnessing a spate of cancellations for conferences. "We are already re-evaluating our growth plans." Lalith Sheth, Chairman, Raj Travels, says: "The travel trade was, anyway, going through a bad phase from the beginning of 2008. And now the last blow has come due to these attacks in Mumbai. We have seen a 45 per cent cancellation in our Grayline bookings for inbound travel after the Mumbai attacks."
Adds Ashwin Damera, Founder & CEO, Travelguru, an online portal: "We are seeing several cancellations not just for Mumbai hotels, but for other cities as well. About 25 per cent of our bookings for the first week of December have been either cancelled or rescheduled. Several large queries from customers from abroad, especially the US and UK, have also been cancelled."
They ain't coming
Some executives and companies that have cancelled visits to India.
GlaxoSmithKline and Sanofi-Aventis SA,and AstraZeneca Plc suspend travel to India.


Dell Inc. and Hewlett-Packard Co. limit their staff movement in India. Dell cancelled all travel by employees into India for 48 hours. Hewlett-Packard closed its Mumbai office and prohibited staff from travelling to the city.


Indian Oil Corporation (IOC) indefinitely postpones its annual aviation conference scheduled to be held in February 2009. Says G.C. Daga, Director (Marketing), IOC: "We received so many regrets and cancellations after the terror attacks that we decided to postpone the conference."


Francois Henrot, the second most senior banker in Rothschild after Baron De Rothschild, who had scheduled a visit to Mumbai in the first week of December, cancels his visit.


Paul Sagan, President & CEO, Akamai, a NASDAQ 100 company, cancels his visit to India, which was slated for December 10.


Vishesh Chandiok, a Partner at global consulting firm Grant Thornton, says he was supposed to fly to Mumbai and stay at The Taj on Thursday night. His company indefinitely postpones plans to hold a global conference, which was scheduled to be held in Mumbai in the second week of December.


Andrew Moss, Global CEO, Aviva Group, was to come to Mumbai. He will now head to Delhi, instead.


Craig Mundie, Chief Research and Strategy Officer, Microsoft Corp., was to visit India in December, but has now postponed his plans.
Other than tourist-related ventures, also bearing the brunt of the strike are service businesses that thrive in open spaces—namely malls, multiplexes, hypermarkets and restaurants. On the first weekend after the blasts, footfalls took a beating. Says Kishore Biyani, MD, Pantaloon Retail India, which owns the popular hypermarket format called Big Bazaar: "The retail industry was affected during the first two days of attacks on Thursday and Friday." Quoting a Morgan Stanley report released after the terrorist strike, which revealed that Pantaloon's total sales in Mumbai declined 4.2 per cent on the weekend after the attacks compared with the previous weekend; during the same period retail sales in the rest of India grew by 15.1 per cent.
Biyani adds that security will be beefed up at his formats, and he's obviously in no mood to share such top-secret information with the media. Even restaurants are realising the need to be prepared—so don't be surprised to see gun-toting guards trawling the bistro as you launch into your soup. "While our vineyards and wineries are only open to invited guests—which precludes any walk-ins from indulging in mischief— we will be having armed personnel at our restaurants," asserts Ranjit Chougule, MD, Champagne Indage, which operates and manages, among others, Tantra, Sin and Athena in Mumbai.
Multiplexes, too, have been hit. Says Atul Goel, MD, E-City Ventures, which runs Fun Cinemas: "We have seen a 15-20 per cent drop in business in the last one week." The retail outlets in Fun Cinemas have also seen a drop in business by 25 per cent.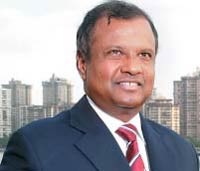 Aviation is another sector that's hit by the reluctance to travel. "There will be a short-term dip on account of what has happened in Mumbai… but we think the global economic crisis will have a far greater impact on international tourism and business," says Sanjay Aggarwal, CEO, SpiceJet.
Along with the direct impact on such sectors, industry as a whole will feel the ripples of last fortnight's attacks in some way or the other. Says K.V. Kamath, President, CII: "The attack highlights the threat to the institutions of business that are an integral part of India's growth and its relationship with the world."
Anand Jain, Chairman, Jai Corp.However, the most significant longerterm impact will be on the people of Mumbai—right from the roadside hawker to the senior executive— and indeed on the urban masses in all major cities. As Aggarwal points out: "We will be more vigilant, more cautious and less carefree. Human resources will be careful when hiring; IT practices will become more stringent; office and residential security will be beefed up. And our scepticism about our political system will continue to grow."
Additional reporting by Puja Mehra