Don't worry about the economy: Just get the government to listen to these top-notch women thinkers, whose ideas and work have given Indian economists global respectability. But the rise to the top has not been easy-all of them had to fight to gain credibility in a male-dominated world. The youngest in this listing, though, shot to fame overnight after coining the term, BRIC, which has gained worldwide currency; the oldest happily adjusted her career to be with her children. And what a difference they have made and are making!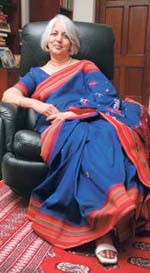 Isher Judge Ahluwalia
63, Chairperson, Board of Governors of ICRIER

Indian economy's biggest weakness:
Expanding fiscal deficit-much of it off-budget, imported inflation and infrastructure and skills deficit.
Indian economy's biggest strength:
A vibrant private sector plus the ability of governments to manage macro-economic risks.
Biggest turning point in my career:
My second book on industrial slowdown which anchored me as a serious economist.
Isher Judge Ahluwalia likes to keep an open mind and an empirical approach. If that was evident in her seminal work on industrial slowdown of the '60s and the subsequent productivity decline, then the same streak is visible in her current work, too-delivery of social goods and services in states with better infrastructure. Married to Planning Commission Deputy Chairman Montek Singh Ahluwalia, Isher has happily kept a flexible work schedule to be with their two sons, juggling a busy career with an equally busy personal life. "I'm quite unashamed of saying that unless you spend time with children when they need it, they just slip away. And for that you need to be around. It's not an easy choice."
-Shalini S. Dagar