On 9 November 2012, after nearly five years of on-off talks, Diageo, the world's largest alcoholic beverages company, made an announcement. It had reached an agreement with UB Group Chairman Vijay Mallya for acquiring a 53.4 per cent stake in India's largest spirits company, United Spirits, or USL, for Rs 11,667 crore. Mallya needed the money for his now-defunct Kingfisher Airlines.
Ivan Menezes, the then COO of Diageo, and now its CEO, could barely contain his glee. "The acquisition of shareholding in USL is a significant milestone in Diageo's strategy to build presence in the world's fast-growing markets." Under the agreement, Mallya would continue as chairman, in spite of his minuscule stake. Menezes, born in Pune and an alumnus of St. Stephen's College and Indian Institute of Management Ahmedabad, said that the personal rapport he shared with Mallya had helped in sealing the deal. Menezes had led the negotiation on behalf of Diageo.
Cut to February 25, 2016. Abanti Sankaranaryanan, USL's Business Head of Luxury and Corporate Relations and former Diageo India head, announced that Diageo has entered into a separation agreement with Mallya - barely 10 months after the USL board called for his resignation for alleged diversion of Rs 1,337 crore to other UB Group companies. Mallya would get $75 million, including $40 million in the first year, as a parting fee.
That the USL buy did not turn out well for Diageo has been clear for long. First, instead of Rs 11,667 crore, it ended up paying Rs 23,180 crore, for a 54.78 per cent stake, mainly due to higher-than-expected payouts in open offers. This it paid. The real difficulty, however, was Mallya's legacy, mainly his debt problem - he has been declared a wilful defaulter (which he contests) and State Bank of India is gunning for his arrest fearing he would leave the country - but also a series of write-offs, mostly on account of intra-group loans given when he was controlling the company. USL lost market share too. Mallya's past was clearly proving to be a baggage. "An impasse has been resolved," said Abanti.
Under the deal, Mallya would not only resign but also have no say in running the company. The two sides also signed a global non-compete agreement (which excludes the UK, where Mallya is reportedly planning to settle) valid for five years. Also, Mallya will not buy more USL shares apart from the 3.99 per cent he owns.
"The agreement allows USL to move forward with certainty over board governance and focus solely on commercial priorities. The possibility of litigation has also been mitigated," says a USL spokesperson.
Will the end of the impasse help USL, which has been struggling with declining sales and market share ever since the Diageo deal, get back its mojo? In other words, is the $75-million payment worth the gains USL expects from getting Mallya off its back?
Attractive Market


India is the world's second-largest alcoholic beverage, or alcobev, market after China by volume. It is also one of the fastest-growing ones. One reason is that an average Indian drinks just 2.1 litres alcohol a year, much lower than his compatriots in Russia (14.5 litres), France (11.6 litres), the US (9 litres), Brazil (9.1 litres) and China (7.6 litres). The world average is 4.6 litres. Also, India has 495 million people eligible to drink, with 19 million more becoming eligible every year, and a rising young population. That's why most large global players, be it Diageo, Beam Global, Pernod Ricard, Heinken, SAB Miller or Carlsberg, are present in the country.
"India is one of the most attractive markets for the alcobev industry, worth approximately Rs 51,500 crore, with growth expected to be 8-10 per cent per year over the next five years. It accounts for 10 per cent global volumes," says a USL spokesperson.
The market can be broadly categorised into beer, spirits and wine segments (see Indian Alcohol Industry). India is mainly a spirits country. Beer and wine, due to lower alcohol content, have not had much demand in comparison. The spirits market has three segments: Country liquor (India Made Indian Liquor or IMIL), hooch (illegally brewed) and India Made Foreign Liquor or IMFL. The IMFL pie is organised and growing at a fast pace and is the prize that every player lusts after (henceforth, spirits refers to IMFL).
The IMFL market has two segments - brown and white spirits. Brown spirits, such as whisky, brandy and rum, account for 95 per cent of the market. The rest is white spirits such as gin and vodka. The spirits market has grown at a scorching pace, from 135 million cases in 2005 to more than 300 million cases in 2013, which comes to 11 per cent growth a year. A case has 12 bottles of 750 ml each. The net result is that India is now the world's largest drinker of whisky, which accounts for 60 per cent of the Indian spirits market. Brandy and rum are at 17 per cent each.

Tough to Crack
"Another worry for the players right now is that the market is growing at 1-2 per cent after a decade of rip-roaring growth."


Diageo, even in earlier avatars, including United Distillers, had always salivated at the prospect of capturing the Indian market, but without success. For instance, in 2002, it sold its portfolio of Indian whiskies after failing to make a big impact. Vijay Mallya, who had inherited a liquor empire from his father, Vittal Mallya, had then managed to stave off the challenge through USL, his flagship.

Not that it was Diageo's fault. India, for several reasons, is a nightmare for liquor makers. One, there is a ban on advertising liquor. Two, as liquor is a state subject, there is no national market, and each state has its own set of rules. Some, such as Gujarat, Manipur, Nagaland and Lakshadweep, have banned sales, while others such as Kerala, Bihar and Tamil Nadu have imposed a partial ban or are talking about a full ban. The number of outlets has been more or less constant at 81,000 for years.

Also, in several states, just one entity controls distribution. For instance, state government corporations handle 75 per cent distribution, individual distributors 20 per cent, while the rest are direct sales. This often means that the state dictates prices. For example, last year, Orissa reduced the price it pays companies for liquor sold at its outlets by 10 per cent. The companies could not do anything.

This means running a liquor company in India is not for the faint hearted. Mallya, too, ran USL imperiously with the help of chieftains whose loyalty, though not the results they delivered, was beyond question. To tap the whole range of available opportunities, the company kept launching new brands/sub-brands. Today, its portfolio has 140 brands.

Battle For Control

When Mallya sold a controlling stake in USL to Diageo, he also entered into an understanding with it that he would remain the chairman. Mallya has repeatedly said that Diageo is contractually obliged to continue supporting him in this post. What is strange is that neither Menezes nor Mallya ever made public the contract that they had signed. Neither did they spell out what the pact entailed. It wasn't clear why Diageo would have a shareholder who controlled a very small part of the company as chairman.

One of Diageo's first moves was a revamp of the board. To get an idea about the scale of the changes, between the current board and the one in July 2013, only one director is common, and he, too, is a nominee of Diageo and a two-decade-old USL veteran. "It did not spare even independent directors. It brought in its own independent directors," says a Mallya confidant.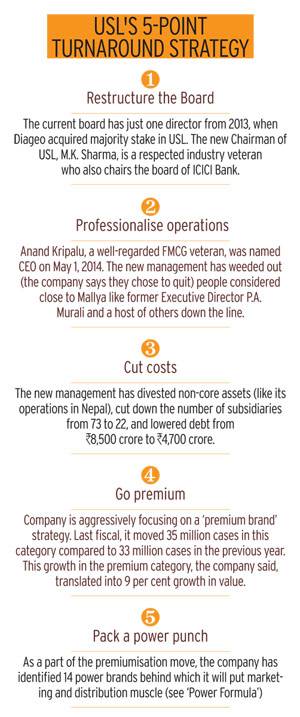 The management also started ousting Mallya's men from top positions. The contract of Ashok Capoor, Managing Director and an old Mallya associate, was not renewed in 2014. Instead, Diageo brought in Anand Kripalu, an FMCG industry veteran with three decades of experience, as CEO in May 2014, and a couple of months later elevated him as Managing Director. P.A. Murali, another UB old-timer who was executive director, was ousted (though the company says he resigned).
A new procurement officer was also brought in. "Irrespective of what they say now, Diageo and the new USL management systematically removed all VJM's men," says the Mallya confidant. VJM is how senior colleagues refer to Mallya. Kripalu began to professionalise operations.
Friction was inevitable. Remember that Mallya had, over the decades, built strong relationships with dealers, distributors and contract manufacturers to ensure smooth operations. Also, as a Rajya Sabha MP, he had goodwill and clout across party lines, both critical in a business that depends so heavily on state governments. Also, several of USL's business associates had grown due to association with Mallya and were loyal to him. Kripalu had to move carefully to ensure that the company's operations and interests were not hit. The opportunity came in the form of an audit of some loans and receivables.
Audit, its Aftermath
It is no secret that the UB Group did not follow best corporate governance practices, partly due to the complexity of regulations and partly due to its structure. Lending among group companies was common. So was related-party transactions, such as the agreement between USL and UB Aircraft Pvt Ltd for air services or USL providing funds to the Vittal Mallya Scientific Research Foundation.
So, when PwC was asked to look at certain loans and receivables, it came out with a damning report, accusing the previous management of diverting Rs 1,337 crore to provide for a loan to UB Holdings Ltd (UBHL), the parent of Kingfisher Airlines. Also, about Rs 650 crore was suspected as receivables from dealers, suppliers and distributors, which was not properly accounted for. While the report was careful and did not accuse Mallya personally, it said the earlier management was responsible for this.
What miffed Diageo more was that the Rs 1,337-crore loan to UBHL may be hard to recover as it is a loss-making company with a market cap of just Rs 145 crore. Even the Rs 650 crore receivables will not be easy to recover as several suppliers and other parties have said that Mallya's other companies owe them and there is an understanding for offseting some of these transactions. It isn't clear if these were legal contracts. Although USL is pursuing UBHL and other partners for whatever money it can get, any substantial recovery seems well nigh impossible.
A USL spokesperson says, "USL has recovered some receivables from some counterparties. We will continue to pursue recovery of the outstanding debt from UBHL."
"Diageo would bring in transparency, good corporate governance, access to its global portfolio and focus on strengthening USL's position"
That's not all. While acquiring Mallya's stake in USL, Diageo had discovered that a certain percentage of his holdings was held through a company called Watson. Watson had pledged these shares with Standard Chartered Bank for a loan of Rs 900 crore. To unencumber these shares, Diageo had guaranteed this loan. As Watson has defaulted, the loan will now be on Diageo's books. Diageo has admitted that in all likelihood it will have to write off this money, too.
The board expressed lack of confidence in Mallya in April 2015 and asked him to step down. Citing Diageo's contractual obligation, Mallya refused. The USL board forwarded the audit report to Diageo. For the Ivan Menezes -led Diageo, the world's largest alcobev company with revenues of $15 billion in 2015 and operations in 180 countries, it was important to protect its reputation for high corporate governance standards. Finding a solution became inevitable.
Why Did Diageo Pony Up?
In spite of all the troubles Diageo inherited, why did it agree to pay Mallya a princely sum of $75 million? While the company gave the reasons mentioned earlier, insiders say Diageo is looking at a number of benefits. First, Mallya's presence on the board and "interference in running of the company in spite of a minuscule holding" will end. Second, Mallya was a formidable player who built USL from a three-million case player in 1983, at the time of his father's death, to a 120-million case company. The non-compete clause will ensure that he does not do this in either India or any other emerging market where his expertise may be valuable. Third, USL had entered into a series of agreements under Mallya's leadership to sponsor the Force F1 team, the Mohan Bagan football club and the Royal Challengers Bangalore IPL team. These and other related party contracts alone would have cost the company between Rs 500 and Rs 700 crore, says an insider.
"Mallya has procured or has agreed to procure the termination of agreements that were not approved by USL shareholders in November 2014. This eliminates current contingent liabilities or any future liabilities associated with these agreements and also allows USL to get the right value for certain assets. The benefits to USL - both tangible and intangible - far outweigh the gains of status quo. The agreement definitely marks the end to one chapter and allows us to begin a new one that focuses on the future and efforts to create value for shareholders," says the USL spokesperson.
Fourth, before USL was sold to Diageo, the company had entered into a call option with PE Data, a Mallya company, to buy 13 properties owned by USL, including the famed Niladri house on Napean Sea Road in Mumbai, apart from other properties in New Delhi, Mumbai and Hong Kong. As part of the settlement, the Rs 28 crore paid by PE as a call option has been refunded and Mallya will have to buy 10 of these properties (if he wants to) at market price and the other three (in Goa, Mumbai and Delhi) by paying 10 per cent less than the market price. The market price will be fixed by an independent agency. "The delta of additional realisation from this alone will be more than Rs 200 crore," says an insider.
Also, when Diageo was wooing Mallya, it had promised that the two would enter into a joint venture to tap some emerging market opportunities. The pact also nullifies any Diageo obligation in this regard. The company insider also points out that Diageo and USL are absolving Mallya of only "civil liabilities and it (USL) will independently continue to pursue efforts to get the money owed by UBHL plus other receivables."
"Remember that Watson has United Breweries shares that are now worth more than the $135 million lost on the loan. Plus, look at the Rs 500-700 crore saved on sponsorship arrangements that USL had with Mallya's sports franchises and the gain from property of Rs 200 crore. These together far outweigh the $75 million (Rs 515 crore) paid to him. We got off cheap as his position was becoming untenable," says the USL insider.
Is it a good deal for Diageo and USL?
"The board of USL seems to have thought that this is the best course of action. In our opinion, Mallya, as a wilful defaulter and a disruptive influence on the board, is better out of the board, than on it," says Shriram Subramanian, Managing Director, InGovern Research Services Pvt Ltd, a proxy advisory firm. "The board has done the right thing by seeking an amicable settlement. Minority shareholders can take up any grievance with regulatory authorities but are unlikely to make any significant headway. There is no single minority investor who is motivated to pursue this matter," he says.
Amit Tandon, the Managing Director of Institutional Investor Advisory Services, agrees. He says under the current circumstances, Diageo seems to have made the right move by making Mallya go away and focusing on strengthening USL. "While this may look like rewarding somebody who has not kept his word, the alternative of prolonged litigation was worse. USL shareholders have reason to cheer whereas Diageo, having paid more than double of what it initially had to, may have to wait for some time to see returns on its investment," he says.
"While this may look like rewarding somebody who has not kept his word, the alternative of prolonged litigation was worse"
Santosh Kanekar, a former marketing head of Diageo India who now runs BeLive Corp, a hedge fund advisory, says one key reason Diageo brought USL was to establish a 'blue sky' (huge market gap) between itself and its global rival, the French company Pernod Ricard. "They would be keen on doing that rather than be distracted by all this. USL has an excellent set of brands, good manufacturing facilities, a well-oiled distribution network and is the market leader. Diageo would bring in transparency, good corporate governance, access to its global portfolio and focus on strengthening its position."
That USL was losing volumes and market share must have also weighed on Diageo. USL is being hit in its mid-end range by Allied Blenders and Distillers - which has brands like Officers Choice and Jolly Roger Rum - and at the premium end by Pernod, which has brands such as Royal Stag, Seagram's Imperial Blue, Blenders Pride and 100 Pipers scotch. At the lower end of the market, players such as Radico Khaitan, Jagajit Industries, Tilaknagar Industries and John Distilleries are giving it a fight in their local markets.
Future Strategy
Another way to look at the Indian spirits industry is by categorising products as premium, prestige and popular. Premium is category where prices are more than Rs 350 per bottle. USL's vast portfolio of 140 brands comprises primarily prestige and popular categories. As incomes in India rise and lifestyles change, it is the premium category that the players are targeting.
USL has 18 brands with sale of a million cases each, including five brands with sale of 10 million-plus cases each. Then there is a long tail. After Kripalu joined, it has been focusing on 14 power brands and emphasising premiumisation to earn more per sale, a strategy that has been helping Pernod earn higher operating profits than USL in spite of clocking less than half its volumes. Paul P. John, Chairman and Managing Director of John Distilleries, says another worry for the players right now is that the market is growing at 1-2 per cent after a decade of rip-roaring growth. It may have even stagnated depending on how it is measured, he says.
USL, too, has seen sales fall from 123.7 million cases in 2012/13 to 117 million cases in 2014/15. Its market share fell from 44 per cent to 40 per cent during the period. In a stagnant market, a drop in sales means competitors are eating into your market share.
The company defends its strategy. "To balance the benefits of scale with the power of focus, we have identified a portfolio of 'power brands' in each segment of the market, popular, prestige, premium and luxury, which we are nurturing through increased investment, innovation and renovation. This strategy will not only leverage the premiumisation trend among consumers but also improve margins," the USL spokesperson said in a written response.
"Understanding the drivers of premiumisation and building it into our marketing plans is a big part of what will get us to succeed. Over the last several months, we have made significant investments in brand associations. We will continue investing in programmes that will build brand equity, not just give us short-term gains. This includes renovation of brands such as Royal Challenge and McDowell's No. 1 which has met with tremendous success. Royal Challenge has grown 57 per cent since it was re-launched in 2015," he says.
With Mallya out, Menezes and his team will be hoping to reverse the losses. It has already tried to trim flab by reducing the number of subsidiaries from 73 to 22 and net debt from Rs 5,323 crore to Rs 3,891 crore. It has also pushed up its share in the premium category from 23 million cases in 2011 to 35 million cases in 2105. Besides, it has embarked on what it calls a "productivity goal" to generate Rs 500 crore savings over three years (starting 2015). It has also launched iSpeak helpline, a toll-free number for employees to report any issue or concerns. It is run by an external company.
A damocles sword in the form of regulatory body SEBI is, however, hanging over the entire settlement, but the company wants to move on and focus on the market.
"We embarked on a journey to transform the reputation of USL and the alcohol industry. We have a clear strategy to achieve our vision to become the best performing, most trusted and respected consumer goods company in India," says the USL spokesperson.
With Mallya out of the way, Kripalu will be hoping that the company can get back to its winning ways.