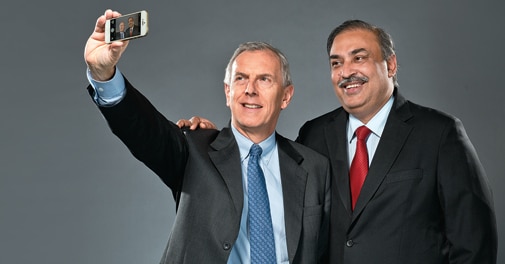 Marten Pieters, MD and CEO of Vodafone India, with COO Sunil Sood Photo: Rachit Goswami/www.indiatodayimages.com
Two friends, in dire need of money, abduct the spoiled daughter of a wealthy businessman. Their best-laid plans come undone when the father refuses to give a penny and the daughter turns out to be very different from your usual cowering kidnap victim. This, in a nutshell, is the plot of the 1987 Marathi movie Gammat Jammat - a colloquial expression for fun and games.
Read interview: I make my own mandate, says Vodafone India CEO
At that time, Marten Pieters, who studied law and economics at the University of Groningen in the Netherlands, was working with Royal Smilde Food NV. He might have thought you crazy had you told him that one day he would be running a mobile telephony company in far away India (he had to be pulled out of a sabbatical for the job). And he may have called for security had you told him that Gammat Jammat would be a critical piece in his plans to transform that company from a predominantly voice carrier into a serious data driver, and from a mainly urban operation into one that covers vast swathes of rural areas. (The second part is where Gammat Jammat comes in, but we will get there in a bit).

Read story:Vodafone to complete launch of its commerce service on Wednesday


Fuelling this change is a war chest of $3 billion to be spent over three years. That makes India the global behemoth's most important market after Germany and Italy. (Both will get a little more money than India, but the amount hasn't been disclosed.)
"Vodafone is clearly able to invest in the Indian market, and I think we will need huge investments in the coming five to 10 years," says Pieters, 61.
Cash is no problem. Global head Vittorio Colao recently completed the deal of the decade by selling Vodafone's 45 per cent in Verizon Wireless, the biggest mobile company in the United States, for $130 billion. Of that, $82.5 billion is being paid to shareholders and spent on consolidating holdings.
The echoes were felt in India on April 10, the day Vodafone took its holding in the Indian arm to 100 per cent by buying Ajay Piramal's 10.97 per cent stake for Rs 8,900 crore and Analjit Singh's 24.65 per cent holding for Rs 1,241 crore. That's a valuation of Rs 81,000 crore for the Indian arm, up 50 per cent in 32 months.
"In the next few years India will be the second-largest company inside Vodafone Group after Germany," Colao had said at a media roundtable on a visit to India last December. It is already the third-largest, behind the UK. It is also the largest wholly-owned multinational unit in India, and the second-largest mobile phone operator here after Bharti Airtel.
"When I joined [the India unit], it was already the most competitive market in the world, with the lowest pricing. And it got worse after that. But I have been long in telecom. Can't say I have seen all, but I have seen a lot," says Pieters.
Part of the "a lot" includes gunfire.

LOSING SLEEP
Pieters was having dinner with wife Dettha at Souk, the rooftop restaurant at Taj Mahal Palace Hotel in Mumbai, late in 2008. The offer to head the Indian unit was on the table and he was looking around the country to make up his mind. Suddenly, crunching sounds of incessant gunfire rent the air. The 26/11 attacks had started. The couple survived unscathed, but only physically. "My wife had quite a problem for some time. I had my own problems, from nightmares to sleeplessness at night. It is not something you shake off easily."
They did, however. Pieters took up the job in 2009 and landed straight into a situation that was less insalubrious than the one he and his wife had encountered the previous year, but not by much.
In 2007, when Vodafone acquired Hutchison Essar to tee off in India, it would have been treading gingerly despite the $10.9 billion payment. Its investments in Turkey and Ghana had not proved very successful. And India looked like going the same way, posting an adjusted loss (the total loss borne by the insurer or the company while settling a claim) of Rs 270 crore in 2008/09.
It took two years for Pieters to turn the tide, with an adjusted profit of Rs 106.5 crore in 2010/11. "I make my own mandate, and it was to show the group that it could compete in emerging markets. At that moment there was a lot of disbelief among investors that Vodafone was the right company to go into emerging markets." India was the one emerging market drawing the biggest financial bet from the company and Vodafone now has more than five times the subscribers it had at the time of its entry.
The financial and operational resuscitation gave the company the fortitude to deal with regulatory trouble. The Hutch deal dragged it into a tax dispute that simmers to this day. Pieters says it must be resolved as early as possible, but adds that it has not damped the company's enthusiasm for the country.
A NEW SONG
If Pieters put the company on track then, his ZooZoos heralded another change last year. As the 2013 edition of the Indian Premier League kicked off, Vodafone's ZooZoos - they are never far from the T20 tournament - began humming a new tune. The white-body-suit-wearing humans sang "Zumi Zumi" as the text asked viewers to share pictures, play videos, and listen to songs on their mobile phones. They could just as well be humming "data-data".
In February this year, Vodafone let its cash do the singing. In the auctions that month, it agreed to pay Rs 8,318 crore for airwaves that enable the high-speed, data-heavy fourth-generation (4G) services. That money, for 11 of the 22 circles on offer, was in addition to the Rs 11,282 crore spent on the old-world, 2G spectrum.
That gives the company a very different complexion from its 2010 version, when it refused to touch the 4G spectrum in auctions that year and stuck to 3G spectrum, spending Rs 11,618 crore on it. That year, Airtel spent Rs 3,314 crore on acquiring 4G spectrum, and Reliance Jio, which, like all things owned by Mukesh Ambani, would have ambitions to be the biggest, Rs 12,848 crore.
This year again Airtel spent Rs 9,906 crore on 4G spectrum and Reliance Jio Rs 11,064 crore. But Vodafone is now very much in the data mix, especially because it is a race that has barely begun. Reliance Jio has not yet started its service. Airtel has less than 10,000 4G customers. "The data revolution has not yet started in India. A company's future will depend on how well they can embrace the data game," says Hemant Joshi, Partner at Deloitte Haskins & Sells.
Already, Vodafone India's data revenue, as a percentage of total, has increased from three per cent to nine per cent in three years. Airtel's is up from five to 10.3 per cent. Data users now comprise 28.5 per cent of Vodafone's subscribers, up from 20 per cent in the middle of 2012.

"Competition in data is far more complex (compared to voice). The canvas is much larger in terms of user behaviour and consumer preferences, which requires a lot more understanding of the consumer," says Sashi Shankar, Chief Marketing Officer at Idea Cellular.
There is a reason everyone loves data users, even though their typical monthly usage is Rs 100, compared to Rs 200 for those who use only voice and SMS. However, the profit margin in data is about 50 per cent more.
"The data market is underserved. There is more demand than supply. We can't build networks fast enough," says Pieters.
The war chest will change things. A third of the $3 billion will change most of Vodafone's analogue network to Internet-protocol for better data connectivity. This will not be limited to the big cities, and that takes us back to Gammat Jammat.

PUTTING SMART IN PHONES
Laal Dukaan, the red shop, is how they refer to Vodafone shops in villages. These are adorned with big, red sign boards and often have a large, red umbrella in front. As many as 5,100 of these have been set up in villages in the last seven years, and have become a familiar sight in rural areas, more so because they are run by residents of the villages, inducted under a "Son of the Soil" programme. Last year, though, this comfortable familiarity with the brand was shaken by a flood of red.
Eight sales executives of the company, clad in red T-shirts and caps descended on 118 villages in Maharashtra and Goa. They accosted 120,000 mobile phone users, young and old alike. It so happened that a large number of them owned smartphones but did not use them for data, only voice.
They were cajoled into sessions in school classrooms (with the school principal's blessings), chaupals, and other places where people gather when they are not fretting over the daily bread. They were shown how to use their phones to improve, as Vodafone would put it, their quality of life. The early hooks were the catchiest: cricket, Bollywood, and jokes. Gradually, as the engagement increased, information related to farming and weather, email, videos, and social media crept in. Street plays were staged to demonstrate the mobile phone miracle. A special data pack was introduced for Rs 32. It gave Rs 10 worth of talk time, the rest fetched 200 MB of Internet surfing.
Soon, colourful rangolis began to be drawn with the letters Gammat Jammat in the centre. That was the name given to the initiative by Milind Bade, former head of marketing in Maharashtra and Goa, who thought the Marathi comedy, a monster hit, would strike a chord.
However, despite the name, Gammat Jammat is not merely fun and games.
DATA MINDING
Vodafone now has 23.5 per cent of the rural mobile phone users. Airtel is marginally ahead, with a single percentage point more. However, rural customers comprise 53 per cent of Vodafone's 160 million customers, up 10 times since Hutchison Essar went out of the picture. For Airtel it is 44 per cent. Buoyed by the rise of the rural, Vodafone has the second-largest number of 3G users after Airtel.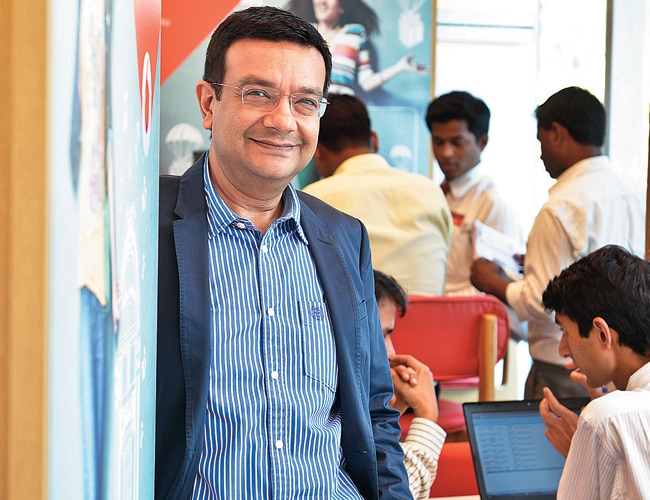 Airtel was the first to spot the data opportunity. But Vodafone is no longer demurring. "In my discussions with Gopal [Vittal, Airtel's India head] and Marten Pieters, they are looking at increasing their data growth," says Chakrapani G.K., head of consumer and channels group at Microsoft India.
Bharti is expanding its 3G business and has launched 4G services in a few areas. Idea Cellular has rolled out a new brand campaign that asks subscribers to use mobile Internet to avoid getting deceived, and has also shown interest in 4G. Both, says Goldman Sachs analyst Sachin Salgaonkar in a recent report, may lose market share to Vodafone if it makes aggressive investments. "Airtel and Idea are slow in making incremental data investments."
It may have more to do than just money. Two years ago, when 3G services began to become popular, Pieters created a new position of chief commercial officer and hired Vivek Mathur from Pizza Express to integrate customer service, experience and distribution.
Mathur says the integration helps the company understand customers better. Vodafone launched unlimited data plans and started giving free data packs with Samsung smartphones for two months. The next step was to convert pay-as-per-use customers into data pack users.
Once customers start using packs, they end up paying three times more than pay-as-you-go users. Mathur created weekly, fortnightly and monthly packs as well as campus packs for students, and a trial pack of Rs 25 for non-Internet users. A fourth of Vodafone's 46 million data users now use these packs.
The company's technology team tracks new 3G-enabled handsets that get added to its network. Customer care executives then call users to upgrade them from 2G to 3G. Half the 3G devices on the network now use 3G. Vodafone now has 5.2 million 3G users, compared to 9.5 million for Airtel and 8.7 million for Idea. Mathur expects his number to double in a year.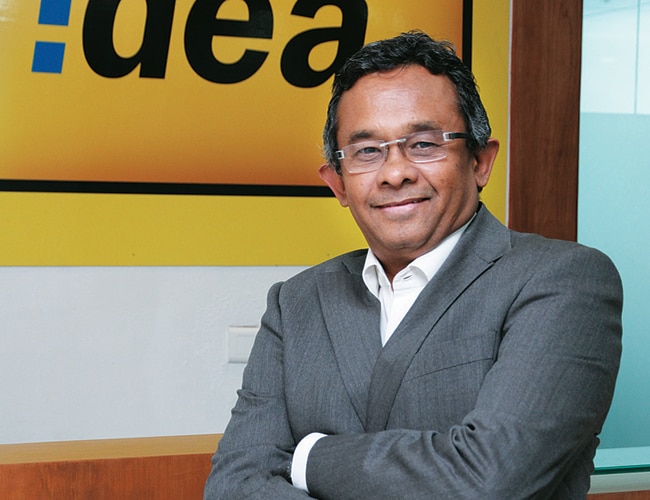 That is easier said than done. Vodafone does not have enough spectrum to offer 3G or 4G services in all of India. It has 3G spectrum in only nine service areas and 4G in 11. These include the biggest data markets of Delhi and Mumbai, but that is also out of sync with its Gammat Jammat-driven, rural campaign. Bharti is clearly stronger in data services and has an early-mover advantage in 4G.
"Data will drive success for the larger players. We have the largest 3G network. In voice we compete with eight different players? In data the competition is with Idea and Vodafone," says Srini Gopalan, Head of Consumer Business at Airtel.
Airtel, just like Vodafone and Idea, will however have to contend with the unknown.

THE KNOWN UNKNOWN
Mukesh Ambani's Reliance Industries bought Infotel Broadband in 2010 for Rs 12,500 crore, after it became the only player to acquire 4G spectrum, and renamed it Reliance Jio Infocomm. He is spending Rs 50,000 crore to Rs 60,000 crore to launch voice and data services. In February, he strengthened Reliance Jio by winning more and better-quality spectrum for Rs 11,000 crore.
Ambani said after the auctions Reliance Jio's 4G would provide digital content and applications using two technologies - FDD-LTE and TDD-LTE - through an integrated system. FDD is short for frequency-division duplexing and TDD is time-division duplexing. The two are standards for Long Term Evolution (LTE)services - the formal name for 4G.
Still, some industry observers say Vodafone may have a slight edge over its rivals in 4G. While Reliance Jio has yet to roll out 4G services four years after the 2010 spectrum auction and Bharti is barely present in Kolkata and Bangalore, Vodafone Group has proven 4G expertise in Australia, Fiji, Greece, Italy, Malta, New Zealand, Portugal, Romania and Spain.
A lot is riding on that ability. The massive investment Vodafone is making in India is part of its global plan to transform into an emerging-market company from a Europe-centric one. In 2008/09, Europe contributed 72 per cent of Vodafone Group's revenue. India accounted for 6.5 per cent while a few countries in Africa, the Middle East and Asia-Pacific contributed the rest.
This changed as the global recession dragged growth down in developed markets. Europe's gross domestic product grew at an annual rate of less than a per cent in the past five years, while India's expanded at an average 7.5 per cent. Europe contributed 68 per cent to Vodafone's revenue in 2012/13 and India now accounts for nearly 10 per cent.

CALL ON INDIA
India, however, is not the most profitable market for Vodafone, despite the Rs 64,800 crore it has channeled into the country in addition to the Rs 44,000 crore paid for the Hutch Essar acquisition. South Africa makes four times as much profit as India for almost the same revenue. This is because competition in South Africa is not as intense as in India and tariffs are higher. The company also has a successful financial services business in South Africa, which boosts margins.
Pieters, though, is not worried. He says it is not unusual for some countries to earn a disproportionate share of revenue and some others to bring in higher profits. But eventually, India will have to improve profitability. This is where data will play a key role.
Vodafone, like Bharti, has entered the financial services space in India with M-Pesa, a mobile-commerce platform which allows money transfer. The thinking is that although less than 20 per cent of India's population has access to banking services, nearly 80 per cent use mobile phones. Vodafone first started M-Pesa in Kenya, where it became a huge success. Also, India has a huge migrant population where people travel from villages to cities for livelihood. Through M-Pesa they can send money to their families in the village. M-Pesa also offers other services such as bill payment and recharge options. Vodafone charges Rs 100 for a lifetime subscription to the service.
Pieters has also decided to take a plunge into the enterprise space, dominated by Airtel and Tata Communications. Until a few years ago, Vodafone's enterprise customers only used corporate mobile connections and BlackBerry plans. But Pieters wants to take it into cloud computing, data centre business, fixed-line services and managed services are the new focus areas. For instance, Vodafone worked with a software company last year that was struggling with rising costs on managing its communication networks as it expanded. Vodafone changed the network architecture by using cloud computing, cutting costs by 20 per cent. Naveen Chopra, Director of Vodafone Business Services, says the company has been able to fully meet service agreements. "We have not faulted for a day since April last year," he says.
In another case, a large beverage company wanted to streamline its distribution system. It sells about 400 million cases of beverages every year, and sales and order data sometimes took up to 50 days to reach the base station. Vodafone's enterprise business team converted all manual tasks into automated processes. This saved the sales team from physically reporting to the plants every day, significantly reducing the time to market. Vodafone also tied up with Mahindra & Mahindra for powering its Reva electric cars with machine-to-machine communication services that allow users a range of facilities such as remotely locking their car and controlling air conditioning.
The efforts have already started bearing fruit. The share of the enterprise business in Vodafone India's revenue has jumped to 11 per cent from six per cent a few years ago. Chopra, however, is cautious about his division's expansion plans. "There is overcapacity in the market. So how we want to approach, which segment we want to approach is a work in progress," he says, adding that it will take a year and a half to firm up plans.
To Pieters, everything in life is a matter of time. "In a matter of time, we will both be dead," he says, thumping the desk and bursting into a laugh. And you can hear the sound of gunfire fading away in another time zone.