Walk into the cool environs of Rural Development Minister Jairam Ramesh's office and you will be treated to soothing Carnatic music wafting from a fist-size speaker attached to his laptop. In the austere office, decorated with cane furniture, with stacks of books arranged neatly on a glasstop desk, the minister sits hunched, with his palms covering his face. "It's been a long morning," he says.

It has, in fact, been a long summer of discontent for the Congress-led United Progressive Alliance (UPA) at the Centre, which witnessed unprecedented confusion over the last two years, hurting the economy.

FROM THE MAGAZINE:Govt inaction behind poor growth indicators



Ramesh is in charge of one of the high-spending ministries, which administers flagship schemes such as the Mahatma Gandhi National Rural Employment Guarantee Scheme (
MGNREGS
).
In New Delhi's political circles, he is rumoured to be on the long list of politicians in the running to become finance minister in the event the incumbent,
Pranab Mukherjee
, moves to Rashtrapti Bhavan, whose lawns he so covets.
Ramesh would like to see a rejigging of expenditure, reducing the gargantuan subsidy bill of Rs 2,16,297 crore - 2.44 per cent of the gross domestic product (GDP) - and allocating resources towards roads, ports, railways, power and rural development.
The subsidy on diesel makes the minister fume the most. Between December 2011 and May this year, the price of the Indian basket of crude has fluctuated between $95.56 and $123.61 a barrel. Still,
diesel prices
in that period stayed unchanged as the UPA failed to free the prices of this fuel - from narrow political interests.

Expenditure re-jigging is a political exercise, that's why successive governments have not been able to do it"
Jairam Ramesh
Rural Development Minister
The political failure of the UPA leadership has also played a part in the economy losing steam to log a growth rate of 6.5 per cent in 2011/12, the slowest in nine years.
Every other macroeconomic indicator of importance has also tumbled. In 2011/12, industrial output collapsed to 2.8 per cent from the previous year's 8.2 per cent. Headline inflation has remained sticky in the seven to eight per cent range over the last four months.
The expanding fiscal deficit has been partly responsible for inflation remaining elevated. In 2011/12, the fiscal deficit was 5.76 per cent of GDP, almost 1.16 percentage points more than the government's original target of 4.6 per cent.
The rupee has depreciated sharply - 25.3 per cent between May 31, 2011 and the corresponding period in 2012 - against the dollar. The combined impact of all these factors showed up in the current account deficit, which was a record 3.9 per cent of GDP in 2011/12.
"Expenditure re-jigging is a political exercise, that's why successive governments have not been able to do it," says Ramesh, explaining why expenditure on subsidies cannot be easily transferred to growth-inducing spending on infrastructure.
PERSPECTIVE:
Should Coal India rescue power sector at the cost of investors?
This inability to drive a political consensus has held back major reforms, particularly the introduction of the Goods and Services Tax (GST), which aims to create a common market in India. Its introduction requires the Centre and states to reach a historic agreement on taxation rights.
Bihar's Finance Minister, Sushil Kumar Modi, who heads the states' grouping on GST negotiations, says the UPA has been inflexible in tackling the concerns states have with the GST bill.
"There is a trust deficit regarding compensation. The central government has promised that states will be compensated for the reduction of central sales tax from four to two per cent and their ultimate phase-out. But it has not yet fully compensated the states for 2010/11. The states want a categorical assurance."
The flux over GST is only indicative of a deeper problem of lack of credible leadership.
"[The government's] basic problem is diarchy," says Subramanian Swamy, National President, Janata Party, referring to the popular perception that the working of the government is influenced as much by 10, Janpath, as 7, Race Course Road, the respective homes of Congress President Sonia Gandhi and Prime Minister Manmohan Singh in New Delhi.
Farm Ills


Sitting on the verandah of his new house, built on a part of his two acres or so of land, Oodhal Prasad Khushwaha says: "The spelling is O-od-h-a-l." The 55-year-old has studied till the eighth standard and could surprise a visitor with his use of English. Along with his three sons, he grows wheat and cereals, bakes bricks, and also does manual labour to eke out a living. Life has been tough for him, but a good harvest this year has made things better. "We grew 18 quintals of wheat," says the resident of the Madola block in Uttar Pradesh's Lalitpur district, in the Bundelkhand region, among the country's poorest.

Though the good monsoon played its role, water from the Rajghat canal in Datia and the Jamni canal in Lalitpur played a part. "The canal has changed our lives," says Atmaram Dange, 54. The feeder canal to his Kamad village has been brimming over for five years.

Jhansi and Tikamgarh, in the same region, tell a different tale. The poverty and lack of development on this stretch of National Highway 39 has to be seen to be believed. "State governments over the years have failed Bundelkhand," says N. C. Saxena , National Advisory Council member. Saxena headed a rural development ministry panel that said at least 50 per cent of the country's populace was poor That seems to be an understatement in many of the places BT visited. There are entire villages devoid of the basic needs of life, such as Khisnibujurg village in Jhansi, where drinking water is scarce and basic healthcare non-existent. Khisnibujurg may seem better off by the time you reach Lakhanjar, about 150 km away.

There are electric poles with cables connected as one criss-crosses the jungle, with deer and fox making sudden appearances. But there is no electricity running through the cables. Markets are miles away and the residents depend on the forest for fuel. The agricultural land provides just enough to keep body and soul together. It is a place frozen in time.

Extending the reach of the irrigation canals may change the landscape of many areas. Bundelkhand has had irrigation projects coming up since the end of the 19th century. However, a government official says the rocky and hilly terrain makes it difficult to expand the canal system.

All you see in terms of industrial activity is some stone crushing units in Paratpura and Lakshmanpura. Other than that, the area is totally dependent on farming. Without a lasting solution to the agricultural woes, all other progress on the macro-economic front may fall flat.

The few instances of prosperity in Bundelkhand are proof that government welfare schemes and projects, if implemented well, can rein in poverty. Experts, however, feel that much needs to be done, including bringing about a change in mindset. In November 2009, the Centre approved a special package of Rs 7,266 crore for drought relief and integrated development of the region. This targets developing 1.1 million hectares of land through irrigation development.

To ease the load on agriculture, job generation has to come from other sectors as well. "Much employment can be created by developing the tourism potential of this area," says Arun Singh, a Jhansi-based hotelier.

For more go to www.businesstoday.in/bundelkhand-economy


No longer is it just Indian politicians and analysts identifying diarchy as the root cause of India's rapidly unravelling growth story. In a report on June 8, global credit rating agency Standard & Poor's said the Congress party's inability to convince the Bharatiya Janata Party and other opposition parties to support its reforms had been downplayed.
"Moreover, paramount political power rests with the leader of the Congress party, Sonia Gandhi, who holds no Cabinet position, while the government is led by an unelected prime minister, Manmohan Singh, who lacks a political base of his own; the previous BJP-led coalition government managed to gain the consent of enough opposition parties to implement economic reforms during 1998-2004."
A world away from S&P'S headquarters in Water Street, New York City, Mahadev Bhimrao Shinde, an illiterate farmer in western Maharashtra's Sangli district, is unlikely to use the word diarchy, or the phrase policy paralysis, in this lifetime. But mention the word government and his hackles are up.
"I have no expectations from them," he says, throwing his hands up in despair. The continuing drought here has pushed Shinde to contemplate the sale of his only productive assets: two cows and a goat.

There is a (Centre-State) trust deficit regarding compensation. The states want a categorical assurance"
Sushil Kumar Modi
Head of the empowered committee of state finance ministers on GST
Way back in 2008, the
state government declared Sangli
as an area facing a drought-like situation. That has made no difference to the situation on the ground. Of the Rs 2,700 crore demanded by the state government for drought relief this year, the Centre has sanctioned Rs 588 crore.
There is no progress on the plan to bring water here from the close-by Krishna river. There is no one to advise farmers to grow crops that need less water, and no one to show them how to conserve soil.
EDITOR'S TAKE:
Why India needs to get its act together, quickly
Unsurprisingly, the state's food grain production fell 23 per cent in 2011/12, and its agricultural output shrank 9.1 per cent. GDP growth has fallen to 8.5 per cent from 11.3 per cent a year ago. And you thought Maharashtra was one of the country's richest, most developed, and most modern states.
The New Inspirations
It is not all gloom and doom out there. Dig deeper and there is enough to dispel the gloom, most of it in hitherto forgotten states, which could not be spoken of in the same breath as Maharashtra. These states are showing how good governance can often be the bedrock of good economics.

Chhattisgarh
, in popular imagination, especially in the imagination of the people in the metros, is a state in the throes of numerous conflicts. Raipur, the capital, was a nondescript town when the state was created on November 1, 2000. It has since sprouted wide roads, half a dozen malls, and an IIM.
SPECIAL:
Raman effect
On a recent Sunday afternoon in an upscale restaurant downtown, the couple at a far table could just as well be in South Delhi or South Mumbai. Dressed in blue denims and black shirts, they could not have been out of college yet. At lunch, they paid more attention to each other than to the food or to those around them. Afterwards, they left in a white Hyundai Verna with dark windows.
Sangli Surprise


Parshuram Khot, 31, sits in a corner of his 10-acre plot of land, fiddling with his mobile as he keeps a keen eye on daily wage earners at work in his field. Khot wears shorts and a colourful baniyan inside a colourful shirt. But attire is not the only thing that marks him apart from the turban-dhoti wearing farmers in Pimpalwadi village, in western Maharashtra's Sangli district.

Sangli is known for its water-guzzling cash crops such as turmeric, sugarcane, grapes, and pomegranate. But Khot is the only one in his village to take to turmeric. He did it three years ago, despite his father's warnings. Today, Khot avoids a discussion on crops with his father. Turmeric prices have fallen from a high of Rs 20,000 per quintal in 2010 to Rs 4,500 per quintal.

Khot plans to hold on to his harvest for two to three years. "I don't think other farmers are as strong as me." He is sure half of the other turmeric farmers will stop growing the crop, which will push prices up. Not many can do that. Most will have to sell for whatever price they get, and get sucked into poverty. "This will have an impact on disposable income and demand in the rural economy," says Kiran Kulkarni, who runs an NGO in the area supporting self help groups.

The plight of the farmers represents the state of affairs in Maharashtra, a state that makes the highest contribution - 14.5 per cent - to the country's GDP. Uttar Pradesh and Andhra Pradesh, at 8.3 per cent each, are a distant second. Sangli, 350 km from Mumbai, with a population of 2.8 million, epitomises many aspects of the Indian economy. Unlike China, India is a consumption-driven economy. In Sangli, the consumption is driven by farm income as 55 per cent of its population lives in the rural areas. The urban population lives mainly on trading and salaries. In the post-2008 period, the rural economy remained unaffected because of better prices for agricultural commodities. Small town folk were also buffered from the squeeze on city dwellers, who were neckdeep in debt.

Today, the rural economy is no longer recession-proof. At the main Shivaji Mande market in Sangli city, the streets are not deserted, but neither are they packed. "Demand has fallen in the last 18 months. My business in terms of value is increasing, but the volumes are not much," says Vijay Ladda, who owns a Sony showroom. Apart from the big brands - Honda to McDonald's to Raymonds - Sangli city is host to swanky showrooms of furniture and bathroom fittings. Randeep More, owner of a bath fittings showroom on the Sangli-Miraj Road, says growth is still high because of the sluggish Pune real estate market - there has been a gradual shift by builders as well as customers to the Sangli area, which is emerging as a new centre for industrial activity.

There are over two dozen sugar factories here. The district is, despite Khot's troubles, the turmeric capital of India. Of late, wine producers have been making Sangli their home because of large grape plantations here. Popat Chavan, a consultant, says the region enjoys strong winds and a few wind energy players such as Suzlon have already invested here. Some of these activities are keeping the Sangli realty market buoyant.

For more go to www.businesstoday.in/sangli-economy


About 20 minutes away, in the industrial belt of Urla, it is a different world. This is where the road, its upper surface missing, is lined with small industrial units that churn out steel rods. You do not see denims; what you see is half-naked children playing with strange contraptions for toys. In front of houses that would require you to bend at the waist before entering, women wash utensils by the roadside in brackish water.
Another 20 minutes away is Siltara, big brother to Urla. The units here are large, owned by the big names in the area: Sarda Energy, Hira Group, Vandana Global, among others. Some produce more than 650 tonnes of steel a day. They also pollute more. The roads are good, so there is much less dust than in Urla, but the air is thick with smoke and fly ash. Asthma is said to be rampant.
To be fair, this is the kind of conflict Jharkhand may have liked to have. Created 14 days after Chhattisgarh, it has the same dominant features: mineral riches, a large tribal population, land-locked geography, and a Naxal insurgency.
Jharkhand is way behind Chhattisgarh on most economic par a meters . For instance , Chhattisgarh's per capita income in 2004/05 was a mere Rs 49 more than Jharkhand's. By the end of the last financial year, Chhattisgarh had widened the gap to Rs 6,733. That is a direct outcome of the divergent paths the two states' economies have followed.
In 2004/05, Jharkhand's GDP was Rs 11,896 crore - or 25 per cent more than Chhattisgarh's. By the end of the last financial year, Chhattisgarh was ahead by Rs 4,553 crore, or 5.5 per cent. In fact, Chhattisgarh has been the state with the second fastest growing GDP for the last two years - after Bihar, and not counting the quasi state of Delhi and the Union Territory of Puducherry Experts say this has a lot to do with the political environment in the two states. In less than a dozen years, Jharkhand's Chief Minister has changed no less than seven times, with two spells of President's rule in between. Chhattisgarh has seen just one change. Its second Chief Minister, Raman Singh, has been leading a BJP government since December 2003.
The political continuity has had a happy by-product in coherent and concerted policy. Early on, Singh decided that he would not allow mere trading of Chhattisgarh's rich mineral deposits, mainly iron ore, coal and bauxite. He says he compelled public sector mining giant National Mineral Development Corporation to set up a steel manufacturing plant at Nagarnar, 35 kilometres from Jagdalpur, in the heart of the Naxal belt. "I said how long will you keep exporting ore to China, Japan and Korea? That is a crime. Why do we abuse East India Company? Some people in that meeting would have felt bad, but if all the ore is taken away what will be left for our future?"
To set the environment right, Singh has done many other things to improve the environment. As the industrial policy rolled on, he focused on agriculture and allied businesses. The interest rate on agricultural loans was brought down from 14 per cent to one per cent. Farmers get up to 7,500 units of free power and the state spends Rs 1,30,000 on installation of each tube well. The state's public distribution system, along with Gujarat's, was touted by an entity no less than the Supreme Court last year as the model every state should follow.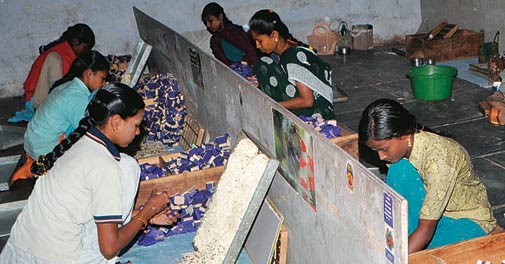 Hope Sinks


The climate in Sivakasi, in Tamil Nadu's Virudhunagar district, is hot and dry. Rains are rare. Out of this discomfort has arisen the country's most dense concentration of units making firecrackers and matchboxes. Over 4,500 small-scale match units and 400-odd fireworks manufacturers here produce 70 per cent of the country's output. They export as well.Of late, these units have been feeling the heat from a slowing economy.

"To a large extent it is sentiment that drives the demand for fireworks. If people are happy and confident they loosen their purse strings," says R. Sukumar, Managing Director, Sri Krishna Pyro Exports, before adding: "Demand from the cities has crashed 30 per cent this year." This could not have come at a more inopportune time for Sukumar and his fellow manufacturers. Exports have dried up with the Chinese, as in so many other items, stealing a march.

Sukumar, whose products sell all over the country under the Krishna brand, says his raw material and labour costs have increased sharply in the last two years, and so have interest costs. "We are surviving because we have been in this business for 35 years. But players who have come recently are under severe stress and many factories are up for sale." There is also a shift in demand from noise-making 'bombs' to aerial and colourful fireworks, and this calls for investment.

The region's small-scale sector, which operates on wafer-thin margins, has been hit by power cuts in excess of eight hours a day imposed by the Tamil Nadu government. Forced to run generators for most of the day, entrepreneurs' costs have spiralled. "I am incurring losses," says S. Raman, who runs a cement bag manufacturing unit in the area.

For more go to www.businesstoday.in/virudhunagar-economy


No wonder its agriculture and allied sectors grew more than six per cent last financial year. The conflicts, however, remain. The operator of a fleet of taxis says he cannot think of getting into the recesses of Bastar after sundown. Every other month, a Shaheed Saptah (martyrs' week) or a Jan Pituri Saptah (revolutionary week) by the Maoists brings everything to a standstill.
The instance of Bundelkhand is even more unique than the conflict in Chhattisgarh. Spread over 13 districts and straddling two states, Uttar Pradesh and Madhya Pradesh, this area, despite being host to the diamond mines of Panna, has been a pocket of abject poverty.
In Khisnibujurg village, Jhansi, for instance, the fight is for drinking water and basic healthcare. "We have not had drinking water for three days," says Gangubhai Dulat, who is in her sixties. The borewell is running dry and belches water occasionally; the well inside the village is completely desiccated. Fortunately, a public well half a kilometre away still has water. "If that well also dries up, the entire village will have to migrate," says Jagadish Prasad.
Yet, of late, a few silver linings have emerged here, as seen in Kamad village in Madhya Pradesh's Datia district. Good irrigation facilities provided by canals such as the Rajghat canal in Datia and Jamni canal in Lalitpur have coloured the fields green. "The Rajghat canal has changed our lives," says Atmaram Dange, 54. The feeder canal to his Kamad village has been flowing for five years. "Our wheat harvest has gone up eight times in the last eight years. This year it has increased by 20 per cent," he says.
Along with the harvest, the standard of living has also risen. Nirbal Ahirwar, 50, of Shehadpur village in Lalitpur, has a direct-tohome dish jutting out of his roof. "We hope to buy a tractor next year," says his 25-year-old son, Harinarayan.
It is not just water that has changed the lives here. There is also MGNREGS, which, strangely, the UPA is not talking about as much as it used to. But those in Bundelkhand are in love with it. "The Rs 10,000 earned through the scheme can make a huge difference to poor households," says Yogesh Kumar, who runs an NGO in the area.
MGNREGS'S impact is, in fact, felt far and wide. Sivakasi, a town in Tamil Nadu's Virudhunagar district, is the country's primary supplier of fireworks and matchboxes. S.M. Antony Bharati, Joint Secretary with South India Match Manufacturers Association, says no one wants to work in a matchbox unit today. "We cannot match the wages paid by MGNREGS. We often send our vans as far as 60 km to bring in workers." Bharati's company, Annarathna, has imported machines from South Korea to reduce its need for labour.
A.V. Kalyanavenkatrama Raja, who makes and sells jaggery from his picturesque 20-acre farm in Ullar village, has been waiting for more than a week to get labour to harvest his sugarcane crop. "I have finally got hold of people from another district to harvest my crop," he says.
Of course, the big picture is important. Most people are clear on what is needed to fix the fisc: FDI in retail and aviation, pension reforms, introduction of GST, among other measures. The government needs to be serious about meeting targets announced on road construction, railways, and coal production. "Apart from fiscal stimulus, the government really needs to meet its targets. That will induce confidence," says Ajit Ranade, Chief Economist with Aditya Birla Group.
Adds C. Rangarajan, who heads the Prime Minister's Economic Advisory Council: "We need to think of innovative ways to solve the problem. Certain proposals have been made in the case of the LPG subsidy, to shield lower income groups."
For Planning Commission Member Saumitra Chowdhuri, "It's a question of which direction you are headed. There is a right path and a wrong path. So far, the government hasn't decided, but at some point it will have to take a decision." One of those paths could lead to Raipur, another to Sangli. The government needs to tread carefully.
Anand Adhikari In Sangli, N. Madhavan In Virudhunagar, Sebastian P.T. In Bundelkhand, Shweta Punj in New Delhi, Suveen K. Sinha in Chhattisgarh