Remember Jerome Kerviel, the 31-year-old French trader with Societe Generale, who was at the helm of what's considered the largest fraud in banking history? Kerviel's "rogue trades" in equity derivates apparently drilled a $7-billion hole in the French bank's books. Kerviel's high-jinks are not too different from those of another rogue trader, Nick Leeson, who brought down the British bank—Barings—in the mid-'90s.
The risk management checklist
Negotiate with banks to replace complex forex derivatives transactions with simpler ones. The depreciation of the rupee has come to the rescue of some companies.


Familiarise the senior management about the risks and rewards, basic principles of hedging and accounting principles.


Put in place a risk management framework by installing systems and processes to monitor actions of dealers in the treasury department.


Banks should categorise corporate clients according to their understanding and risk-taking capabilities. Some of them expect marked-to-market margins from clients on a daily basis.
At a time when hedge funds and investment banks are imploding globally, courtesy their exposure to trillion dollars worth of exotic, financially-engineered derivate products that few outside that dubious universe are able to understand, the big question is: how much of that rot has seeped into the Indian financial system? According to data tabled in Parliament earlier this year, Indian banks' exposure to derivatives stood at Rs 127 lakh crore as on December 31, 2007.
Handle with caution

"What is the worth of an opportunity that can lose its appeal in a matter of few hours?" asks Amrut P. Shah, Chairman & Managing Director, Sundaram Multi Pap. The Rs 100-crore manufacturer of paper received a sudden jolt in March 2008, when it found itself saddled with a loss of just under Rs 3 crore on forex derivative contracts it had bought from ICICI Bank. "The next time any banker comes to us with a great opportunity, we will be extremely cautious," adds Shah.
To be sure, Sundaram Multi Pap is just one of the many small and medium exporters who've burnt their fingers by entering into complex contracts with their banks to protect the value of their foreign exchange inflows at a time when the rupee was rapidly appreciating against the dollar. The complexity of the contracts in some cases was such that the exchange rate of rupee and dollar was dependent on the movement of a third currency against the dollar.
If a company took a dollar loan, it could hedge it through a separate contract in a third currency, like a Swiss Franc, which was stable against the dollar. A recent Ernst & Young (E&Y) survey across 34 Indian corporate treasuries reveals that 44 per cent of those interviewed had used exotic structures to hedge foreign exchange risk.
A few large-cap corporations, too, have lost out in their attempt to hedge—and not just in currencies. Consider engineering & construction giant L&T for instance, a company whose business entails exposures to a range of commodities (primarily metals like steel and zinc). Hedging is one way to protect against rising prices of commodities. But when it doesn't work it doesn't look pretty, as L&T found out. Its Dubai-based investment arm, Larsen & Toubro International FZE, reported a loss of Rs 267 crore in 2007-08 due to a decline in the prices of zinc and other commodities.
Red on the balance sheet
Hedging losses can be big, and unexpected

Company: Larsen & Toubro
Losses in Forex/Commodity hedging transactions: Rs 267 crore
Company: Sundaram Multi Pap
Losses in Forex/Commodity hedging transactions: Rs 2.92 crore
L&T has since reduced its exposure in commodities hedges. The recent bust-up on Wall Street, however, is a good lesson for Indian companies to keep it simple. Hedging per se doesn't result in any gain or loss as losses in one leg of the transaction are covered by profits in the other leg of the transaction. "It's only when a company takes a position in derivatives that is not backed by an underlying actual transaction that results in speculation," says Pritam Kumar Patnaik, Assistant Vice President, Kotak Commodity Services.
The complacency has made way for alertness and the need to understand the risks associated with hedging. In currency transactions, for instance, if an exporter had $5-million (Rs 24 crore) inflows to protect, earlier, he could enter into a leveraged trade of a higher value, say $30 million (Rs 144 crore). "The appetite for such leveraged trades has come down. Hedging has re-assumed its original meaning as companies are prepared to do things that are simple and that they can understand," says Nandlal Bhatkar, Founder & CEO of a Pune-based derivatives software company, Pyxis Systems.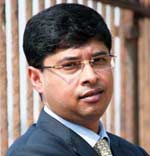 Pyxis provides derivatives software services that evaluate and monitor complex financial transactions. The online platform is like a risk management tool that helps companies and banks monitor the activities of its traders. "Companies that were not willing to take a look at our products earlier have now become our customers," adds Bhatkar. Companies have also approached his firm for independent evaluation of transactions they enter into, obviously keen to not just rely on their bankers' sales pitch.
Much of the self-regulation has also been thrust upon India Inc. by new accounting guidelines from the Institute of Chartered Accountants of India. Accounting Standard (AS)-30, which became mandatory in March this year, requires companies to differentiate between a hedge and speculative transaction, and to account for marked-to-market losses in their books.
Not surprisingly, tax and audit firms such as E&Y and PricewaterhouseCoopers (PwC) are getting mandates from companies on how they should hedge their forex receivables or assign value to their hedging transactions, or on the kind of risk management systems they should have in place. "Among companies, I see an increased sensitisation in senior management ranks towards these issues. Banks, on the other hand, now expect corporate clients to show copies of risk management processes and adequate approvals from the board," says Farrokh Tarapore, Partner, Advisory Services, E&Y. The E&Y survey points out that there is a crying need for stringent governance. Only one-third of the respondents in the survey said that the company board was involved in treasury activities. The governance will be meaningful if, among other things, the board is informed and understands all risks related to treasury operations; and if there is transparent reporting and revaluation of derivative instruments.
As the commodities and currency markets continue to be volatile, there is a sense of urgency to understand the subject itself. Kumar Dasgupta, Partner at PwC, who relocated to India three months ago, says companies are putting in place limits on the proportion of hedging that can be done, the kind of derivative instruments that can be used for hedging, and the level of hedging that can be done by subsidiaries or group companies. According to Patnaik: "Unlike forex markets, commodities hedging is a different ball game and requires special skillsets and understanding about the hedging models." He adds: "Many companies who have entered into commodities hedging are still learning the ropes. They will need to scale up their knowledge and understanding of the business of hedging."