Stock markets have a mind of their own and, very often, get a whiff of events before they actually unfold. Consider this: in October last year, the BSE Sensex sank to a new yearly low well ahead of the December earnings season. Analysts attributed it to jitters on Dalal Street about India Inc.'s performance in the quarter.
Not surprisingly, the results were below par. Now since March, the benchmark index had spurted in anticipation of a better performance by companies in the Januaryto-March quarter. And certainly, the initial report card of corporate India suggests that the markets may have got it right this time as well.
The financial results for most of the companies are either in line with or better than expectations without too many negative surprises. For instance, the net profit for the fourth quarter for 875 companies analysed by BT is down marginally (see The Big Picture) over the previous year's corresponding period.
But it's significantly better than the December quarter. Revenues actually increased 5 percent. Broking firm CLSA says in a report: "It appears that results have been above expectations". The turnaround in the fortunes sequentially appears to be largely driven by substantial cost savings. This is mainly due to softening of commodity prices like steel and chemicals. Then, power and fuel costs have also moderated significantly.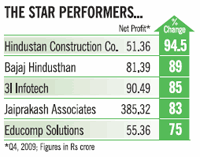 The spoiler for India Inc. was the interest cost component which jumped 25 per cent this quarter compared to a year ago. Clearly, the Reserve Bank of India's push for a softer interest rate regime has not yet translated into lower cost of funds for companies. But this was not a surprise for most analysts who had already factored it into their calculations. However, the interest cost burden should ease in the next few quarters with many leading banks like State Bank of India and Punjab National Bank paring their lending rates.
Fast Moving Consumer Goods (FMCG) and banking companies stole the show in the quarter. "FMCG was the outperformer and fared better than our expectation," says Hitesh Agrawal, Head of Research, Angel Broking. Some of the standout performers in the FMCG basket were GlaxoSmithKline Consumer Healthcare, Marico and Nestle.
Agrawal attributes low ad rates along with reduced advertising cost and lower raw material prices for the better-than-expected results. Another sector in the spotlight was banking with most of the banks posting robust net profit growth.
As many as 13 banks saw their net profit rising more than 25 per cent in the March quarter from a year ago. Part of this growth is due to treasury income on government securities as a result of falling interest rates. Despite an impressive performance by banks, though, analysts remain concerned about the outlook for the sector, especially the public sector banks. The reason—substantial restructuring of loans in the March quarter, especially in real estate, which could potentially turn into bad loans in the future adding to the non-performing assets. Analysts also point out that banks are still not lending. "Banks have a lot of liquidity but they are not lending. This is going to impact their profitability," says V.K. Sharma, Director and Head of Research, Anagram Capital.
Cement companies, too, were in the thick of action and continued to see steady growth. The main reason was the sustained demand from the rural and semi-urban market, which have not been affected by the slowdown. Lower cost of fuel and other input costs, too, helped the sector. While the demand is expected to stay firm this fiscal, capacity additions by cement companies could result in the additional supply putting pressure on profit margins.
A major disappointment for investors in this earnings season has been the performance of IT companies which are reeling under the impact of the global economic meltdown. Most of the leading IT companies' results were below expectations and the guidance is also cautious.
Quarter-on-quarter, Infosys' revenue and earnings per share have declined by 2.6 per cent and 1.7 per cent, respectively. The story is the same with Tata Consultancy Services (TCS), which has posted a sequential decline in top and bottom lines by 1.5 per cent and 2.1 per cent, respectively. Worryingly, there are no immediate indications that the worst is over for the IT companies.
Pricing is under severe pressure and margins are likely to tumble by several percentage points. In this uncertain environment, the industry is being forced to severely prune costs as a survival strategy. IT companies sharply cut their selling, general & administrative expenses (SG&A) in the quarter. The number of workers onshore (and on dollar salaries) is still being reduced which explains the poor demand for H1B visas. "I don't think things are going to get better for software companies this year," says Sharma of Anagram.
All said and done, analysts are hopeful that for Indian companies the coming quarters could only get better. A reason for the sanguine outlook is the view that stimulus packages announced by India and other governments seem to be working.
"6-9 months down the line things would be much better," says Agrawal of Angel Broking adding that there could be one more muted quarter before things take a decisive turn. Sharma of Anagram says the sharp spike in stock prices recently is on the hope of a good performance from India Inc. from the June quarter. "(Stock) Prices in many cases have doubled and many analysts expect steady bottomline growth from next quarter". Clearly, the spirited performance of Indian companies in the March quarter has done a world of good to the sentiment on Dalal Street.