The country and the world's largest two-wheeler company, Hero Honda, could have got a bigname politician to inaugurate its new plant in the holy city of Haridwar in Uttarakhand. Instead, it chose the patriarch of the Hero family, Brijmohan Lall Munjal, to officially inaugurate its third facility amidst a cacophony of sound and a dazzling laser show. However, the new facility, with an initial capacity of 500,000 units, which will rise to one million units by the end of 2008, is going onstream just as the Indian twowheeler industry has ended its worst year in over a decade.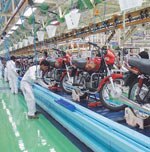 Motorcycle sales declined 11.9 per cent during the year ended March 2008. Hero Honda, which will see its installed capacity across its three plants climb to about five million units once the new plant is completed by the end of 2008, realises that the scenario isn't as rosy as it was. "The industry has had to face several problems— among them, rising commodity prices and the refusal of banks to extend credit to motorcycle buyers— over the last year," admits Hero Honda Managing Director Pawan Munjal, but adds that he is optimistic about the year ahead.
"The incentives announced in the Budget, particularly the tax breaks, and the expected implementation of the Sixth Pay Commission report will be good for the two-wheeler industry," he says.
But with a capacity of five million units, and with only restricted access to the export market, thanks to it being part of the Honda family worldwide, Hero Honda may well struggle to run its plants at or near full capacity. Despite Munjal's optimistic predictions, most analysts believe that the market is unlikely to recover in the first half of 2008-09.
But for now, Honda Motor Company (HMC) is happy with the situation. Says Fumihiko Ike, Chief Operating Officer, Asia-Pacific, HMC, who was present at the inauguration: "This has been a great success for Honda as well as Hero."
— Kushan Mitra