If you can show films, why not make them—that seems to be the thinking amongst a clutch of multiplex owners. After the Delhibased PVR Cinemas and the southbased Pyramid Saimira Group, it is the turn of the Mumbai-based Fame India Ltd (FIL), the erstwhile Shringar Cinemas, one of the oldest film distributors in India, to foray into film production. The company will be setting up a subsidiary for this venture and invest Rs 25 crore initially. Says Shravan Shroff, Managing Director, FIL: "We have realised there are more ways of earning revenues than just theatrical revenues. With so much of exhibition space, we decided to create our own content, instead of just buying from other producers."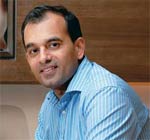 Shroff adds that FIL is looking at its own productions as well as co-productions with other producers. The company is believed to have already initiated talks with several leading actors and their production houses. FIL will look at making films in the range of Rs 4-12 crore.
PVR and Pyramid Saimira have similar plans. "PVR aims to become a fully integrated film and entertainment company with interests across the entire value chain including production, distribution and exhibition. The expansion into the production and distribution business through PVR Pictures will create further synergy for the group by leveraging its exhibition circuit.
It will also help to make PVR Pictures a significant player in the content space," explains Sanjeev Kumar Bijli, CEO, PVR Pictures. P.S. Saminathan, Managing Director, Pyramid Saimira Group, points out that Pyramid Saimira Production International, the film production arm, plans to produce a total of 52 films this year. Acccording to Saminathan, Pyramid Saimira believes in scale and speed of execution.
He draws a parallel with the retail business. "Just as retailers have their own private labels we want to have our own private labels as well. We have 900 screens across the country and we need products to showcase on these screens. We will have a bank of films and create a library so that we are able to showcase them as and when there is a need," adds Saminathan.

—Anusha Subramanian