The Insurance Regulatory Development Authority (IRDA) has changed the rules of the game for insurance companies by amending investment regulations. The objective, according to IRDA, is to give more flexibility to insurers. Among other recommendations, it has enlarged the investment universe by including debt securities, venture capital and follow-on offers as approved investment avenues.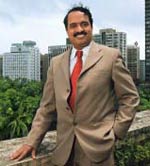 Eyebrows, though, have been raised at another guideline, which mandates that no insurer can hold more than 10 per cent equity in any company. Investment in debt has also been capped at a sum of 10 per cent of the paid-up capital, free reserves and debentures and bonds.
This particular amendment, which doesn't really have major implications for the private insurers, could impact Life Insurance Corporation (LIC), the largest and the only public sector life insurer. LIC is not only the largest institutional investor in the stock market, it also invests in debt instruments of large public sector undertakings and banks.
As on June 30, it held more than a 10 per cent stake in at least 45 listed companies including large cap companies such as Larsen & Toubro, Ranbaxy Laboratories, Mahindra & Mahindra and Corporation Bank. If LIC has to meet the amended guidelines, it will not only have to reduce its stake in the listed companies, it will also have to scale down its investments in debt securities as well.
"The issue is not just about reducing the equity stakes in companies. If we have to bring down our debt investments, it will reduce the flow of debt to PSUs who are undertaking large infrastructure projects," says a senior executive at LIC on condition of anonymity. Out of LIC's total portfolio of Rs 8 lakh crore, the equity component is about Rs 2 lakh crore and the balance invested is in debt and real estate.
Meanwhile, IRDA Chairman J. Harinarayan has reportedly clarified that LIC will have to reduce its stake in phases. However, the insurance giant has approached both the Finance Ministry and the insurance regulator seeking exemption from the new guideline.
Experts emphasise that immediate implementation of the new norms by LIC will be detrimental to its policyholders and have an adverse impact on the net asset value (NAV) of their investments. "Any such changeover should be calibrated over a reasonably long period," says R. Krishnamurthy, MD, Distribution, Watson Wyatt Insurance Consulting.
A reduction of stake by LIC is bad news for company promoters as well. LIC is typically a long-term investor and as Thomas Mathew T, LIC's Managing Director, told BT in an earlier interaction (The Biggest Bull of All, August 10), never interferes in the management of companies.
Some feel a strong promoter lobby could emerge to get the exemption for LIC. This, though, will work against the objective of bringing both private and public sector insurers under a similar regulatory platform. "In the near-term, a level playing field among all kinds of players should be ensured," says U.S. Roy, Managing Director & Chief Executive Officer at SBI Life Insurance.
Clearly, the last word on the issue has not been said and it could snowball into a major bone of contention between IRDA and LIC.
—
Rachna Monga