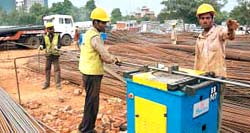 A year ago, when cement prices pierced the Rs 200 barrier (for a 50 kg bag), Finance Minister P. Chidambaram got cracking. In his Budget speech, he attempted to keep manufacturers in check by slapping an excise duty on the product if its price crossed a particular limit. The move backfired, what with cement producers simply passing on the increase in excise to customers.
With prices in Tamil Nadu soaring to Rs 270 a bag last fortnight, and still climbing, few know what the FM has up his sleeve in this year's Budget. For the time being it's the state Chief Minister's turn to spring into action. M. Karunanidhi has threatened to "nationalise" the industry. At the time of writing manufacturers had agreed to reduce prices before February 10, in the wake of the CM's threat.
A more effective attempt by the state to rein in prices has been to allow cement imports. Tancem, a state-owned cement maker, has been asked to use the services of MMTC to import 1 lakh tonnes of cement initially.
"We have a clearance to import up to 18 lakh tonnes, but there is nothing deterring the state from increasing this if there is good retail demand,'' says Tancem Chairman and Managing Director K. Satyagopal. The procedure of importing cement would not be timeconsuming, he promises. According to Satyapal, consumers in Chennai and Tuticorin (which is another port city in Tamil Nadu) would be able to get "good-grade" imported cement for Rs 200 a bag.
Will these imports affect local manufacturers like India Cements, Madras Cements, Chettinad Cements and Dalmia Cements? Ajit Motwani, a senior analyst with Emkay Securities, feels that it won't make an impact. Demand for cement has been robust, outstripping supply, particularly in the south.
The players based there are busy raking in the moolah. India Cements, which had been accumulating huge losses at the early part of the decade running into hundreds of crores, has managed to wipe out all the red ink in the past two years.
Now, the company plans to double its total capacity to 18 million tonnes by setting up projects in the north. Others in Tamil Nadu are also on an expansion spree. That's good news for shareholders, though not necessarily for consumers.
— Nitya Varadarajan