The promoters of Zandu Pharma and Fem Care Pharma recently sold their stakes at attractive valuations. All the deals were struck above the prevailing stock prices of the two companies, an enviable feat considering the depressed economic and market conditions. Business Today's Virendra Verma caught up with four promoters to find out the reasons for sale, their future plans and, more specifically, what they intend to do with their piles of cash, a precious commodity that's hard to come by in these times of a severe liquidity crunch.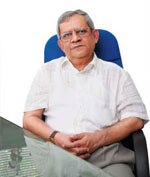 Name: Girish G. Parikh
Age: 62
Company: Zandu Pharmaceutical Works
Stake held: 36% (with family members)
Stake sold: 30%
Reason for sale: Had to compromise with Emami
New area of focus: Not yet decided
This man fought a bitter corporate battle with Emami to prevent the takeover of Zandu Pharma after the other promoter group, the Vaidyas, sold their stake in May. The Parikh family contested the sale by claiming first right of refusal. The hostilities ended amicably in October with the Parikhs entering into a share purchase agreement with Zandu, which, in turn, has included Girish Parikh and his brother D.M. Parikh on its board. So for next one year, at least, the brothers will be busy guiding the company and its new owners especially in research & development. "I'm sad that we parted with a company that is over 100 years old," says Parikh, but is quick to add that the Parikh family had to do so in the interest of shareholders, the company and its employees. "Joint management would not have been a smooth path," says Parikh. The Parikhs have not yet decided on what to do with the money. "There are a lot of members in the family, and so let each of them decide what they want to do with their money," says Parikh. Other than being involved with the affairs of the company, Parikh plans to devote his time to philanthropy and religious activities.


Name:
Dev Kumar Vaidya
Age:
43
Company:
Zandu Pharmaceutical Works
Stake held:
11.8% (with family members)
Stake sold:
11.8%
Reason for sale:
Conflict with the other promoter group
New area of focus:
Winery, specialty plastics
I didn't sell my stake to Emami just for money. I wanted to sell to someone who can manage the company better than the present management." That was Vaidya's excuse for cashing out in May this year, after he was denied a seat on the Zandu board by the other promoters (the Parikhs). Vaidya and his sister sold their combined stake of nearly 24 per cent to Emami at Rs 6,900 per share netting him around Rs 65 crore. He has no regrets that Emami paid the other promoter group, the Parikh family, 16,500 per share (in October) for their 30 per cent stake. Vaidya's financial advisors, Fortune Financial and Anand Rathi Securities, have locked the booty for seven years into venture capital funds and fixed deposits. "I'm lucky—after I sold the stake, the stock market fell sharply," he says. His advisors are working on business plans for setting up a winery and manufacturing special plastics, areas that Vaidya thinks have great growth potential. In addition, Vaidya, along with his wife and daughter, have launched NDS Technology for developing newer technology and intellectual property rights.