India's internet landscape is changing. Today's users can locate anything from a Delhi chocolate shop to a Mumbai masseuse, complete with directions and phone numbers.


"In the past, if you wanted to find a food joint or a plumber, you'd ask your friends and relatives," says Kiran Kondurim, Co-Founder of Bangalore-based web site AskLaila. That will soon change, he adds, with local search engines like AskLaila providing such information for free, and, in the process, empowering netsurfers and small businesses alike.
The engines filter information by city, creating cheap ad space that could serve local businesses more directly than would highprofile TV spots. It is a question of forced advertising versus unforced, Kondurim says, a distinction that makes all the difference.
"If you get someone when they're actively seeking out a product and offer them a solution, they're more likely to take it," he says, offering the example of a Bangalorean searching online for a restaurant. "If he sees a link for Little Italy, which is right near him, and he's hungry at the time, he could easily turn into a customer."
"It's a far more cost-effective advertising medium compared to print or TV where you need to have, if not crores, at least lakhs," says Anurag Dod, CEO and Founder of Bangalore-based search site Guruji. The site, which bills itself as a one-stop resource for anything from instant cricket scores to plumber listings, uses a popular charge-per-click revenue model. Advertisers are charged each time someone clicks on their link, an "objective" system that, Dod says, gives businesses more bang for their buck.
Both AskLaila and Guruji claim to rank among India's top search engines, an industry that is mushrooming quickly and gaining corporate interest. AskLaila's investors poured in $12 million (Rs 60 crore) within months of its starting up, with $10 million (Rs 50 crore) from LightSpeed Ventures alone. But while user numbers are steadily increasing each month, they are not yet high enough for either of these engines to get significant returns.
Out of an estimated one billion web searches per month in India, only 20-30 per cent are local in nature, as opposed to 60 per cent in the United States, according to global Internet information provider ComScore.
Profitability is not yet a reality for many of these companies, and some—like Mumbai-based burrp!—go elsewhere in search of revenue. A self-described "niche media company," burrp! runs local sites for six Indian cities, but it makes most of its money from other sources, such as publishing annual magazine guides to New Year's Eve parties by city and partnering with TV stations.
Burrp! Co-founder Deap Ubhi says the company is not aiming to be a stand-alone local search site. "The more tangible means of advertising like print and TV still tend to be the medium that most advertisers go toward. That's not to say it's not growing. But in such a tough economic environment, where people are starting to lay employees off and cut ad budgets, they won't do much on the fringe like Internet advertising."
Only two per cent of money spent on ads in India is online, though the market is predicted to grow by more than 35 per cent by 2012, according to consultancy firm PricewaterhouseCoopers. Big names in the local search market like Google, Yahoo! and Microsoft currently make their money elsewhere. But home-grown search sites like Guruji believe the Internet's growing popularity among Indians means their efforts will soon pay off.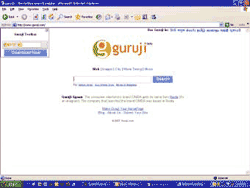 From 2006 to 2007, the number of web-surfers in India jumped nearly 30 per cent to 30.32 million, according to a study by online research group JuxtConsult. Mobile surfing is even more popular, with 76 million Indians accessing the net by their phones in June 2008, according to the Telecom Regulatory Authority of India's (TRAI) quarterly report.
This fact hasn't escaped the notice of local search engines, many of whom are quickly going mobile. AskLaila's alliance this November with Airtel places it squarely on the computer and mobile screens of Airtel's millions of customers, where it will power their searches. As early as 2006, MSN India partnered with Vodafone as a local search tool, giving subscribers, among other perks, the ability to map their destinations on their phones.
But the model that has flourished in the United States—making quick successes out of sites like Yelp and Citysearch, and beefing up the operations of Google— cannot be replicated here, say many Indian site founders.
"India keeps changing far more dramatically than the Western world. Roads open and shut every day. The address of a business changes constantly. If we are going to create a specialised database, we have to keep it live and dynamic," says Kondurim of AskLaila.
AskLaila and burrp! pride themselves on collecting original data, sending scores of workers on the streets to ferret out small details like which restaurants offer valet parking and non-vegetarian food and so forth.
"When we start out in a large city, like say Ahmedabad or Mumbai, we get as many as 200 people out there," says Kondurim. That number stabilises to around 25 people who keep the city "alive", constantly updating the site's new information, he adds.
The model does seem to hold promise, but it's not smooth sailing just yet. Working out a viable business model to remain profitable is still a challenge for most startups in the space. For now, local search sites must continue to innovate, turning to mobile platforms and on-the-ground work if they want to be relevant.
The local advantage

Guruji
Started in October 2006. Covers 32 cities in India
Features
Local language search available in Hindi, Gujarati, Marathi & the 4 southern languages. Users can search the Guruji database for Hindi music MP3 files.

burrp!
Started in June 2006. Covers six Indian cities: Mumbai, Bangalore, Delhi, Pune, Hyderabad and Chennai.
Features
TV listings and alerts available by SMS along with GPS information.

Asklaila
Started in August 2007. Covers six Indian cities: Mumbai, Bangalore, Delhi/NCR, Kolkata, Chennai and Hyderabad.
Features
Detailed information about restaurants

Google
Started in August 2007 covering eight cities in India. Now serves 34 cities.
Features
Listings for taxi services, train schedules, stock info and currency movement available by SMS.