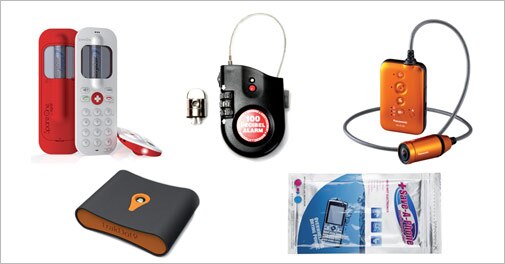 The more connected the world gets, the more diversity it reveals. Travellers need to be prepared for experiences they had not quite expected. Globe-trotting is no longer about just shoving clothes and a towel into a backpack, and setting forth. Here are a list of gadgets that tackle problems every traveller will recognise.

At the Airport-the start and finish line of every holiday
An unpleasant experience at the airport can ruin a holiday. Here are two gadgets to ensure baggage safety.

Travel Lock Alarm

When travelling your personal possessions are always at great risk. If you put them down and turn your back on them for a moment they could be gone. The Lock Alarm Mini safeguards them. It weighs just 100 gm and features a retractable high tensile steel cable which can extend up to 60 cm in length. Simply pull out as much of the steel cable as required, lock the cable around your bags and attach it to an immovable object such as a post or a railing. Using the computer slot adapter, the Lock Alarm Mini can also be used to secure your laptop, notebook or netbook from theft. If an attempt is made to cut through the steel cable, a loud alarm will warn you. Available at Safetykart for Rs 12,995

In Flight
If you are on a long-haul flight, sleep deprivation and lack of movement can be frustrating. Here are a few gadgets or products that may seem nerdy or even make you smile, but they are a big help
Ostrich Pillow

If you have ever waited hours at an airport between flights, or taken an overnight train, you will not find the Ostrich Pillow (www. ostrichpillow.com) as silly as it looks. It's a large cushy helmet in the shape of a massive bulb of garlic, made of plush sweatshirt material, with two holes to insert your hands. Inside your little world, no light enters and sound is muffled, letting you sleep sitting on an airport bench or face down on the plane's tray table. One noise we're not sure it will block out, however, is the laughter of passersby. Another drawback is that it is a luggage-space hog and also leaves you vulnerable while you're in dreamland. There is a 'light' version - a thick, oversized eye mask Buy one at Amazon for $83.36
Trakdot Luggage Tracker

It's always a gut wrenching moment when you arrive at your destination after a long flight and your luggage fails to arrive with you. Add to that the task of dealing with the unsympathetic baggage loss staff. With the Trakdot Luggage Tracker, you don't have to rely on anyone else to tell you where your luggage is. All you need do is hook up the GSM chip-equipped monitor to an app on your phone, and you can pinpoint its exact location. For $50 along with an annual subscription of $13, it is a bargain.
Fight Jet-lag with re-timer

These are definitely not the most stylish of eyewear, but those who designed it say this strange device could mean the end of jetlag - and could even help teens get up in the morning. Researchers have spent 25 years developing these 're-timer' glasses, which use a green light that claims to control the body clock. It costs Rs 180. To advance the body clock (fall asleep earlier) the user wears Re- Timer for 50 minutes shortly after waking up. To delay the body clock (fall asleep later), the user wears it for 50 minutes before bed. The company claims 3-4 days of use is required to realise the
benefits of this device.
Aero-Tray

You'll be grateful for this when you're crammed in economy class and need to get some work done. The Aero-Tray mounts securely onto your seatback tray with two elastic straps and nonslip rubber feet. It's "Z" form design is adjustable and creates a secondary shelf. The Aero-Tray creates an angle of support in coach seating, helping counteract the angle of the reclined seat, allowing usage of a laptop without interfering with your fellow passengers' space. It also doubles as a protective carrying case for small devices and slides easily into a standard laptop bag. You can buy one at www.travelsmith.com, for $59.
Wearable FHD camcorder

Hands-free video capture capability is so convenient, while on holiday. The Panasonic A100 wearable Full HD camcorder is designed to easily capture and share videos of your actvities. The compact, lightweight design of the A100 makes it comfortable to wear. By setting the camera on the included ear-hook, you can shoot videos without having to use your hands. . The A100 is waterproof and dustproof as well. You can take it along even while diving to a depth of 1.5 m. The A100's built-in WiFi You can even easily upload the videos to social networking websites, using a smartphone or tablet.
Adventure experience

Whether you go reef diving, snorkelling, bungee jumping, parasailing or take part in any other sport, taking the Lumix TS5 camera with you is a must. It is waterproof to a depth of 13 meters feet, shockproof from a height of 2 metres, freeze-proof to 14 degrees F, and pressure resistant up to 350 kg. The Lumix TS5 is specially designed for active outdoor use. It adopts GPS, compass, altimeter and even barometer features to show and record altitude, barometric pressure and orientation data. You can use your smartphone or tablet to control the camera's zoom, set the focus, shoot from a distance and even view images

Lechal GPS Shoes
Navigational maps on the phone may well be the most useful invention for the die-heart trekker. But it is a pain having to walk through unknown territory with your eyes fixed to your smartphone's screen. With this pair of Bluetooth-connected shoes that use haptic feedback to notify users which direction to take, navigational maps might become passe'. You can buy 'LECHAL', (take me along' in Hindi) either as a set of shoes or as a set of insoles that can be inserted into a pair of shoes. The shoes connect to a companion app via Bluetooth and sends haptic feedback to notify the user. Using GPS the app determines directions and notifies the user which side to turn by sending a mild vibration through the right or the left shoe. Cost: $100
Swiss Military Universal travel Adapter

When you are travelling abroad, finding a plug point into which your charger /adapter fits is often a problem. If you do travel frequently this Swiss Military Travel Adapter is the perfect companion for you. it features a 3-in-1 travel plug set which is compatible with plug points in almost a 150 countries. Electrical Rating: 110V-250V, Max 2500W. Available at - www.swissmilitaryindia.com at a price of Rs 590.
Emergency Gadgets
You could plan your holidays months in advance and yet circumstances may arise which you never anticipated, and leave you stranded in some unknown place. Take a look at these gadgets that, in times of emergency, will still keep you connected.

Save-A-Phone bag

Many of us have at least once dropped our phones or even other devices into a sink or tub full of water. The save-a-phone bag does exactly what the name suggests. If it gets wet and stops working, just switch it off, place it in the airtight bag with the two drying agent packs and leave it there for 2-3 days There is a pink indicator on the bag which will turn blue when all the water has been drawn out.
Spareone mobile phone

This is the only mobile phone you can use anywhere in the world. It uses just one AA battery and has a lifespan of 15-years! It also has a built-in flashlight and a dedicated emergency services dial button. Just take out your phone's sim card and insert it into SpareOne, and you're good to go. In case someone sends you a text while your sim is slotted in SpareOne, the AutoText feature on the phone sends an automatic reply informing that you cannot read text messages but can be reached via phone. The good folks at XPal also had the sense to include a SIM tray access pin and a SIM adapter, in case you need one. Price $79 + $15 shipping charges. You can order the phone from www.spareone.com