Pulse (Free)
iPad, Android
Pulse sets itself apart by the sheer number of sources it gives users. There are so many that you will have to add pages, keeping the similar sources together. Plus you can also add RSS feeds blogs which you have listed on Google Reader to the pages. And, thankfully, it supports regional languages too. This too app facilitates sharing through Facebook and Twitter as well as lets users save stories for reading later. Another interesting feature is the option to read either just the text or to go for a full web view of the original page.

Flud News (Free)
iOS

Flud News is similar to Pulse in its formatting and layout, though it creates the sections on its own by default. Here too you can search for and add more RSS feeds. While the sources are arranged in rows from top to bottom, users can browse within a source by swiping from left to right. This app directly opens the original story page and the sharing options are limited to Facebook and Twitter. Users can, however, 'love' stories, which are bookmarked for later reading. Facebook and Twitter feeds can also be added to the app.
Flipboard
iOS
One of the most popular iPad apps, anything you want to read is just a flip away on Flipboard. The app compiles the best sources in categories and presents it in a picture-heavy format. Just flip through pages of content - the more sources you add, the more pages you will have.
Zite (Free)

iOS
Zite is like having your own magazine, full of stories you want to read. Once users pick their favourite news sections, Zite packages it in an easy-to-read format. Users can easily flip through the sections by clicking the tabs on the right. However, instead of giving the story in full, Zite just gives a teaser in the app and opens the source website if users want to read the full story. However, they can share the item or save it for future use with the app. With each story, the app keeps asking if you like more items about the same topic or from the same source, which is good. This is a pure news app, so no Twitter feeds or Facebook wall-posts here.
News 360 (Free)
iPad, Android, Windows, Playbook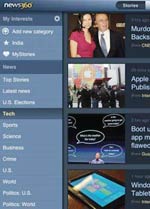 This app presents a 360 degree view of news by giving various angles to the story from different sources. The app knows what you like through preferences of your Facebook and Twitter accounts, as well as reading habits, and uses semantic analysis to shortlist news items that fit the bill. Flipping through sources is as easy as clicking on different tabs on top of the item. The app also lets users add categories of their own with customised sources. It also has the option of saving webpages for offline reading, as well on the cloud through Evernote. There is also a 360-degree view of the top pictures of the day, letting you read the story behind it by just clicking on a picture.
Courtesy:
Gadgets and Gizmos