Take this little test. Ask yourself a simple question: what is my ethnic identity? Now, ask five other people from different backgrounds and social groups the same question. Chances are that you'll get answers that range from sub-national identities ("I'm Maharashtrian, Bengali, UPite, etc."), to caste (I'm a Brahmin, OBC, etc.), to religion (I'm Syrian Christian, Muslim, Buddhist, etc.). There's an equal chance that some of your respondents will say: "I'm an Indian. Any other identity I may have is inconsequential."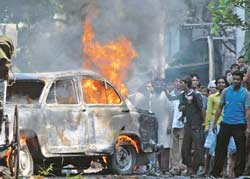 The difference in the perceptions of these two sets of Indians is now threatening to break out into a fullscale war. Inter-religious and inter-caste "wars" have been around for long. Now, Raj Thackeray's shrill and strident espousal of the Maratha cause is threatening to open up the fault-lines that exist on the third "front".
Then, other less reported, but no less strident, "sons-ofthe-soil" movements exist in several other states, most notably Karnataka, Orissa, Tamil Nadu and Jharkhand.
There can be no two ways about it. The country as a whole belongs to all its citizens and no one—least of all an unelected demagogue—has the right to decide who will stay where. Already, rabble-rousing politicians in Karnataka have launched an agitation against the large presence of people from other states in Bangalore's IT sector. They haven't found much traction and so, remain at the fringes of even local politics, but that may change if, heaven forbid, Raj Thackeray's "movement" leads to the expulsion of a large number of Kannadigas from Mumbai.
India is a vast country and it is reasonable to expect multiple, and even mutually exclusive, strands of thoughts and ideologies to coexist. That's perfectly acceptable. What isn't is the use of brute force and coercion to push one's ideas down the throats of unwilling people. At a time when India is belatedly fulfulling its latent economic potential, and attracting even expat talent by the thousands, such extra-constitutional intra-nation restrictions can play havoc with the economy.
There are laws to bring transgressors to heel. But the state government's of Maharashtra, Karnataka and Tamil Nadu (where there's an anti-Kannadiga agitation on) have failed to implement them. That is scary. The central government's pussy footing on Jarnail Singh Bhindranwale in the early '80s and the still incipient Ayodhya movement half a decade later created two monsters that threatened to tear the country apart. Left unchecked, Thackeray's agitation could snowball into something so nasty that those two, by comparison, will seem like walks in the park.
Our humble plea: nip these agitations in the bud.