The Indian public doesn't do things in halves — at least when it comes to cricket and cricketers. The victorious Twenty20 team — dubbed Dhoni's Destroyers by sections of the media—has been showered with money, gifts and public adulation on a gargantuan scale. It just goes to show that six months is a long time in the life of an Indian cricketer. When the Indian ODI team crashed out of the World Cup in the Caribbean earlier this year, the reception was decidedly less friendly. In the past, too, fans have reacted with extreme emotions and volatility to the fortunes of Team India—worshipping its members as gods when India wins and burning their effigies and stoning their houses when the country loses.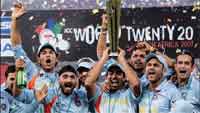 Such wild swings in the public mood bring to mind the examples of the ancient Roman gladiators, who were feted and deified when they fought and won against lions—till they became dead meat, literally. What does this say about Indians as a nation?
The display of such atavistic passions over cricket probably has much to do with the fact that India is, largely, a one-sport nation. The US has champions in tennis, baseball, golf, American football and athletics. Almost every other country is passionate about more than one game. Not so in India. Result: Cricketers have to carry the burden of expectations—and frustrations—of the country's sporting ambitions on their shoulders.
This brings us to another point that is causing debate, heartburn and envy all around. The Indian hockey team, which recently won the Asia Cup, was upset— some members even went on hunger strike—that it wasn't feted at all for its famous victory. Recently, crowned world chess champion Vishwanathan Anand has also openly wondered if he will get a reception of the kind that Dhoni and company received.
This is neither here nor there. Till the late '60s, Indian cricketers were treated like second-class citizens in their own country. Visiting teams would be flown around the country and put up at five-star hotels while Team India (it wasn't called Team India then) would have to travel by train and be content with staying at lesser hotels. If cricket is a religion in India today, it is because individual cricketers like Sunil Gavaskar, Kapil Dev, Sachin Tendulkar, Yuvraj Singh and M.S. Dhoni, among many others, have proved themselves to be world beaters over and over again, even if this hasn't always translated into success for Team India.
Before envying Indian cricketers their good fortune, administrators and practitioners of other sports will do well to raise the standard of their own game—and show themselves to be world beaters over a period of time. This will, hopefully, create a market for the stars that emerge from them, and also douse the inexplicable and unseemly passion that cricket now arouses.