What if Michael Phelps were an Indian citizen? Just imagine the hysteria he would generate on his arrival back from Beijing. Abhinav Bindra merely touched the tip of the iceberg when he clinched the gold in the Men's 10-metre air rifle event at the 2008 Beijing Olympics. But please note that his success did not come out of the blue. His training cost about Rs 10 crore—and it is only his father's ample financial means that let him build an air-conditioned personal shooting range at his Zirakpur farm house near Chandigarh. It's also this financial means that allowed him to hire the services of a Swiss coach and live unhindered in Europe in pursuit of an individual gold.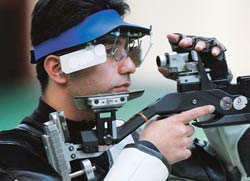 That should be an eye-opener for Indian sports associations, most of which are run by grossly unfit politicians and power brokers more keen on protecting their turfs and distributing patronage than on enhancing the abysmal standards of our sports infrastructure.
Consider this: of the total Rs 1,111.81 crore sanctioned as budget for the Ministry of Youth Affairs and Sports for 2008-09, which includes capital outlay for education, art and culture as well, Rs 624 crore is the allocation for the 2010 Commonwealth Games to be hosted in New Delhi. That leaves less than Rs 500 crore for improving sports infrastructure in the rest of the country. Our harebrained programme of picking out Olympic-level sportspersons through the Special Area Games Scheme, started in 1985—to identify population groups and regions where natural talent and aptitude for a particular sport exists—have not yielded the desired results as is evident from the repeated failures of our tribal archers at the Olympics and other international meets.
It's not that talent does not exist, but talent alone is not enough to win the day at events where the difference between a medal and an also-ran status is often one-hundredths of a second or a few millimeters. Indian runner Anil Kumar's personal best of 10.21 seconds for the 100-metre dash wouldn't even qualify him for the semifinals of the event at the Olympics, where, in the finals, six of the eight sprinters recorded times of sub-10 seconds. Technological inputs, which cost a neat packet, are as imperative as the personal skills of individuals. Phelps' Speedo swimsuit boasts inputs from NASA scientists.
If India has to harvest more Abhinav Bindras, it can't just depend on the personal wealth of the sportspersons, most of whom are people of modest means. Until India's sports bodies learn to back native talent with a financial savvy and world-class facilities and infrastructure, India's medals cupboard will continue to remain bare.