A bad day at golf is better than a good day at the office," said Suresh Divyanathan, Partner-Lawyer at Oon and Bazul, a Singapore law firm. He was one of the 150-odd golfers at the national finals of the 17th edition of the Business Today-Honda Pro-Am of Champions 2012 on March 3 and 4, and his comment summed up the feelings of all those present.


Irrespective of how they fared, they enjoyed themselves. The regional legs of the tournament, the oldest Pro-Am in India, had been held earlier at Chandigarh, Kolkata, Bangalore and Mumbai.
The venue on the first weekend in March was the ITC Classic Golf Resort, nestled amid verdant wheat and mustard fields in Manesar, about 70 km from Delhi, With the Aravalli range in the backdrop, and peacocks roaming freely on the grounds, the 200-acre undulating course was a delight.
This time too, as in last year's tournament, female professional golfers joined the corporate honchos at the course. Each four-member team comprised one professional and three corporate enthusiasts. The professionals included India's top 10 female golfers, including the No. 1, Sharmila Nicollet, along with some of their counterparts from Indonesia, Thailand, Malaysia and Brunei.
Vivek Mehta, CEO, Callaway India, a leading golf equipment company, attended the event despite high fever. "My wife asked me not to go, but how could I miss a wonderful day of golf," he said. Sundeep Bhandari, Chairman, Corporate Advisory Board of Cairn India, said he had enjoyed his game thoroughly, but added, shrugging: "I am not progressing, though."
One who seemed to have progressed remarkably was Varun Berry, who quit as the head of PepsiCo India's food division just two days before the tournament. He hit a 230-yard shot at Hole No. 1 that would have put pros to shame, but said: "This is once in a while shot, a fluke. I just practice once a week."
"Though we don't play for a livelihood, we still play to compete. It is the best way to stay fit," said Rajeev Tiwari, Director, Canon India, who spends around five hours at the course on every holiday. "But ultimately, winning doesn't matter. It is fun." For Dilip Trivedi, Additional Director General, Indo Tibetan Border Police, golf helps expand his social circle. "Apart from making new friends, you also run into your old friends," he said.
The executives also learnt more about the game by interacting with the pros. "We can't hit like the pros, who practise hitting the balls 1,000 times a day," says Nanda Kishore, winner of the Bangalore leg of the tournament, who heads Solution Development at Wipro Technologies. "But we got a lot of tips from them. Playing with them has helped us a lot." Top industry leaders seen in action included Vijay Chauhan, Chairman and Managing Director of Parle Products, Siddharth Shriram, CMD of Mawana Sugars, and Vijay Dhawan, Director of Mazars.
The game was followed by a glitzy awards ceremony at the ITC Maurya. Host Charu Sharma, the well known sports TV personality, kept the audience in high spirits with trademark wit in his informal presentation. Music band Peter Cat Recording Co. entertained the gathering. The total prize money for this year's tournament was Rs 10 lakh. Among those who gave away prizes were India Today Group Editor-in-Chief Aroon Purie, CEO Ashish Bagga, Managing Director Anil Mehra, and Seki Inaba, Director, Marketing, Honda Siel Cars India.
Congratulating the winners, Inaba expressed his happiness at Honda's association with the tournament for the sixth consecutive year. Also present was BT Editor Chaitanya Kalbag. The team comprising Kulwinder Singh, Jasjit Singh, Ravi Khanna and Ankita Tiwana came out on top with 111 points, seven points ahead of runners-up Ravi Shankar Singh, Himanshu Kohli, Ravi Nath and Neha Tripathi. Tiwana, a professional, thanked BT for the opportunity and said she looked forward to playing in the tournament again.
In the individual category, winners included Greesh Bindra (19-24 handicap), Sheila Sangwan (11-18) and Ravi Shankar Singh (0-10). Among the pros, the winner was Junthima Gulyanamitta of Thailand, while Tripathi and Nicollet finished as first and second runnersup respectively. Indeed the winner was decided by a fascinating play-off at the 18th hole between Gulyanamitta and Tripathi, both of whom, at the end of play, were tied at the top with 140 points each. Gulyanamitta won with a birdie.
"I am extremely happy to have had a dream start to my campaign in India. I liked the course here and would love to play more here," she said. "It would have been good to finish in winning place, but I did my best for two days and that satisfies me the most," said Tripathi, who shot 72 and 68 over the two days. Thirtyfive participants won a trip to Dubai with their families, courtesy the event's international destination partner, The Address hotel.
Said India Today Group's Mehra, who also took part in the event: "Golf is a game of coordination, rhythm and race. Our event brings out the best of the best and presents a unique platform for top business leaders to play with top women golfers." He went on to describe golf as a game of "a series of tragedies obscured by a miracle (the hole-in-one)".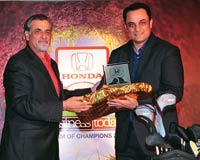 Delivering the vote of thanks, BT's General Manager, Marketing, Vipul Hoon, expressed his gratitude to all sponsors and the Women's Golf Association of India for its support. Besides Honda and The Address, other sponsors included Franklin Templeton Investments and ITC Hotels (associate sponsors), Sobha Developers (lifestyle partner), PING (equipment partner), Cotstyle (apparel partner), Ballantines (beverage partner), Neo Sports (TV partner), and Golf Digest India (official magazine for the tournament).