Kalpana Morparia, Chief Executive, JPMorgan India, set the tone at Business Today's 'Most Powerful Women in Indian Business' awards held at the Trident Hotel in Mumbai on September 27. She said companies with women on their boards tackle crises better than those without.

"Studies show they performed even better during the post-Lehman crisis," she said at the first panel discussion of the evening. Morparia recalled that at one point three of five wholetime directors at ICICI Bank, her former employer, were women.

Fellow speaker Leena Nair, Executive Director, Human Resources, Hindustan Unilever, turned the topic of the discussion around from 'Why there should be more women in the boardroom' to 'Why we don't have more women in the boardroom'. She questioned the tendency to conduct studies to prove why there should be more women in the workplace while there was no such need for men, prompting a round of applause from the audience.

"There are as many good women as men," she said. Later in the evening, Chief Guest Chua Sock Koong, Group CEO, Singapore Telecommunications (SingTel), echoed Nair by urging women not to short-change themselves and to live up to their potential.

Preetha Reddy, Managing Director, Apollo Hospitals Enterprise, the third panellist at the discussion moderated by BT Editor Chaitanya Kalbag, said women were instinctively better managers than men.


The next speaker shifted attention away from the workplace. Farida Lambay, co-founder of Pratham, a non-governmental organisation working in the area of education for poor children, said we as a nation are "failing our girls." To buttress her point, she mentioned that the literacy rate for men in India was 68 per cent while for women it was just 58 to 59 per cent. She rattled off more numbers on the skewed sex ratio and dropout rates for schoolgirls to get the audience thinking on how much more needs to be done for women.
The grim picture painted by Lambay was soon reversed by three young women who captivated the audience with their wit and insight on whether today's young women were prepared for a bigger role in business. Devita Saraf, CEO of Vu Technologies, said it was no longer surprising to see a young woman CEO. "That awkwardness (of being a young woman CEO) is gone," she said. Zahabiya Khorakiwala, MD, Wockhardt Hospitals, said the environment at Wockhardt when she assumed her current role was far from hostile despite there being several old hands who had worked with her father, Habil Khorakiwala.
Saraf, who hails from a Marwari family, said sons in India were considered "money coming in" while daughters were "money going out". But she cited her own example as a sign of attitudes changing. "As an educated woman you do a disservice to those women who don't have that opportunity by not working," she said. She added, in jest, that if a Marwari man puts Rs 100 in his daughter's business and gets back Rs 200, he would have 10 daughters.
While the discussion touched upon what organisations should do to encourage women, Lara Balsara, Director, Madison World, said success had a lot to do with the individual as well. Khorakiwala, who got the Dove award for the 'Most Promising Young Woman in Indian Business', added that women should not have to choose between work and family.
The discussion segued into the evening's main event, which was kicked off by Editor-in-Chief, India Today Group, Aroon Purie. "It (MPW) is a listing we are immensely proud of, especially because we were the first to create such a platform as far back as in 2003," he said. Purie added that half of the 100 million Indians who will join the workforce in the next 10 years will be women. "Many of these women will be firstgeneration entrepreneurs. The signs are already there. Women are not just doing well in high-profile jobs but have now started moving out to start their own ventures," he noted.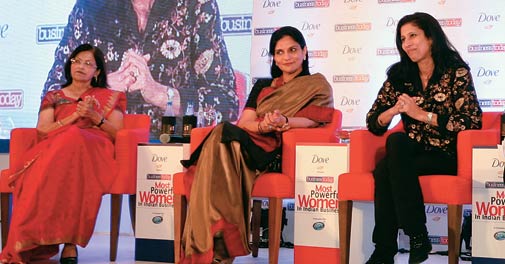 Purie cited the example of Maharashtra's Kalpana Saroj, who heads the Rs 300-crore Kamani Tubes, a maker of copper tubes. Saroj, born into a Dalit family and married off at 12, only to see her marriage collapse within months, is an inspiration for not just women but men as well.
Next to take the stage was Chua of SingTel, the largest company by market value on the Singapore Exchange. Chua also sits on the board of Bharti Airtel, in which SingTel holds about 32 per cent stake. She opened her keynote address by saying companies have benefited from gender diversity.
She said that maintaining a work-life balance was the biggest challenge for a working woman. "It's okay to have different priorities at different stages of your life," said this mother of two daughters. Chua said organisations could do a lot to alleviate systemic barriers to growth for women leaders. She stressed upon the need for a support system of friends and family. "We can't do everything by ourselves. We shouldn't be afraid to ask for help."
Chua's address was followed by the honouring of the women who have entered the 'BT Hall of Fame', which was created last year for leaders who make it to the MPW list seven times. While the inaugural 'BT Hall of Fame' had six women, there were four more this year: Apollo's Reddy; JPMorgan's Morparia; Zia Mody, Managing Partner, AZB & Partners; and Shobhana Bhartia, Chairperson and Editorial Director, Hindustan Times Group.
Next came the 25 'Most Powerful Women' of 2012. The list had an interesting mix of veterans such as HDFC Managing Director Renu Sud Karnad and new entrants such as Diageo India Managing Director Abanti Sankaranarayanan. Some of them, including Leena Nair and Capgemini India CEO Aruna Jayanthi, came with their families in tow. After all, the awards were a celebration as much of their achievements as of their 'support system'.
The presenting sponsor of the event was Dove. Ebco was the associate sponsor and Pinky was partner. ET Now was the official television partner of the event.