It seemed like a well-coordinated effort at time management by a motley group of business executives. At 8 am on a rainy morning in Hyderabad, 14 CEOs stepped into the Kaveri-Godavari conference hall of the newly constructed Trident hotel in Cyberabad, the technology hub of Hyderabad. They were there to take part in Business Today's Power Breakfast meeting, the second in a series of interactions held in association with the Oberoi Group. While it continued to drizzle outside, the discussion took off over plates of masala idli and sambhar, banana pancakes, fruits and much else. BT Editor Chaitanya Kalbag, along with Managing Editor Josey Puliyenthuruthel, led the discussion on "Why innovation is crucial for business, especially in a downturn".


The industry leaders present were Rajeev Nannapaneni, Vice Chairman and CEO, Natco Pharma; B.V.R. Mohan Reddy, Chairman and Managing Director, Infotech Enterprises; S. Sivakumar, Group Head for agriculture and IT businesses at ITC; N. Krishna Reddy, CEO, Care Hospitals; C. Krishna Prasad, MD, Granules India; Debasis Chatterji, CEO, Netxcell; Edwin Kolen, Chief Operating Officer, at CtrlS Datacenters; K. Srinivas Rao, Chief Strategist and Partner at The Strategist HR Advisory Services; K.V. Vishnu Raju, CMD, Anjani Portland Cement; Laxmikanth Venkatraman, MD, Broadridge Financial Solutions (India); Ravi Kailas, Chairman, Mytrah Energy (India); S.P. Vasireddi, Executive Chairman, Vimta Labs; Samir Dhir, Executive Vice President and Chief Delivery Officer at Virtusa; and Vivek B. Gadgil, CEO and MD, L&T Metro Rail Hyderabad. The lunch was hosted by Sharad Puri, General Manager, Trident, Hyderabad.
The CEOs were buzzing with ideas. Srinivas Rao of The Strategist said it was time to stop thinking that innovations can only come from research and development labs. To Vasireddi of Vimta, the demands of the current challenging times were clear. "Innovate or perish," he said. "We should be able to improve the service quality or performance levels by at least 40 per cent and if it is a product, it should get at least 40 per cent cheaper."
Natco's Nannapaneni felt Indian drug makers had played a crucial role in innovation. "If it was not for the Indian pharmaceutical industry I don't think we would have affordable health care around the world."
To a question on the education system and what fixes were needed to discourage learning by rote and foster an enquiring mind, the CEOs had some interesting observations. Chatterji of Netxcell said there was a need to "train the trainers (teachers)", while Mohan Reddy of Infotech Enterprises felt the environment and culture of organisations needed to be corrected. Anjani Portland's Vishnu Raju, who also runs a chain of engineering colleges in Andhra Pradesh, said mentoring of faculty and constant engagement with industry would play a crucial role in improving the education system.
Executives discussed ways to promote a culture in organisations that spurs innovation. Sivakumar talked of the culture at ITC where employees are encouraged to look at both profitability and inclusive growth. Laxmikanth of Broadridge said innovation was a leadership issue and required investment of time and effort. He shared an experience within his company where a portal had been created for anyone to post a problem. "In the last three-and-a-half years since we launched it, we have got 1,800 ideas, close to 170 of these have been approved for execution and 10 among them were multi-million dollar solutions."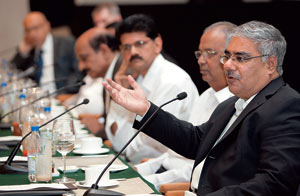 Krishna Reddy of Care Hospitals talked about innovation in health-care delivery models and financial models with the evolution of micro-insurance products. Virtusa's Dhir said ideas are not going to come from the corner office but from people who interact with customers on a daily basis.
Natco's Nannapaneni also said a culture of accepting mistakes was needed to encourage innovation. There is a fine line between failing and not doing things properly, and sometimes companies will need to be "willing to lose money to make money".