Internet major Google India and technology consulting and services company Accenture India retained their positions as the most employee-friendly companies for the second consecutive year in the Business Today-PeopleStrong "Best Companies to Work For" survey. E-commerce giant Amazon displaced long-time incumbent Tata Consulting Services, to become the third most sought-after company to work in India.
The employees' survey was conducted by Business Today with help of knowledge partner PeopleStrong, a leading HR solution company. The other companies which made it to the top 10 are Microsoft, Infosys Technologies, Facebook, ICICI Bank, IBM, and HP Enterprise.
The awards were given by Union Railways Minister Suresh Prabhu at a glittering function in Mumbai on February 22. In his address to the who's who of corporate India, Prabhu said,"Organisations succeed because of people and companies need to have the best talent."
Prabhu also talked about how his ministry has tried to transform Indian Railways, which has the largest workforce in the country into a professionally-managed organisation by making each and every employee accountable to the growth of the organisation. "We have created 12 key result areas for employees to create accountability in the organisation. People must work with a purpose."
Raj Chengappa, Group Editorial Director (Publishing), India Today Group, in his address to the gathering said, "Our winners have one thing in common. They are a people-first company."
Speaking on the occasion, Prosenjit Datta, Editor, Business Today, said, getting talent is only the first step. "Keeping them constantly motivated, providing them with interesting, challenging and fulfilling work, offering them growth opportunities and helping them to achieve their full potential are the other things that organisations need to do if they want to get the best out of the talent they hire."
The Business Today-PeopleStrong survey also had 11 sectoral winners. While Abbott India was the best company to work for in the pharmaceutical sector, Indian Hotels won the award in the hospitality sector, LG in manufacturing, Airtel in telecom, and Tata Steel in the core sector. The best company to work for in the engineering and automotive sector was Mahindra & Mahindra, while retailer Lifestyle International won the award in the others and diversified category. ICICI Bank won the award for the BFSI sector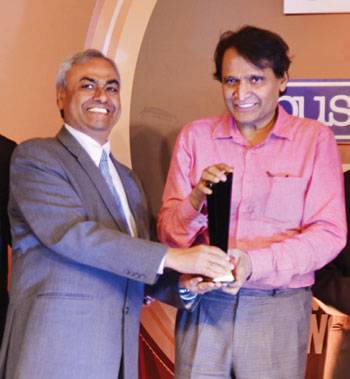 Google, the overall winner of the Best Companies to Work For awards, also bagged the award in software, hardware and information technology category. Amazon was the winner in the Internet businesses sector, while IBM got the award in the BPO, KPO and ITES category.
mosimage

Speaking on the sidelines of the event about Google India's people strategy, K. Suryanarayana, Director, People Operations, Google India, said, "We have always striven to create a workplace and culture that celebrates entrepreneurial spirit and provides an environment that allows everyone to contribute in solving real hard problems." The event was sponsored by VIT University.