It was a night to celebrate India's woman power. Heads turned as one by one the most powerful women of Indian business - many of them accompanied by their parents, children and husbands - were ushered into the ballroom of ITC Grand Central in Mumbai on August 30. It was the eighth edition of Business Today's Most Powerful Women Awards Night.

Starting the proceedings, Aroon Purie, Editor-in-Chief of the India Today Group, applauded the women achievers who have emerged as iconic role models. "Many of these women have done more than choose Robert Frost's road less taken, they have actually cleared the jungle, fought off the wild beasts, braved the unbearable climes and dug their very own road," he said. "There are so many tales told of the sacrifices of women entrepreneurs, what they had to give up to gain power and wealth."

The gathering, in Purie's words, was intended to raise our collective caps to these women's discovery of a whole new sky. "We have the legendary Kiran Mazumdar-Shaw, who has taken India to the cutting edge of biotechnology; Chanda Kochhar who is leading the largest private sector bank in the country - in fact it is often said about her that she could even lead an army; Mallika Srinivisan who has come to be known as the Tractor Lady of India; Naina Lal Kidwai - the first woman dealmaker of India; Shikha Sharma who introduced the concept of getting insured to us; and Dr Swati Piramal, the first woman to lead an industry chamber ever," added Purie.

Apart from the achievements in their respective fields, the six women named by Purie have one more feature in common: they have been on BT's Most Powerful Women in Business, or MPW, list, for seven years, or every single year since the award was instituted. To celebrate and honour the achievements of these very special women, BT this time created the first ever 'Hall of Fame' awards, which were given to them.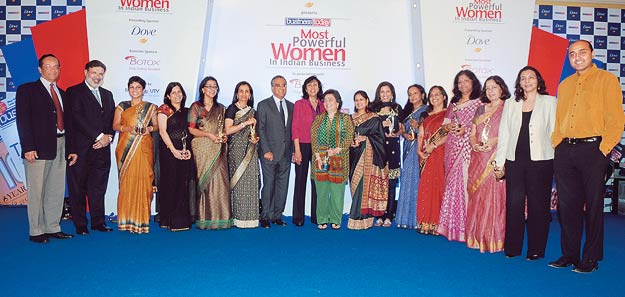 The MPW list has also been featuring more diversity with each passing year, as women break the glass ceiling in more and more male bastions. A list that was traditionally dominated by bankers and women in financial services, this year included publishers, women from the media, entrepreneurs and other industries like hospitality and consulting.
It was befitting that Sara Mathew, Chairman and CEO of Dun & Bradstreet, or D&B, gave away the awards to the six women in the Hall of Fame and the 25 achievers identified by BT as India's most powerful women in business. Mathew's own story is one of grit and determination. Starting her career as a clerk at Procter and Gamble, or P&G, she moved up the ladder across finance and general management functions over 18 years. She joined D&B as chief financial officer in 2001. Mathew enchanted and inspired the audience with her speech, which, embellished with examples from her own life, dwelt on the importance of daring to dream, taking risks, doing the right thing, understanding failure and leadership. "Never, ever stop dreaming," she said. "In the words of Anatole France: 'To accomplish great things, we must not only act, but also dream; not only plan, but also believe'."
Mathew recalled how she made a costly error at P&G, but learnt from it. Her initiative to webcast the annual investors' meet led to a $3-billion loss in market capitalisation for the company. "I failed very publicly. Everyone knew I messed up! But I learned so much from the experience. I learned to pick myself up and try again. And my biggest learning: failure teaches you much more than success ever will."
Only daring to dream gives a person the courage to take risks. "Dare to take risk, even fail," she said. "When you fail, pick yourself up, and move forward. Focus on the solution, not the problem." Her take on leadership? "At the foundation of great leadership are values like integrity, respect for others, performance excellence and teamwork," she said.
In the question and answer session with Purie that followed, Mathew maintained she had never made much of her gender and that being a woman in leadership positions had never been a hindrance. Asked if there was any one thing she was really good at, she said: "I am amazing with numbers." She added that being good in math was not considered cool in school, and thus, she always tried to underplay this ability.
The presenting sponsor of the BT Most Powerful Women in Indian Business was Dove, Botox was the associate sponsor, Bloomberg UTV was the media partner, Swarovski Elements, Pinky and Kingfisher were partners, and Bright Out Door was the Out of Home partner.