At the NASSCOM India Leadership Forum held in Mumbai last fortnight, Business Today got together an eclectic collection of thinkers to brainstorm about one topic: How important is innovation in the emerging world order? The hour-long discussion saw Gururaj Deshpande, serial entrepreneur; Soumitra Dutta, Roland Berger Chaired Professor of Business and Technology, INSEAD; Thomas A. Stewart, Chief Marketing and Knowledge Officer, Booz & Company; Gavin Michael, Global Managing Director, R&D and Alliances, Accenture; and Som Mittal, President, NASSCOM, talk about what it will take for India to become a global innovation hub. The discussion was moderated by Chaitanya Kalbag, Editor, Business Today. Edited excerpts:

Kalbag: What areas do you think India needs to focus on to leapfrog from a service-driven economy to one that is a global leader in innovation?


Stewart:
You can look at innovation in India in two ways. One, the innovation is fostered by Indian companies. Two, India is a destination for innovation for companies like Accenture. If you look at the Indian innovation, it is relatively small as a percentage of GDP compared to China and the United States. On the other hand, India is the second most popular destination for inbound R&D after China, according to the studies we have done at Booz. Strong domestic markets, a history of entrepreneurship, a talented workforce, and the rule of law make India an attractive destination for innovation. India's strategy for innovation should be to capitalise on these aspects and make it a target for other people's innovation… in the hope that it will spur more domestic innovation.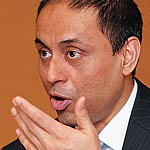 Deshpande:
Necessity is the mother of innovation. There are two necessities (from an innovation point of view) in India. One, large numbers… everything is in millions. Second, very low affordability. So the next wave of invention in India will not be measured in patents but will be about coming up with solutions that are extremely affordable and can be scaled. For example, take the Akshaya Patra midday meal programme. It costs 12 cents a meal and they build these kitchens for 180,000 meals. Today, they have scaled to 1.3 million meals a day. That's real innovation going on in India. Innovation is contextual. For example, if you ask the MIT to come up with a midday meal programme for India, they will probably do it for $5 and won't realise that it is $4.88 too expensive for India.
Dutta:
For any kind of innovation or change to happen, be it in a country or an organisation, you should be able to inspire people. And that's happening in India. Let me give you an example. About a year ago, I came to attend my 25th alumni reunion at IIT Delhi. Of my class of 50, almost 45 went to the US or somewhere abroad. But when I asked about the last graduating class, I was both shocked and pleased to discover that only two had gone abroad. It was nice to see that of the rest many had started their own companies. I used to tell people, a few years ago, that there were only two role models in India - cricketer and film star. Today, there is a third… a software entrepreneur. Not many countries have it.
Kalbag:
In terms of thought excellence, India is still not being thought of as a thought leader. Or do you disagree with that?
Michael:
When people talk about innovation, we tend to think about disruptive innovation, big breakthroughs. We need to refocus a little bit and focus on the practical aspect of innovation. There are breakthroughs all the time but there is a better success rate when there is incremental innovation. We always looked at metrics like patents filed but that is changing.
Let me illustrate. I was very excited on reading about an Indian microfinance company that was using Salesforce.com for customer relationship management solutions. Why is that revolutionary? Because it involves a company that is focused on microfinance, which instead of investing in large systems saves resources that can be diverted to better causes.
Mittal:
One change which has happened in India is that failure is no longer a bad word. People are willing to experiment. I have had people come in for jobs saying, "I have tried my hand and it did not work. Let me get more work experience and then get back to being an entrepreneur." I think we also need a completely new ecosystem of finance. So you have people from the information technology industry after creating wealth, creating this new system. If you look at (N.R.) Narayana Murthy and his new venture (Catamaran), he is more likely to be patient with an entrepreneur as compared to a venture capitalist who would be mapping exit routes. Similarly, NASSCOM has started an innovation fund which will look at early-stage investment. We will ask the same professional questions, but we are likely to be a lot more patient.
Listen to the discussion