I am Aishwarya Rai. i am worried about fierce competition in the market, with all these new stars coming up. Do I cut my price or take fewer films?" The question was posed to Mario Gonsalves, an IIM Bangalore student competing in the national debate semifinals of the
Business Today
-Aditya Birla Group Acumen 2008 Challenge. After a brief pause, Gonsalves made his response to the judge. "Sir, I would say she's really durable and she doesn't need to cut prices."
His opponent, Anchal Gupta of IIFT Delhi, cut in. "It's better to stay in the public eye. We say lower your price and remain in the market. Then when things get good again, become selective."
The question was a riff on a larger theme—whether companies should cut prices or production to counter the downturn. Gupta argued from the side he had been given, reducing prices.
Either Gupta was too naïve to understand the strength of the Rai name, or he and his partner Rahul Sanan—also from IIFT Delhi— simply didn't argue their case persuasively enough. They took the fourth place and Gonsalves and teammate Vineet Sharma nabbed the second, after facing bright minds from around the country.
The first place went to Rishav Jain and Shipra Bhalla from S.P. Jain Institute, who argued in the second semifinals against voluntary employee salary freezes during the downturn. "When we call this voluntary, what are we really saying?" Bhalla asked the audience. "If an employee volunteers not to take the freeze, it's inevitable they'll get fired. What's voluntary about that?"
The S.P. Jain team faced off against Gonsalves and Sharma in the final round, debating whether the Indian economy would rebound in 2009. Bhalla and Jain argued it couldn't, reciting a laundry list of Indian woes, from high mortality rates to corruption. Gonsalves and Sharma took on an intensely sunny outlook, emphasising positive economic figures like India's still high GDP growth, and ignoring USdependent industries like outsourcing and exporting to prove a quick upswing for India. Both sides agreed the other had a point, but for the sake of the debate, each was unswerving.
"It's never easy to argue for something you don't believe in," said event judge Arun Gaur, Chief People Officer of the Aditya Birla Group's Global Carbon Black Business. "I congratulate you."
Others who judged the competition were Sanjeev Bikhchandani, Founder and CEO, Info Edge India Ltd; Dr Ajit Ranade, Group Chief Economist, Aditya Birla Group; Rohit Saran, Editor,
Business Today
; Aseem Kapoor, Publishing Director,
Business Today
; and Ashish Chadha, Associate Publisher,
Business Today
.
This was the grand finale of debate and quiz for B-school students, who earned their spots after winning regional competitions that took in schools from the North, South, East and West.
Even making it to the national finals is enough to embellish a resume, said event host Harsha Bhogle, who famously left a fat advertising job and promising post-MBA career for the cricket sidelines. Bhogle's fizzy commentary kept students nervously grinning, not clear when they were being insulted or complimented. "Aren't you excited being up here?" he asked the students at one point. "I mean, just having made it here—I know I'd be feeling kicked. Not that other kind of kicked, you know, the good kind."
Teams came from around India, and, as with the first prize debaters from S.P. Jain, they often comprised both men and women. Third place in the debates went to Apurva Harsh and Cheishta Katyal from IIFT Kolkata. In the quizzes, SIBM's (Symbiosis Institute of Business Management) Tarun Aggarwal and Devesh Saboo were runners-up, followed by ICFAI's Pareekshith A.R. and Bala Murugan and S.P. Jain's Rishav Jain and Shipra Bhalla IIM-B's Vineet Sharma and Mario Gonsalves I IM Lucknow's Vipin S. Nair and Nirad Inamdar in third and fourth places, respectively.
IIM Calcutta won the first place in quizzing, giving members C. Ram Shankar and Shobhit Bhatnagar coveted bragging rights. "It's like the Wimbledon of Indian quizzing," said Bhatnagar. His teammate Shankar agreed, predicting he and Bhatnagar would find some place very visible to put up their plaque. "A little shameless publicity won't hurt," he said.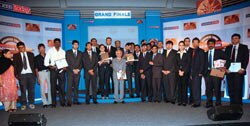 Trivia questions ran from popular to obscure knowledge, like recognising popular comedian Jerry Seinfeld's voice or identifying Freakonomics author Steven Levitt's father as the world's leading authority on intestinal gas. Some questions went to the audience, and winners were presented with iPods, cellphones and coffee makers.
Towards the end of the evening, students ceded the stage to triviahungry businessmen and women, who competed with a harder set of questions. The "alumni" pairs were split into regions mirroring the student groupings: North, South, East and West. Sujeet Varkey and Rohan Khanna won for the North Zone, and showed a breadth of knowledge that only real trivia lovers can attain.
mosimage Bikhchandani, who founded Naukri.com in 1997, gave the closing note, encouraging students to dream big. "When I was working, it was really hard to leave the life and start my own company," he said. "I was too comfortable." But the freedom he gained from leaving corporate life was worth the risk of failure, he said.
Entrepreneurs like Bikhchandani are relatable role models for students, most of whom study legendary figures of the Western world. "(Warren) Buffett and Steve Jobs are the ones we're asking trivia questions about. Stories have not yet been written about India," Bhogle said. As this new generation of Acumen winners enter the field, he added, that will undoubtedly change.