Some 15 years after the mutual fund industry was thrown open to private players, public sector behemoth Unit Trust of India (UTI) lost its numero uno position to ICICI Prudential Mutual Fund in 2006. Today, UTI has fallen further and is in the fifth position in terms of assets under management, behind the mutual fund arms of private sector entities HDFC, ICICI Bank, Reliance Anil Dhirubhai Ambani Group and Aditya Birla Group. This is not the trend across the broad spectrum of financial services businesses. Consider banking and life insurance. State-owned banks and Life Insurance Corporation (LIC) are holding their ground despite the entry of market savvy private players. The PSU banks enjoy a dominant market share of over 75 per cent in deposits and advances. LIC, too, is sitting pretty with a market share of over 70 per cent in life insurance premiums.
The state-owned general insurance companies, though, appear to be going the UTI way. They are steadily losing ground to the private sector. In the 15 years since the private sector was allowed into the sector, the four state-owned companies - New India Assurance, National Insurance, United India Insurance and Oriental Insurance - have seen their combined market share fall to 55 per cent from 100 per cent. Even as the market itself has grown 7.8 times from Rs 10,000 crore in 2000/01 to Rs 78,000 crore now.
Many had seen it coming. "The most impressive spectacle has been the foray of the private players," R. Beri had told the shareholders of New India Insurance - India's largest general insurer- as its Chairman and Managing Director in 2003/04. "This (privatisation) has led to the demolition of capitalism's bête noire, monopoly. In only its fourth year of operation, the private players have garnered a market share of 14 per cent - up from about 10 per cent a year ago."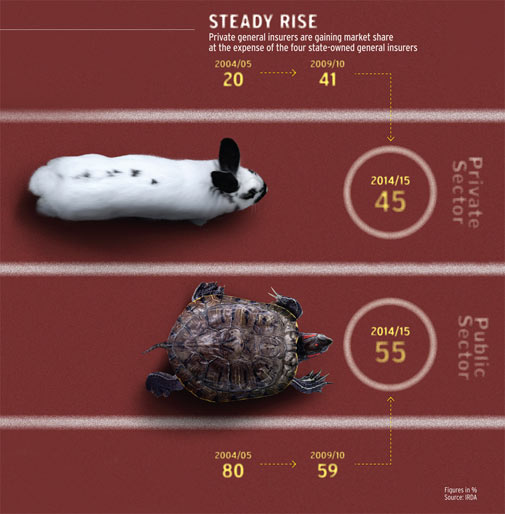 So, how has the dream run of private players sustained over the last decade and a half? A KPMG report has some answers. "The large private sector is posing the biggest threat to public sector insurance companies due to their more efficient operating models, highly capable talent pool, and significantly higher usage of IT. These (private) players would drive the focus on operational effectiveness, channel productivity, enhanced pricing approaches in order to drive profitable growth," said the report.
Indeed, the private sector is expected to continue making inroads in the general insurance market. ICICI Lombard is all set to displace Oriental Insurance Company from the fourth slot. ICICI Lombard's market share in gross premium at 9.71 per cent is within striking distance of Oriental's 10.09 per cent. Another state-owned giant United India, at 13.75 per cent, is also within reach of ICICI Bank's general insurance subsidiary. So, while all the four top spots, in terms of market share, are still occupied by the public sector companies, they are finding it tough to keep the private companies at bay.
But if LIC has managed to hold on to its market share, why are the state-owned general insurance companies losing ground? "The transactional nature (selling one-year policies) with high service intensity makes this industry more competitive," reasons Sanjay Kedia, Country Head and CEO of Marsh India Insurance Brokers, a leading insurance broker and risk advisor. G. Srinivasan, CMD of New India Assurance Company, explains that LIC has managed to hold on to its market share because of the long-term nature of its products. "Any individual will prefer to go to a government undertaking for his long-term savings. Ours is an annual business where customers don't mind dealing with the private sector," explains Srinivasan. The other public sector general insurance companies refused to comment.
"Whenever a new entrant comes to the market, they also capture market share. We saw a similar trend in banking when new generation private banks were allowed in," says Tapan Singhel, Managing Director and CEO of Bajaj Allianz General Insurance, the secondlargest private player. But flexibility of operations and the right business model, with an initial focus on corporate business, appears to have really helped private companies in garnering a large market share in a short span of time.
Indeed, the private sector has been credited with many customer friendly innovations. Bajaj Allianz General Insurance, for instance, introduced cashless claim settlement in motor and health insurance. Similarly, ICICI Lombard, the largest private company, introduced a family floater concept in mediclaim. These product innovations were replicated by others including some of the state-owned companies. Motor and health are the two biggest segments with a share of 48 and 22 per cent in the gross annual premium respectively. Together, the private sector companies are already leading in the motor segment with a 53 per cent share. Private companies also appear to be poised to wrest the leadership from the public sector in the fire segment and already have a 40 per cent share.
Already, private players have brought in a lot of differentiation and flexibility in the products on offer. The product basket of general insurers has expanded to include new products including intellectual property protection, Directors and Officers insurance, weather insurance, crop insurance, etc. Consider the example of T.L. Arunachalam, Director at Bharat Re-Insurance Brokers. He once needed a large ticket size health policy for a high net- worth client. Not many companies were offering such policies. "We managed to get it from a private player with a ticket size of Rs 1.5 crore," said Arunachalam. There are add-on features in many health policies such as emergency hospitalisation abroad, covering close to a dozen critical illness in India and abroad, emergency response cover including repatriation or emergency evacuation to India, and even bringing back the mortal remains of deceased, etc. In contrast, the state-owned companies only give basic policy of Rs 25 lakh and top up of Rs 75 lakh.
Many suggest that the new distribution model also played a role in increasing the market share of private players. Prior to privatisation, distribution was only through agents. "The private sector has used the broker channel well to reach out to customer," says Arunachalam, who left state-owned New India Assurance when the industry was privatised in 2000. The broking channel today contributes almost 30 per cent in premium mobilisation from the market. Brokers, who mostly do corporate business, generate premiums in liability products, aviation, marine cargo and fire insurance.
The private sector also created new capabilities in the post detariffication period when general insurance companies were given the freedom to decide premiums. As prices of many products crashed, risk selection - or the level of risk - became very important. "In the past few years risk selection has become a key success factor in the industry," says Bhargav Dasgupta, MD and CEO of ICICI Lombard General Insurance Company. State-owned companies have been struggling in this department. In fact, huge underwriting losses is a key parameter while judging their risk selection skills. For many years, the four general insurers have been making huge underwriting losses, but due to their investment income they have managed to stay profitable. For example, stateowned companies increased their underwriting losses by 6.24 per cent to Rs 5,724 crore in 2013/14 while private sector's losses decreased fractionally, from Rs 1,830 crore to Rs 1,825 crore.
Meanwhile, the combined ratio, which is an indicator of risk selection, shows the private sector is far better than the state-owned companies. Bajaj Allianz has a combined ratio of 99 as compared to New India Assurance's 117 in the first nine months of 2014/15. It is calculated by taking the sum of incurred losses and expenses and then dividing them by earned premium. A combined ratio of less than 100 is considered better as it shows that an insurer is making money after paying the premium and also including the expenses in it.
Then, the private players are also seen as much faster in claim servicing. ICICI Lombard claims to settle 91 per cent of the motor claims in one month while the industry average is 58 per cent. The private sector also took the lead in decentralisation of the claim processing function by using a hub-and-spoke model. "The claim management burden in the private companies shifted to multiple hubs a decade ago. Whereas the state-owned companies have started this decentralisation exercise only a few years ago," says Arunachalam. There has been a lack of empowerment in the state-owned companies, says the CEO of a private insurer. Customers demanding superior service are shifting to the private sector, says the CEO of another private sector company.
Many wonder why state-owned companies are not playing to their strengths. They have a strong brand FINANCE Insurance equity and balance sheets to write bigger deals. New India Insurance was actually the first insurance company, set up in 1919. LIC came much later in 1956. Kedia of Marsh says there are always a set of customers who wants to deal with government companies because of a trust factor. The state-owned players with a huge network of 7,869 offices (private companies together have 2,000 offices) should have expanded their geographical coverage. The four companies, headquartered in four different regions, should have worked in tandem to spread out and not to encroach on each other's territory. Today, the four companies are actually mirror images of each other in terms of product offering and are also competing with each other.
Interestingly, while the private players have gained market share, the general insurance penetration as a percentage of GDP is still very low at 0.78 per cent as compared with life insurance at 3.17 per cent. "The industry grew by 10 per cent last year when economic growth was not much. Today, retail-oriented businesses like health and motor are doing well. Once industrial projects take off, the traditional corporate segment will also pick up," believes Srinivasan of New India Assurance.
Many question state-owned companies' aggression in the group health business, which appears to be a lossmaking proposition. In the past few years, the four general insurers have gained a very big market share in the corporate health business. "The private sector has consciously vacated the space. There is a danger of state-owned players piling up losses," says a consultant.
While the government has acted swiftly in the banking space to kick-start reforms, many say the stateowned general insurance companies also needed attention. McKinsey in its latest report has projected the general insurance industry to grow from $13 billion (Rs 78,000 crore ) in premium size annually to $80 billion (Rs 4,80,000 crore) by 2025. The private sector is expected to corner a major share of this business.
Srinivasan, whose company is the largest in terms of market share, says they have the financial strength in the market. "Our assets base is Rs 62,000 crore.We have an international 'A' credit rating . We have infrastructure of offices in India as well as abroad with 2,200 people. We have people who know insurance," says Srinivasan.
But as the competition heats up the top slot, Kedia of Marsh says chasing the topline is dangerous for a risk-based business. "The general insurance business is not a business where your margins are guaranteed. What is important is the quality of business one is underwriting," says Kedia. And that is where private insurers have to prove that their story is sustainable and profitable as they attain market leadership.