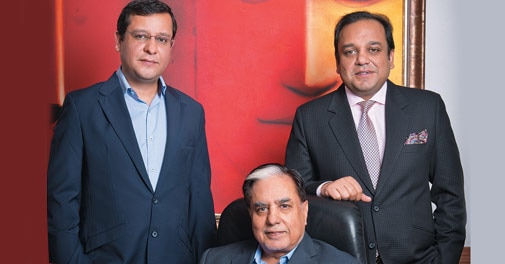 Subhash Chandra (seated) with sons Amit (left) and Punit Photo: Nishikant Gamre
When asked to comment on speculation that he is hanging up his boots, Subhash Chandra quips: "I'm retired." Sitting in his second-floor office in the busy headquarters of the $3-billion Essel Group in Mumbai's posh Worli locality, group promoter and Chairman of its flagship, Zee Entertainment Enter-prises Ltd (ZEEL), says with a grin: "If you see my attendance register, I wasn't in office for eight to 10 days."
The 63-year-old Chandra reveals that he has handed over the infrastructure business, with a portfolio of Rs 28,000 crore, to the younger of his two sons, Amit Goenka. Some interpret this move as settlement of the succession issue, as it clearly divides his business empire between his two sons. Elder son Punit Goenka has been managing the media and entertainment business since July 2008.
In his conversations with Business Today, Chandra has gone on record for the first time about division of businesses amongst his brothers, the absence of a holding company structure, the brothers holding majority stakes in their companies, and a host of other issues.
For Chandra, who started out more than four decades ago, when he was barely 17, it is business as usual, but with fewer operational responsibilities.
Chandra, who is of Marwari heritage, began as a commodity trader in his family's business in Hisar, Haryana, in the late 1970s. He went on to start nine path-breaking businesses. Two failed: the Indian Cricket League, and a satellite communication business. "Seven survived and are doing well - not a bad ratio," he says, patting his own back jokingly.
His image - neatly combed hair and a goatee - endures, as does his knack for spotting opportunity. Essel Propack, launched in the early 1980s, was a path-breaking move (it is now the world's largest speciality packaging company). So was Asia's largest amusement park Essel World, also launched in the mid-80s. In 1992, Chandra launched the country's first satellite television channel, Zee TV. Later, he broke the monopoly of state-owned Doordarshan to launch the first private news channel, Zee News.
Chandra, who practises vipassana, is currently giving shape to his health and wellness business in the US. "It takes up 10-12 days of my time in a month," he says. Dapper in a grey suit, with an Indian flag pin on his lapel, Chandra shows no signs of giving up control altogether.

We are not into EPC [engineeringprocurement-construction]. We are only looking at BOT [build-operate-transfer], annuity and PPP projects"
Amit Goenka
Essel Infra, Pan India Network, Zee Learn, Shirpur Gold
"The media and entertainment businesses are in autopilot mode," he says. "I only oversee to ensure they are going in the right direction." The company's vision for 2020 is to be among the top 10 global media houses, with a viewership of a billion, and 50 per cent of revenues coming from overseas.
Chandra now happily pushes files to Subodh Kumar, who took charge as Executive Vice Chairman of ZEEL in February. Kumar, a former IAS officer of the Maharashtra cadre, also oversees education initiatives under Zee Learn since May 2013. Chandra says: "I intervene or give inputs only when I hear something from the ground." He says he makes it a point to attend all board meetings, though.

CLEAR ROLES
Over the past decade, he has been increasingly focused on separating the roles of his brothers and settling the ownership structure within the Essel Group. About eight years ago, he gave independent charge to his younger brothers, Laxmi Narain Goel, now 61, Jawahar Goel, 59, and Ashok Goel, 52. Today, they all own majority stakes in their companies. Laxmi Narain owns and manages real estate, and film and gas distribution. Jawahar has the media distribution and direct-to-home businesses, and Ashok Goel looks after the packaging and amusement parks businesses. "We own a small stake in each other's businesses," says Chandra.
The Essel Group presents a united face, with Chandra as Chairman, but the businesses are clearly run independently. There is no holding company. "The finances of each brother's businesses are also separate, but we help each other if someone requires any support," he says.

In the next two or three years, growth from the international market should be consistent at 10 to 12 per cent
Punit Goenka
Zee Entertainment, Zee News & DNA
Chandra, who founded almost every business that he has handed to his brothers to manage, has retained the biggest businesses, with revenues totalling $2.9 billion (around Rs 17,374 crore). His empire consists of media and entertainment, infrastructure, education, health care, online gaming and gold refining.
A year ago, he demarcated his sons' roles without fanfare. Punit has the media business, and Chandra merged power and water distribution and infrastructure for Amit to handle. In a way, giving the young infrastructure business to Amit has settled the succession issue. Chandra's move is similar to what Bajaj Auto's Rahul Bajaj did six years ago - he gave the bread-and-butter auto business to elder son Rajiv, and the new financial services business to younger son Sanjiv. Chandra says he was not thinking about succession when he divided the roles. He adds: "But if this is the way it happens, then it happens. Amit himself was interested in the non-media businesses."
RISING STAR
While the media and entertainment business is cruising along with Punit at the helm, Chandra is grooming Amit to manage the non-media businesses. "Amit is more of a risk-taker and has a mind of his own, while Punit is someone who creates consensus and then goes with it," says their father.
Amit, 37, has been dabbling in the non-media businesses right from the start. He worked for a few months under his father and, after completing his MBA, started off as an entrepreneur. In the early 2000s, he launched Cyquator Technologies, a web hosting and e-solutions company, with financial support from his father. At that time, IT and dotcoms were attracting investors and high valuations. "Personally, I felt there were too many of them, but I didn't want to disappoint him," says Chandra. The dotcom bust in 2001 meant that Amit had to scale down Cyquator's expansion plans.
The next stop was at Zee Learn, where Chandra had him do a short stint. In January 2002, the CEO of Zee Learn, which runs preschools, K-12 schools, and training institutes for animation and media, decided to leave. That left the organisation of over 1,000 people without anyone at the helm. "I was involved with Zee Learn only for seven to eight months," says Amit. Zee Learn is now a Rs 100-crore company, and scaling up is a challenge because of the non-profit nature of the business.
In 2003, Amit moved to the Pan India Network, the group's online gaming and lottery venture launched in March 2002. He was interested in online gaming as it is technology-led. He built the Playwin business from Rs 650 crore in the first year to Rs 3,500 crore in 2007. The business - essentially state lotteries online - expanded to 14 cities.
However, the online lottery business became saturated as many state governments started banning lotteries from 2010 on. Most of these bans were in states that generated high revenues, such as Haryana, Karnataka, Kerala, Tamil Nadu and West Bengal. Business is now limited to five states.
Amit's entry into infrastructure is connected with the online lottery business. In 2011, Playwin was in a quandary because the bans resulted in a manpower surplus. Chandra suggested to Amit that he study consumer interface businesses, because of their synergy with lottery business.
He also recalls telling his son: "There is no private-sector utility company. Why don't you get into that area?" Eventually, the group entered the power distribution business in 2011 with Essel Utilities. It first bid successfully for three cities - Gwalior, Ujjain and Sagar - in Madhya Pradesh. In 2012, it grabbed the opportunity to acquire, Spanco, a Maharashtra-based distribution company which was faring poorly. In next six months, Amit and his team made it EBITDA-positive. Essel Utilities also bid in other states, such as Bihar and Jharkhand. "We will have power distribution operational in five cities soon," says Amit. In 2012, the business model was expanded to include gas distribution and municipal solid waste management.
Around 2008, the group entered the infrastructure business through a venture called Essel Infraprojects, which builds roads, power plants, sports complexes and special economic zones. Last year, Chandra gave Amit additional responsibility by inducting him into this business. With that, gold refining and utilities on his plate, Amit now plays a big role in the organisation.
INFRASTRUCTURE GAME PLAN
The entry into the infrastructure sector preceded the utilities business by four years. Essel Infraprojects bid for a road project in Maharashtra, and then for state and national highways in Madhya Pradesh, Punjab, Uttar Pradesh and elsewhere. Today, roads account for 30 to 35 per cent of the infrast-ructure portfolio.
Chandra envisions a business that generates some kind of annuity. Amit says: "We are not into EPC. We are only looking at BOT, annuity and PPP projects." (EPC stands for engineering, procurement and construction, BOT for build-operate-transfer, and PPP for public-private partnership.) Solid waste manage-ment is emerging as an important infrastructure segment. As with the media business, Chandra aims for an internal rate of return of around 18 per cent to take on a project. "This is the threshold," says Amit.
Chandra says he expects the infrastructure business to be sizeable in three to four years. The group plans to bid for Mumbai's second airport. It is looking at more than just organic growth - Chandra surprised the market with an unsuccessful bid on IVRCL, a Hyderabad-based infrastructure company, in March 2012.
The infrastructure business faces many challenges due to the economic slowdown. Bigger rivals have already been affected by the economic slowdown, and issues relating to the environment and liquidity. The portfolio is highly skewed towards a single state - Madhya Pradesh. Chandra defends the company, saying it is not as focused on MP as it used to be. He says: "We have five road projects other than MP. Today, we have projects in Mumbai, Punjab, UP and in South India."
Chandra's interests in real estate, gas distribution and power generation overlap with those of his brother Laxmi Narain. The latter, with his two sons, manages Suncity Projects, a real estate developer, and Siti Energy, a gas distribution company.
Chandra says, however, that the group is more interested in developing properties for entertainment and tourism. Amit says Essel Infraprojects does not invest in buying land. "These are purely government-based projects. There is no up-front investment from our side in terms of acquiring the land," he says.
Essel Infraprojects is already involved in power generation. The brothers do have a non-compete clause that requires each to take the others' permission before launching a venture. "We are seeking permission and help from my brother Laxmi to do the gas distribution business," says Chandra.
He says the brothers avoid doing businesses that overlap. It complicates matters somewhat that everyone uses the Essel brand - similar to the Bajaj brand, which is used for everything from hair oil to motorcycles. Chandra concedes that some solution is needed to the brand issue. "We will think of putting it forward among the brothers," he says.
Meanwhile, the focus is on ZEEL, the flagship. Chandra links the group's entry into the financial services business with the earlier practice of using the ZEEL balance sheet. A listed company, ZEEL burnt its fingers for using surplus money for promoter funding. The stock market registered its disapproval. The group then launched Essel Finance, a diversified financial services company. "We are strictly not taking any money from ZEEL," says Chandra. That is reflected in the company's stock performance - it is up nearly 18.5 per cent since January 2013, compared with a 15.4 per cent rise in the BSE Sensex. Its revenues in 2012/13 were Rs 3,699 crore, profit after tax was Rs 718 crore, and reserves and surpluses stood at Rs 3,816 crore.
Chandra says the group is on the lookout for acquisitions. It recently bid $1 billion for Chellomedia, an international distributor of channels, content and video services, but was outbid by a rival who offered i1 billion.
ZEEL, with 34 domestic and 33 international channels, has set big targets for itself. In July 2013, it adopted a tagline that signifies its global ambitions: Vasudhaiva kutumbakam, Sanskrit for "The world is my family". The company currently gets 11 per cent of its revenue from international operations. Its channels reach out to 700 million viewers in 169 countries.
ZEEL Managing Director Punit Goenka, 38, says he hopes that more than 50 per cent of the revenues of his business will come from international operations by 2020. "In the next two or three years, growth from the international market should be consistent at 10-12 per cent," he says.
OVERSEAS FOOTPRINT
The company's international plans are in sync with its obsession for profitability. It has carefully chosen regions where subscription revenue is more important than ad revenue. "The average revenue per user in a country such as Indonesia is $20 per household, as opposed to $3 in India, making profitability higher," says Punit. The company recently ventured into Indonesia with the Bollywood-focused channel Zee Biskope dubbed in Bahasa. The company already has a presence in Russia (Zee Russia), and plans to enter Vietnam soon.
Even in markets such as West Asia and North Africa (Zee Alwan and Zee Aflam), where channels are free to air and revenue comes from advertising, the company airs content from its flagship channel, Zee TV, in the local language, or Bollywood content dubbed in Arabic. These channels do air chat shows featuring local anchors, but Punit says that for the time being, the main offering will be Bollywood content repurposed in local languages.
Punit's mentor, Pradeep Guha, who currently heads 9X Media, says it is a brilliant strategy. "In TV, the more you can exploit your content across platforms and across countries, the better. All international studios do this." So, if ZEE spends Rs 40 crore on satellite rights for a blockbuster such as Chennai Express, its monetisation options are not limited to its flagship channel (Zee TV) and the two film channels (Zee Cinema and &Pictures) - it can also air it on its international channels. "This will help the company turn around faster," says Guha.
Although both Star India and Viacom18 have international operations, neither offers channels for the local population in the country it is present in. Punit says his company is considering getting into South Africa and East Europe. "We are also evaluating whether Latin America and North America would be better to invest in."

STILL A STRONG #2
ZEE's bet on its international business is an attempt to break out of the ever-increasing clutter in Indian broadcasting. The company has not had a great run in the home market. The Zee TV channel, apart from taking the top spot for a week (in the Hindi general entertainment category) thanks to Chennai Express, hasn't been able to challenge Star Plus for almost a decade. In the regional market, the network has a dominant position in most regions, but is constantly being challenged by later entrants such as Star India. Also, the acquisition of ETV has made Viacom18 extremely competitive in regional markets.
The bigger worry for ZEE is English-language entertainment and sports. Its English channels - Zee Café and Zee Studio - are far behind rivals such as AXN and Star Movies. The sports business, with channels such as Ten Cricket, Ten Sports and Ten Action, is also bleeding.
The rumour mill says ZEE wants to get out of sports but can't find a good valuation. However, Punit says he is committed. "It's a business we chose to be in, as it gets us a younger audience, which no other genre can." He says he is willing to lose money on sports, but not as much as rivals are. He refers to Star India's investment of Rs 4,000 crore just to get BCCI (Board of Control for Cricket in India) rights.
The company is aggressive with niche channels such as Ten Golf, Zee Q (an education channel), and Khana Khazana (a food channel). Punit admits that the company is losing money on these, too. "But they are gradually turning around," he adds.
Guha of 9X Media says that while profitability has always been top priority for Chandra, he also wants to build a diversified network. He says: "So what if 20 per cent of his business gives 80 per cent of his revenue? Subhashji has always wanted Zee to be synonymous with entertainment."
While Punit takes on challenges in media and entertainment, and Amit handles non-media businesses, Chandra will spend time on the wellness business, in which the group has invested $150 million so far. "This will be a $1-billion business in five years," he says. It will take him another year to establish it firmly. "Then I'll think of doing some other business," he says. "One thing at a time."
The stability that Punit has brought to ZEE is reflected in its spiralling profits (Rs 718 crore in 2012/13). "He transformed it into a well-oiled, profitable business without compromising on quality," says Salil Pitale, Vice President at Axis Capital, a Mumbai-based brokerage. He adds that he considers ZEE the most profitable media company in the country.
Guha says Punit and Chandra complement each other well. "Subhashji is a visionary, but he is not a great implementer. Punit is out-and-out a people person. He's a go-getter. He knows how to get his team to perform." Punit's colleagues in Zee concur. "The great ideas have always come from Subhashji, but he is difficult to approach. It's Punit who brought enthusiasm into the business," says a senior executive who has been with ZEE for over a decade.

@AnandAdhikari, @AjitaShashidhar, @MaheshNayak