In October last year, Bangalore Metropolitan Transport Corporation, or BMTC, teamed up with Google Maps to make its routes and schedules available to commuters via mobile phones. "In early 2010, we put Delhi Metro on Google Maps but BMTC became the first Indian bus service to come on our platform,'' says Manik Gupta, Product Manager for Google Maps.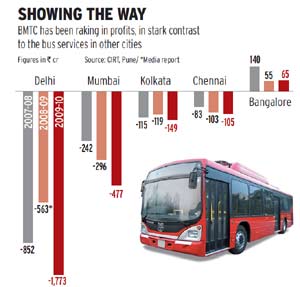 For BMTC, Google Maps is not a stunt: the only profitable city transport operator in the country is on a technology trip. S.Z. Pasha, Managing Director, says swipe cards are next. "We have modernised our fleet and are now building traffic transit management centres to integrate transport facilities and reduce congestion on roads,'' says Pasha. Over the past seven years, BMTC has set two benchmarks for its peers.
It was the first to introduce an airconditioned service (in 2003) and Volvo buses on intra-city routes (2006) - a welcome break from groaning buses-on-truck-chassis that still make for the bulk of fleets in India. It has not been a smooth drive for BMTC, though. In the mid-1990s, Bangalore's transport system was synonymous with labour unrest and losses. That changed in 1998, when the government created BMTC by carving it out from the Karnataka State Road Transport Corporation. Within two years, BMTC's engine was humming sweetly. It had improved employee relations with a mix of firmness and good pay packages. Senior drivers now draw a monthly salary of Rs 30,000-35,000. Every driver and conductor gets 1.5 per cent of the collection of their bus.
Services were also rationalised. In 2006, the non-profit Public Affairs Centre ranked BMTC as the No. 1 utility in the city in a survey of public perception, with 97 per cent of the respondents expressing satisfaction.
The 471 Volvo buses in the BMTC fleet of 6,122 offer the predominantly middle-class population somewhat of a luxury ride for a premium. The Volvo fares start at Rs 10, against Rs 4 for the ordinary service. "Among the urban transport systems, BMTC is very forward looking and open to moving away from established business models,'' says Akash Passey, Managing Director of Volvo Buses India.
While increasing the fleet size from 4,606 buses in 2007, BMTC ensured that the staff-to-bus ratio stayed low - at 5.6 it is the lowest among India's transport utilities. Says Passey: "Bangalore is also where the biggest shift from bikes and cars to bus transport has happened in India.'' One out of six people flying into the city airport uses a Volvo bus for the last mile, according to BMTC. Some information technology companies have chartered BMTC buses to ferry employees.
Infosys Technologies alone uses 122 BMTC buses, for instance. BMTC has also been making profits year after year while its peers elsewhere are battling mounting losses. BMTC ended the year to March 31, 2010, with a profit of Rs 65 crore on revenues of Rs 1,132 crore; its accumulated profit has risen to Rs 625 crore.
The company is now adding office and commercial space in its new projects to build on its non-fare revenue streams. In the financial year to March 2010, non-fare income made up eight per cent of BMTC's revenues.
It is also investing in real estate to set up depots and traffic centres. Some users say BMTC has put profits before public service with its high fares. But BMTC officials retort that it does not get any subsidy and has to depend on internal accruals and bank loans for capital expenditure. The government pays a nominal amount to cover the subsidised rides BMTC offers to students and physically challenged people among others.
While BMTC has had a smooth ride so far, it is to be seen whether it will remain profitable once Bangalore Metro opens in March-April. The city buses currently ferry 4.2 million people a day, and the Metro is being designed to serve a million plus users. BMTC officials insist that the Metro's reach is limited and it would still need feeder services. Wait and see.