In 1985, Venugopal Dhoot started buying picture tubes from Thomson for television sets he assembled in India. One of Thomson's business divisions was called Videocolour. Dhoot took a fancy to the name, and tried, unsuccessfully, to acquire it. He eventually settled for Videocon, which has, since then, evolved into a $3-billion-plus (Rs 12,963.37 crore) multinational conglomerate with a footprint spanning seven countries across North America, Europe and Asia.
It is no small irony that Videocon acquired Thomson's colour picture tubes (CPT) business in 2005, and, in the process, catapulted itself into the league of world's Top 3 CPT manufacturers. "Yes, there's a sentimental value attached to Thomson," says Dhoot, Videocon Group's Chairman, with a smile.

Videocon owns the Kenstar brand. Apart from that, it owns the rights to use the Sansui, Akai, Hyundai and York brands in the Indian market. This means Videocon is responsible for manufacturing, marketing and distributing these brands. Having achieved a turnover of over $3 billion last year (it follows an October-September accounting year) mainly from its consumer electronics, home appliances and oil and gas businesses, it is now aggressively entering or ramping up its presence in sectors like power, SEZs, semi-conductors and retail. The goal: more than treble the group's top line to $10 billion (Rs 41,000 crore) by 2012.
The Growth Drivers
Understandably, growth will have to come both from its existing lines of business and from new areas it is planning to enter in the next five years. "The way I see it, petroleum and consumer electronics will contribute 40 per cent each while the balance 20 per cent will have to come from other new businesses," says Dhoot.
Saurabh Dhoot
Director/Videocon Industries. "Videocon Group holds more than 100 Plasma patents. We make the entire panel and are among six players globally who can do that"
The group extracts oil from the Ravva oilfield, off the coast of Andhra Pradesh, which has reserves of over 250 million barrels and produces 50,000 barrels of oil per day. Then, Videocon has been assigned exploration blocks in Australia, Oman and East Timor. "So far, we have invested $400-500 million in Ravva and we may invest another $150-200 million there," says S. Padmanabhan, Director, Videocon Industries, who oversees the infrastructure business. Dhoot says the high oil price regime has been good news. "At around $80 (Rs 3,280) per barrel, this business has the potential to generate profits of $120 million (Rs 492 crore) per year for the next 15 years," he adds.
Then, the group is bullish on the semi-conductors/LCD sector in which it plans to invest Rs 8,000 crore. The Videocon Group has already acquired the technology from IBM to manufacture LCDs. Describing this as a "breakthrough for the group", Dhoot says he can start a semi-conductor fab-a manufacturing plant that makes semi-conductor devices-anywhere in India. "The Government of India gives a 25 per cent subsidy for this. We think India is an ideal semi-conductor location since we have the advantage of both labour and the technological expertise here," he says.
This will also give Videocon a massive technological leg-up. "Today, it is about tubes; tomorrow it will be about LCDs. It is very important to own the technology," says Dhoot's nephew, Saurabh-he is Pradeep Kumar Dhoot's son-who is closely involved with the project. He adds that the Videocon Group holds more than 100 plasma patents. "We make the entire panel and are among six players globally who can do that." The challenge will be to ensure that the technology is made available to the consumer at the best possible price. "We have an R&D centre in Japan. It is a tie-up with IBM. We also have a small pilot fab and have fabricated small size samples," says Naveen Mandhana, Director and Senior Vice President, Videocon Industries.
SEZs, Retail and Telecom
Like most big players, the group has entered the retail business with the next chain of outlets. These are large format stores that stock several consumer electronics and home appliance brands, and not just those controlled by Videocon. Dhoot is tight-lipped about this project and only says that his group holds a 30 per cent stake. "It is a professionally managed company and the other investor is a global retail chain.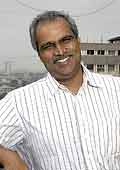 S.K. Shelgikar
Advisor/Videocon Group. "The retail business is about margins, real estate and proximity to customers"
We are just investors," he clarifies. The project envisages an outlay of Rs 1,000 crore over the next three years. The chain currently has 375 outlets across 100 towns across 16 states. In 2006-07, it posted a turnover of Rs 500 crore and is looking to double that this year. "The business is about margins, real estate and proximity to customers," says S.K. Shelgikar, Advisor, Videocon Industries.
With retail, comes a foray into real estate, where the group has placed a bid for the Dharavi Re-development Project in Mumbai. This is a business the group is familiar with-it already owns substantial real estate assets in several large cities. "In Mumbai and Delhi, demand is clearly ahead of supply; this means the market will remain buoyant for some time," says Dhoot. The group's foray into SEZs, too, is an offshoot of its interest in the real estate business. The total investment here, over the next three years, will be Rs 1,500 crore across projects in Maharashtra and West Bengal. On the anvil are multi-product SEZs in Pune, Aurangabad and North 24 Parganas in West Bengal and a biotech SEZ in Siliguri.
Missed Opportunities
Over the last 15 years, Videocon has ventured into an array of new businesses both in India and abroad. However, it has missed a few opportunities as well. Dhoot is candid about it. "We applied for a telecom licence in 1994 but did not get one," he recalls with more than a trace of regret. It is perhaps to compensate this that he has struck a joint venture with the US-based Verizon to provide long-distance services. "There is a huge potential in the wimax business and once 3G opens up, there will be huge opportunities here," he says. According to Dhoot, his investment in the business is small-Rs 100 crore. Won't he suffer from a late-mover disadvantage? "As I see it, this market is still untapped and there are huge opportunities," he says.
Then, the group's initial foray into the power sector, via the 1,050 mw North Madras Power Project in Tamil Nadu, was by Dhoot's own admission, "not successful". He decided to change focus and shifted the team to Gujarat where Videocon has got the go-ahead to set up a 1,200 mw project near Pipavav port, in partnership with a foreign power company. Dhoot is close to bringing in a foreign strategic investor but declined to share names. "This is a Rs 5,000-crore project and we should be closing the financing in about six months," says Dhoot.
But for now, Videocon's bread and butter business remains consumer electronics and home appliances, and here, especially following the acquisition of Thomson's colour picture tube business and Electrolux's Indian subsidiary, Electrolux Kelvinator Limited (EKL), Dhoot has a genuine global footprint. But according to Dhoot, the deal with Daewoo Electronics, which he came close to acquiring, is not likely to be revisited. "We wanted the technology but they were not keen on giving it to us. We wanted the deal on our terms." He speaks passionately of his global ambitions. "In 10 years, only about 30 per cent of my group's top line will come from the domestic market. The story then will not be about what is happening in the Aurangabad factory, but about what is going on in my facilities in China and Mexico," he predicts, adding: "We should be able to make one acquisition this year."
Then, Dhoot speaks of an interest in coal mining; he's waiting for the government to announce the new mining policy, after which he will take a call on entering this sector. The group is also considering a joint venture with the Dubai-based Istithmar for a foray into solar and non-conventional energy and to make set top boxes for the Direct to Home (DTH) networks.
S.K. Shelgikar, Advisor/Videocon Group, "The retail business is about margins, real estate and proximity to customers"
Analysts tracking the group, however, are cautious. "Videocon has placed a big bet on the consumer electronics business on a global scale. We should wait a few years to understand the effects of these initiatives," says Shriram Iyer, Head of Research, Edelweiss Securities, a Mumbai-based stock broking and research firm. The group's consumer electronics and home appliance business has, in the recent past, reported huge offtakes at lower price points; this has put margins under pressure. The bad news here is that its main competitors in this space are all deep-pocketed MNCs. "The trick lies in increasing penetration levels and that is not an easy game. Videocon has a presence in various segments through brands like Sansui, Kenstar and Electrolux. It is not easy to be in all spheres of the business," says Sandeep Tiwari, Head of Marketing at LG Electronics India.
But analysts are more confident of the oil business. "The group has good assets and seems to have made a good call here," adds Iyer.
Dhoot is sitting on a $500 million (Rs 2,050 crore) war chest for acquisitions that will be used to fund the Videocon Group's objective of becoming a truly global company. Can an Indian company break into the exclusive club of Japanese, Korean and European giants? "The next five years will be most critical," admits Dhoot. The world will be watching.