Vijendra Agarwal is facing one of the severest crises of his lifetime. The Lucknow-based entrepreneur runs Shashi Cables, which he set up 40 years ago. The Rs 100-crore company makes electrical cables and conductors for clients such as Power Grid Corporation, Larsen & Toubro and Tata Projects. For the past nine months, the company is feeling the impact of a slowdown in the power sector. And Agarwal expects revenue to drop 25 per cent in the current financial year. "Demand for our products has been dull this year," he says. "Customers have stopped placing fresh orders. Big power projects are not coming up at the same rate as about four to five years ago."

Agarwal's worries are shared by a large number of small- and medium-sized entrepreneurs across the country, finds the latest edition of the Business Today-C fore Business Confidence Survey. The survey for the July-to-September period of 2013 found that sentiment among corporate leaders is at a record low since BT started this survey in 2011. On a scale of 100, the confidence level is at 48.2 in the second quarter of 2013/14, down from 48.7 in the April-to-June period and 54.4 in the three months before that. Market research agency C fore quizzed 500 CEOs and chief financial officers across 12 cities for the survey.


business confidence fell steadily
, picking up only in the January-March period of 2012, ahead of the Budget. Sentiment steadily improved throughout 2012/13. But since the beginning of the current financial year, confidence has again taken a beating over concerns of slowing economic growth, a weak rupee, and a widening current-account deficit. In the first quarter of 2013/14, the economy expanded 4.4 per cent from a year earlier, the slowest pace in four years. The rupee touched a historic low of 68.85 a dollar on August 28 on concerns over the economy's health, high demand for the greenback from importers and weak global sentiment.
"The rupee's relentless fall coupled with the government's inability to curb its slide led to a perception amongst businesses that the government does not have a command over the economy," says Abheek Barua, Chief Economist at HDFC Bank. In recent weeks, however, the rupee has shown some strength. The local currency got help from the Reserve Bank of India's (RBI) steps to attract foreign funds, easing geopolitical tensions and the US Federal Reserve putting off its plans to end its bond-buying programme to support the world's biggest economy. The rupee was trading around 62 to a dollar on October 3.
The survey shows that light industry and services sector have taken a hit in the quarter through September. R.C. Bhargava, Chairman at auto maker Maruti Suzuki, says demand for vehicles has not been growing and there are no signs of improvement. "We will be happy if we can achieve one to two per cent growth this year," he says.
The survey also shows that a thumping majority of respondents - 87 per cent - expect the overall business situation to remain unchanged or worsen in the next quarter. Businesses that pinned hope on the new RBI governor Raghuram Rajan have been disappointed after he raised the main lending rate by 25 basis points. The surprise rate hike was aimed at controlling inflation. Wholesale prices-based inflation rose to a six-month high of 6.1 per cent in August, up from 5.8 per cent a month before. "Rajan cannot do anything dramatic," says Subba Rao Amarthaluru, Group CFO at RPG Group. "Monetary policy cannot be a cure to the economy. For the economy to come back, the overall investor sentiment has to improve."
The survey points out that a large number of respondents are not ready to make fresh investments. More than 60 per cent say that the hike in the lending rate will affect their investment plans for the remaining two quarters of 2013/14. Sunil Duggal, CEO of homegrown Dabur India says spending on new product launches and innovation will go down across the consumer goods sector. "There's a sharp drop in demand for consumer products, especially in urban areas. Growth of urban disposable income is contracting due to high inflation."
The outlook on raw-material prices also looks discouraging in the next quarter with nearly 70 per cent of respondents expecting their costs to worsen. George Menezes, Chief Operating Officer at consumer durables firm Godrej Appliances, says an economic recovery in the United States and China is expected to increase consumption in these two markets and this will drive up commodity prices. He says that more than 65 per cent of his raw material constitutes commodities - polymers, ferrous and non-ferrous metals. "Prices of commodities have increased in the past four weeks. Crude oil prices are also on an upward trend," he says.
Even though the confidence level of big businesses has improved marginally, small and micro-scale businesses have shown a slip. The reason for this drop, as Anil Bhardwaj, Secretary General of the Federation of Indian Micro, Small and Medium Enterprises, puts it, is the vulnerability of these businesses to economic shocks. "Small enterprises buy raw material almost on a daily basis. With the fluctuation in the rupee-dollar rates, prices of raw material swing and affect their profit margins."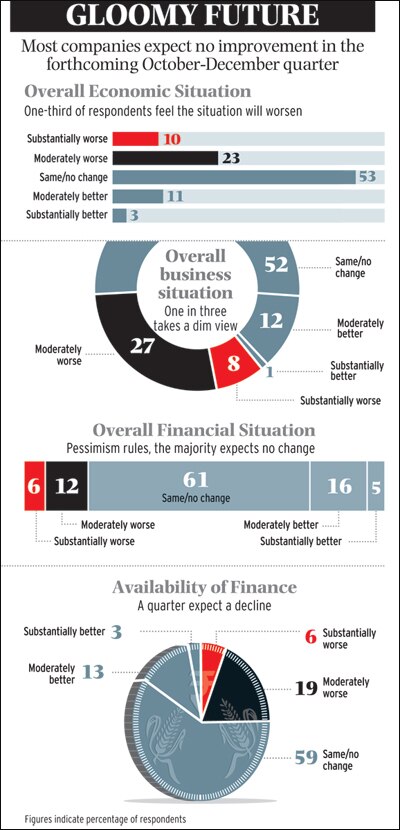 Some are hopeful the situation will start to improve now. Chandrajit Banerjee, Director General at lobby group Confederation of Indian Industry, says the current account deficit could have been much worse than 4.9 per cent of gross domestic product in the April-to-June quarter had the RBI not intervened. The government is also encouraging exports through various incentives, he adds.
Recently, Finance Minister P. Chidambaram asked the central bank to see if export credit could be treated as priority-sector lending. In July, the commerce ministry increased the interest rate subvention for exports to three per cent from two per cent. The government hopes these measures will help it control the current account deficit at 3.8 per cent of GDP for the current financial year. Besides, the Cabinet Committee on Investment has cleared 36 projects worth Rs 1.83 trillion and six mega projects worth Rs 32,300 crore across areas such as power, oil and gas, roads, and railways in the past two months. (One trillion is 100,000 crore.) HDFC Bank's Barua says RBI Governor Rajan is also pushing for growth and has shown his mettle while dealing with the rupee's drop.
Still, a few corporate honchos remain sceptical. "In my opinion, nothing much will change before the general elections [scheduled to be held by May next year]," says RPG Group's Amarthaluru. "Investors will wait for the elections to get over. They will not take a hurried decision in the current scenario."
METHODOLOGY
Market research agency C fore conducted the survey for the July-to-September quarter. The field work was done in September. A structured questionnaire was administered to CEOs/CFOS of companies. Five hundred CEOs/CFOS representing various industries in terms of sector and size were interviewed. The survey was conducted in 12 cities - Bangalore, Bhubaneswar, Chandigarh, Chennai, Delhi, Hyderabad, Kochi, Kolkata, Lucknow, Mumbai, Nagpur and Visakhapatnam. The companies were segmented based on turnover as well as products. Those with a turnover of over Rs 500 crore are termed as big, those with a turnover of Rs 100-500 crore as medium, those with a turnover of up to Rs 100 crore as small, and those with a turnover below Rs 5 crore as micro businesses.
Additional reporting by K.R. Balasubramanyam