Rajiv Kaul has focused on infusing technology and better management processes into CMS Photo: Nishikant Gamre
In 1976, Ramesh D. Grover and two friends saw an opportunity. It was the height of business xenophobia in Delhi with multinational companies in the cross hairs of then industries minister George Fernandes's sights. With International Business Machines, better known as IBM, set to exit India over new foreign exchange rules, the techies eyed maintaining IBM machines the company was leaving behind in India.
Grover decided to call their venture Computer Maintenance Services or CMS - almost similar to its state-owned rival Computer Maintenance Corporation, which won most of IBM's maintenance work channelled its way because most of IBM's customers were government agencies or companies.
Technology matured and the need for automation among customers grew. Grover-led CMS forayed into new areas, delivering technology solutions. (Computer Maintenance Corporation, renamed CMC, is now part of the Tata group.) CMS expanded from PCs for end-users to business software implementation, from local area networks to information technology consulting, from cash management to traffic signals.
Businesses endure, but men age. Three decades into setting up CMS, the Grover family decided to take a look at all the businesses the company was into to understand their true worth, said Vishal Grover, son of Founder Ramesh Grover. "We had 17 business units and the idea was to separate the strong from the weak, ensure survival of the fittest and have the leaders step up to the top in the marketplace," Grover wrote in an email from San Francisco where he's based.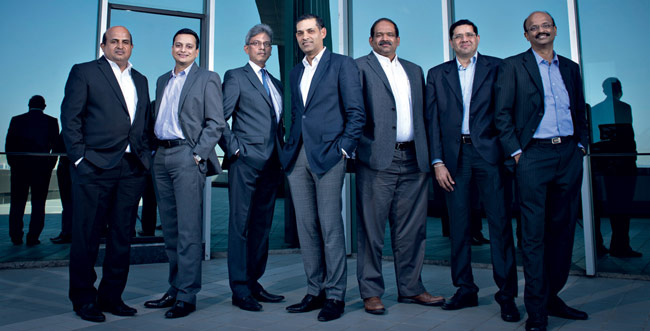 After exploring exit options for more than a year, early in 2009 private equity firm Blackstone Group carved out a set of operations from the CMS Group of companies to create CMS Info Systems. The intent was simple: how to get into and grow the cash management business. It was not that CMS didn't know the business but just that the drive was missing. As president and Chief Financial Officer Pankaj Khandelwal says, the company was privately-run with a decades-old culture. That needed to change.
The centre point of CMS' business today is other people's risk. For an economy its size, India deals extensively in cash and cash is at risk from multiple fronts. There are possibilities of heists and robberies, and more mundane issues of counterfeit currency, bottlenecks in delivering cash and faulty ATMs. The cycle of cash starts from the central bank's mints and its vaults and moves through bank currency chests and branches, ATMs, post offices, businesses big to tiny, and individuals, with innumerable stops in between.
Achieving scale in such a business was tricky. But, today, CMS has a market share of some 52 per cent of the fast-growing market for cash management services in India, more than doubling from 25 per cent in 2009. It feeds ATM machines, delivers and picks up cash from retail and other outlets, moves cash between currency chests and bank branches, runs dedicated cash vans, processes and sorts cash, and offers cashiering services.
Revenues have grown nearly three-fold to Rs 1,500 crore today from Rs Rs 550 crore in 2008/09. Khandelwal will not give numbers but says the company is more profitable now than its former owner. Its ATM and cash dispenser business has expanded at a 25 per cent compound annual growth rate (CAGR), while its retail business has clipped at 15 to 17 CAGR. From 2009, when it used to employ under 9,000 people, CMS now employs over 13,000.
The man responsible for this acceleration is Rajiv Kaul, best known in Indian business circles as the energetic head of Microsoft in India between 2001 and 2005. Kaul partnered Blackstone after a two-year stint as a Partner with Actis LLP, another private equity and buyout fund. Blackstone was eyeing CMS for a while and Kaul was looking for a challenge. "My career goal was not just to do something simple," he says. This was a meeting of ideas.
Kaul focused on infusing technology and better management processes into the company, and build a team with diverse experience. He put people like Anush Raghavan, the company's young head of risk on fast track career paths, and poached leaders like Anup Neogi, now president and Chief Operating Officer, from multinational competitors such as Brinks.
Customer validation comes from Loney Antony, who has been dealing with CMS since 2008. As Co-founder and Managing Director, Prizm Payment Services, which manages 24,000 of India's total base of more than 150,000 ATMs, Antony says he has seen a clear change in the way CMS does business. "Earlier, the approach was of a responsive organisation; based on relationships," says Antony. "Today, it is a much broader professional organisation." What this means is empowerment and professionalism among the employees and the service at CMS. For Antony, that means less downtime and more efficiency.
Manjunath Rao, who came in from ATM company NCR in Singapore to head sales at CMS, says his decision to shift was influenced by Kaul's approach to the business. Rao, who was at one point a client of CMS, says that the critical point in CMS's success is precisely in focusing on cash management. More than one-third of the cost running an ATM is that of cash management. This includes ensuring cash is available and that it is dispensed properly. That's not as easy as it sounds. "We always thought the cash business is a risky and murky business. When I came here, it was all slightly different. They talked about technology," says Rao, who Kaul credits along with Khandelwal for winning an 8,000 ATM order from State Bank of India, the country's largest lender, last year.
Today, CMS manages over 51,000 ATMs. In India, per transaction size - at Rs 3,000 each - at ATMs are relatively small compared to other countries and the quality of notes is a problem. The load on a company tasked with keeping ATMs up and running can be enormous. Soiled notes, for instance, are the cause for downtime at one of three ATMs that stop working here. CMS gets on an average 15,000 service calls a day.
Running such operations with 13,000 people can be a nightmare on the human resources (HR) front. Alex Augustine, Head of HR, says that when he joined the company, it had 'legacy' issues, leftovers from the earlier management. Simple things such as formal letters and paychecks were being delayed. A large number of general managers had been in the company for between 10 and 12 years. And to top it all, the staff was unsure of how the new owners would treat them. CMS management still has the odd run-in with trade unions but new systems and processes not just took care of the irritants and boosted productivity but also had people buying into new opportunities.
"The charm in this company is growth," says Neogi, who runs operations for CMS. He points to the way information technology has been harnessed to manage its more than 2,500 locations in the country. After assessing software on the market, he says, Kaul decided to build one in-house. The system has the ability to track cash pick-up and delivery from banks, ATMs and high volume retail clients such as Dominos Pizza and Amway. Neogi gets updates every two hours. This improvement in productivity is showing on the HR cost, says Khandelwal. HR costs today are half of revenues, about 15 percentage points lower than in 2009.
With the tools in hand and working well, the company is now diversifying into businesses that will manage cash not just for the banks, but for businesses and customers. One of such businesses is that of managing currency chests. This is where currency is held pending distribution, and is owned mostly by the banks themselves. Kaul says he is in talks with the RBI about the cost of idle cash. "We are looking at a whole ecosystem to reduce the cost of idle cash," says Venkatesh R., Chief Strategy Officer.
Today banks set up these chests by themselves. They put in the money behind the infrastructure, behind the machinery and people. What CMS proposes is very similar to the ATM story, where a partner puts up all this infrastructure, and charges them per transaction. This puts the accountability on the partner, who would charge on operating expenses (opex) rather than capital expenditure (capex).
This fits right in with the challenge of delivering the cash whenever and wherever it is needed. "The biggest challenge is cash availability to us on time. Our operations could be far more efficient," Venkatesh says.

We worked towards bringing in a blend while hiring, to be in tune with the emotional state of the organisation
Alex Augustine
HR Head
The revenues will be small, to be sure. Managing currency chests can bring in about Rs 30 crore topline in three years. "It is not for revenues, but putting in a comprehensive offer as far as cash management is concerned for the customers," says Kaul. In the long run, this will change the business for CMS.
And then there are the company's plans of entering retail store management. Currently, the company pick up cash from up to 35,000 outlets and move it to banks. Now, the company plans to also manage the teller at the retail outlet and later, even manage their inventory. The only place where the retail chain owner will need staff is in sales. The pitch is that with CMS's core competence being in just-in-time deployment, the operational headache can be outsourced to it, says Kaul, who's keenly eyeing the next big wave.