Kabir (name changed), a 29-year-old Delhibased brand consultant, walked two to three kilometres everyday, worked out in the gym three times a week and kept a strict diet plan for several years. He did all this to get rid of the flab on his upper torso, which he considered a major blemish in his personality, especially since his work required daily interaction with high-profile people. No matter what he wore, he always felt he looked unflattering and this affected his self-esteem.

"I failed to correct this flaw through an exercise and dietary regimen," says Kabir, who decided to go under the scalpel last June. He underwent a complex liposuction procedure at Medanta Medicity, a super-speciality hospital in Gurgaon, which lasted four hours and involved several layers of reconstructive surgery. "The feeling is indescribable. I meet the mirror with a smile every morning and am much more confident now," says a beaming Kabir. Down south in Chennai, Kabir would find a perfect sympathiser in Vijay Raghavan, a 41-year-old businessman who not only underwent a similar procedure for his lower abs about 10 years ago but also had hair transplant done last year. "I was a very active person and wanted taut and firm lower abs. I opted for liposuction after all else failed," he says.

Raghavan feels there has been a sea change in the outlook towards cosmetic surgery. "When I underwent liposuction, it was new to south India. Now, I have a lot of friends who have got things done and they talk about it. With more disposable incomes, changes in technology, and better after-care, the attitude (towards cosmetic surgery) has changed and their numbers have increased," he says.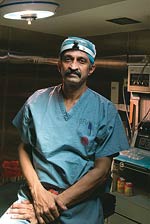 Spurred by plain vanity or the need for instant fixes for problems such as obesity, cities across India are seeing a steady rise in cosmetic procedures. Says Dr K. Ramachandran, Senior Consultant in Cosmetic Surgery at Apollo Hospital, Chennai and President of the Indian Association of Aesthetic Plastic Surgeons, who operated on Raghavan: "There has been a threefold increase in cosmetic procedures compared to five years ago."
Adds Dr Rashmi Taneja, Senior Consultant of Plastic and Cosmetic Surgery at Fortis Hospital in Delhi: "Five years ago, cosmetic surgery accounted for five to 10 per cent of all plastic surgeries in India. Now, it is between 15 and 20 per cent. The numbers are pretty much like those in the West."
The look-good syndrome
The fad is not confined to shutterhappy celebs and corporate highfliers alone. The young working population and the upper middle class, too, are willing to undergo cosmetic procedures. Dr Aniruddha Bose, a well-known plastic surgeon in Kolkata who regularly treats patients from nearby Murshidabad, Asansol and Durgapur towns, says: "I get patients from across the country as the services are cheaper here compared to Delhi and Mumbai. The increase in the number of trained plastic surgeons is taking cosmetic surgery to the masses."
Advances in technology have reduced the risk and the downtime involved in cosmetic procedures, leading to their broad-based acceptance. Non-surgical procedures like Botox and fillers far outnumber surgeries. "A lot of people opting for cosmetic surgery are from conservative families, as the feeling is that an improved appearance will perk up their chances in life," says Taneja. "Even in the corporate world, looks have become a large part of people's perception of performance. If you look young, you are perceived to possess more vitality," she adds.
The business of looking good is a big one. "Cosmetic surgeries are big money spinners for hospitals and surgeons. As they are not covered by insurance, it means instant payment for the service," says Dr Ajay Kumar Sharma, Pharmaceutical Head at business research & consulting firm Frost & Sullivan. No definitive figures are available on the current size of the cosmetics market, although a study by Delhi-based research firm Koncept Analytics had pegged it at Rs 460 crore in 2007.
"The cosmetic market in India is estimated to reach $1 billion by 2014. The current financial year has been particularly phenomenal for the industry. Medical tourism has also played a critical role in the growth of this segment," says Sharma.
Sensing the opportunity, the Apollo Group launched its chain of cosmetic clinics in Hyderabad and Chennai late last year and plans to open four more this year. The two existing clinics offer services such as body shaping, liposuction, rhinoplasty and face lifts. "These clinics solely focus on cosmetic surgeries, so the patients know where to go," says Ramachandran.
Growing handsomely
About 50 cosmetic surgeries are performed every month at the Max Healthcare hospital in Delhi's bustling Saket. "We have been witnessing a 30 per cent year on year rise in cosmetic surgeries, both in terms of numbers and revenues," says Dr Sunil Choudhary, Director of Aesthetic and Reconstructive Plastic Surgery at Max Healthcare. Says Swati (name changed), a 35-year-old working mother and one of his many patients: "I had gained weight on my lower body after the Caesarian section and felt awkward. Thanks to the surgery, I have regained my shape."
Word of mouth plays an important role in the choice of surgeons and hospitals. Though Swati is secretive about her surgery, she has recommended the surgeon and the treatment to one of her friends.
Ramachandran and Taneja perform about 30-50 surgeries in a month and count liposuction, rhinoplasty and hair transplants among the most popular procedures. The wedding season sees the demand go up. "I get a lot of requests from not just brides and grooms but also their siblings and parents as there is this urge to look picture perfect on the wedding day," says Taneja. According to Ramachandran, hair transplants and liposuction are in great demand from youngsters who would like to improve their marriage prospects.
The rise of minimally invasive, technologically advanced procedures has been a shot in the arm for surgeons and chains. "Procedures like thread lifts, endoscopic face lifts and breast augmentation are in great demand," says Taneja, adding that liposuction has also become more advanced with the use of laser and vaser and one can do larger volumes more safely. Dr Devansh, a Delhi-based plastic surgeon who prefers using only his first name, refers to Botox and fillers as "office or lunchtime procedures", and performs about 10 daily. "You walk in, take some consultation, get it done and go back. It takes between 15 minutes and one hour," he says. People also come to him for smile correction surgeries.
There are many who feel that some of the cosmetic procedures should be allowed an insurance cover. Says Dr Satish Arolkar, Plastic Surgeon and Senior Consultant at the Asian Heart Research Center in Mumbai: "Treatments such as liposuction and abdominoplasty should be covered under insurance as they target obesity, which is a major health hazard. Also, levying service tax on cosmetic surgery is a biased stand by the government that is killing the industry by restraining both Indian and overseas patients."
But if the rising numbers are any indication, the service tax and the lack of insurance have done little to deter many. A 63-year-old female patient of Dr Arolkar shows you why. She had grown up children, yet she requested for a face lift. "She is an insurance agent and said, 'who will buy insurance from me if I look my age'," he laughs. Beauty comes at a price. And for a fiercely ambitious, go-getter India, the price seems to be worth it.