The only time Laurent Demortier smiles, while talking to Business Today, is when he is asked if he has found any restaurant in Mumbai serving good French cuisine. "Not French, but you get very good Italian food," he says in thickly accented English.

But then Demortier, who hails from near Marseille in southern France, and took over as Managing Director and CEO of Crompton Greaves last June, has little reason to smile. The Rs 10,000-crore company, a household name in India for its fans and light bulbs, and a manufacturer of a host of other power and industrial items as well, has seen its profitability tumble precipitously in the last four quarters.

Though it remains in the black, its net profit for the quarter ending March 2011 fell by 18 per cent, for the June quarter by 58.36 per cent, for the September quarter by 45.38 per cent, and for the December quarter by 67 per cent, respectively, from a year ago.

This was in stark contrast to its earlier record - in the preceding six years, between 2005/06 and 2010/11, Crompton's net profit grew at a compound annual growth rate of 25 per cent.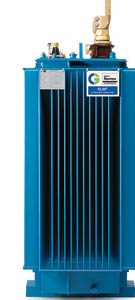 Not surprisingly, its stock price has plummeted 46 per cent since last July, against a seven per cent decline of the Sensex in the same period. Indeed, Crompton's downslide puts the fortunes of the $4-billion
Gautam Thapar
-owned Avantha Group under a cloud, since Crompton is its biggest company, the next-largest, paper maker
Ballarpur Industries
, being less than half its size.
What went wrong? At least part of the reason is the company's aggressive overseas push in recent years, coupled with the deteriorating economic scenario in the West.
Since 2005, Crompton has acquired nine companies abroad, the last being US-based automation and electric transmission systems company QEI Inc., for Rs 135 crore last May.
Some of these acquisitions are proving a drag on the company's margins, with cost escalations on specific projects taking their toll. While discussing the disappointing December quarter results with analysts, Demortier revealed that on a particular project executed in the US, Crompton had made no profit at all because costs went up unexpectedly.

Our margins have gone down but so have those of our peers.
B. Hariharan
Group CFO, Avantha Group
B. Hariharan, Chief Financial Officer of the Avantha Group, however, professes not to be worried. "Market conditions were quite difficult," he says. "It is true our margins have come down, but so have those of our peers."
This is also correct: the operating profit of Siemens Ltd, for instance, a key competitor in the power sector, was a mere 3.34 per cent for the quarter ended December last year. In comparison, Crompton's operating profit - which also declined - stood at six per cent.
Demortier is using a multi-pronged strategy to bring the company back on track. The first is a renewed focus on Crompton's core strength - power systems, including transmission and distribution equipment and switchgears - which account for two-thirds of the company's sales.
"We are focusing on Power Grid Corporation of India (PGCIL)," says Demortier, pointing out that he knows PGCIL's requirements well, having dealt with it frequently during his previous job at Alstom. Crompton supplies power equipment like transformers and rectifiers to PGCIL and takes up turnkey substation projects.
The second is the recent foray into renewable energy solutions, a furiously expanding sector worldwide, given the concerns about global warming. The European Wind Energy Association has noted that despite the continent's money troubles, installed wind power capacity rose 30 per cent across 10 European countries last year.
Also part of the diversification is an entry into the oil and gas sector for industrial products. "Oil and gas is a new vertical segment that we are developing where we sell a full electrical solution, including breakers, transformers, variable speed drives, motors and automation," says Demortier.
Yet another prong is boosting consumer goods sales, which contributed around 20 per cent to its top line. Crompton, for instance, has begun selling its fans in Europe: revenues from these were Rs 850 crore in 2010/11.
"People in countries like Italy or France may use fans for only 15 days in a year, but every house has fans," says Manoj Verma, Vice President, Consumer Products and Exports.
The company is also keeping a close eye on costs - despite its numerous acquisitions overseas, it concentrates its manufacturing in low cost locations like India, Indonesia and Eastern Europe. "Currently, 43 per cent of our goods sold outside India are manufactured in low cost locations. We want to take that to 66 per cent," says Demortier.

We are looking at new segments in the renewable energy market. We got orders of 90 million euros in the last quarter.
Laurent Demortier
MD & CEO, Crompton Greaves
The impact of these initiatives on the company's finances will only be known in coming quarters, but orders have certainly increased. "In the October to December quarter, our order inflows grew 66 per cent year on year," says Demortier. "It is the highest in Crompton's history."
While the previous quarter saw a 12 per cent drop in consolidated inflows, in this one Crompton bagged orders worth Rs 3,400 crore, of which overseas orders comprised Rs 1,900 crore, a growth of 20 per cent.
It is not only Crompton's financial health Demortier has to tackle. The company's reputation, too, had been sullied by some actions of his predecessor, Sudhir M. Trehan, who sold off his own stake in Crompton immediately after his term ended - and just three weeks before the June quarter results were announced.
The steep drop in profits shocked the market,
drawing insinuations of insider trading against Trehan
. The former CEO did not respond to BT's queries, but had said at the time that he had not been privy to any sensitive information.
Hariharan agrees. "He had said he would sell his stake once his term ended and he did so." But others remain sceptical.
"The key question is whether the shareholders who bought Trehan's shares had the same information he had," says Anil Singhvi, Founder-Director of Institutional Investor Advisory Services, which takes up corporate governance issues on behalf of institutional investors.
Investors were also furious with Trehan's 2010/11 decision to buy a Rs 270-crore private aircraft for the company. "What is wrong with executives travelling on scheduled airlines," asks Singhvi. On taking over, Demortier soon moved to mollify investors by selling off the contentious aircraft to a group company.
Many observers, however, are still not convinced that Crompton is out of the woods. "The renewable energy business is a long-term plan that will take time to fructify," says Shailesh Kanani, analyst at Angel Broking.
"For now the only positive is the increased order inflow." So too Rajesh Gupta, Director (Finance), Havells, one of Crompton's main competitors in consumer goods, is less optimistic about Europe's fan market.
"Apart from poor demand, distribution is a big challenge there," he says. An analyst with a domestic brokerage, who preferred to stay anonymous, said escalating costs may well render more of Crompton's overseas projects unprofitable.
"I am sure there are several legacy projects with very low or no margins," he says. "The company has no choice but to bear the pain for another couple of quarters."
Clearly, Demortier and Crompton have a challenging task ahead.