Afzal Ansari, a painter in Ranchi, has just finished painting a huge gate. He slips on a crumpled shirt over his greasy tee, pulls out his smartphone and heads out to take a break from work. On the way, he asks a colleague if he caught the previous night's episode of Bigg Boss, a reality show with a cult following across the country. "I am a big Sallu fan," says Ansari, referring to actor Salman Khan who hosts the programme. Ansari missed the latest show, but he is not bothered. He will catch up on it using his mobile. "I watch all my television here," he adds. Ansari owns three mobile phones, two of them exclusively to watch videos.

Surprised that a painter in a small city is streaming videos over a mobile phone? Ansari isn't exactly your stereotypical urban smartphone user. He earns just Rs 6,000 a month and does not speak English. But one person who is not surprised is Salman Hussain, the man behind Bharti Airtel's well known 'Rs 1 for a video' campaign, which almost doubled data traffic on the company's mobile webpage to 22 million users. Hussain is Vice President, Business Division, at Vuclip, a firm that provides video streaming services for many mobile phone operators in the country, including Bharti Airtel, India's top telecom operator.

Forget ring tones and music downloads. Video accounts for the largest chunk of India's mobile data usage today. Across the country, people are watching everything from reality shows and soap operas to cricket matches and music programmes on their little handsets. At last count, Vuclip had 37 million minutes of video streaming spread over 20 million mobile users under its belt. Hussain says more than 50 per cent of mobile data usage comes from video, and mobile phones in many semi-rural areas are becoming the first entertainment device. "Right now, the challenge is not profitability. It is about scale. In the long-term, data is the space which will drive revenue," says Hussain.

Most telecom operators have seen a surge in the number of 3G customers. And industry experts say the numbers will only go up. Bharti Airtel, for example, has almost doubled its 3G subscribers to about seven million, taking its data customers to 47 million, and data usage per customer has gone up 81 per cent in the past one year. Aditya Birla Group-owned Idea Cellular's data users rose to 31 million in the June quarter from 18 million in the previous year while data usage doubled in the same period. By the end of June, Vodafone had 41.2 million data customers with about 3.7 million 3G subscribers. Reliance Communications's data users grew by half a million in the quarter ending June. "I use data for about seven to eight hours on my mobile and I spend four times the amount I did on it two years back," says Kasturi, an app developer in Chennai.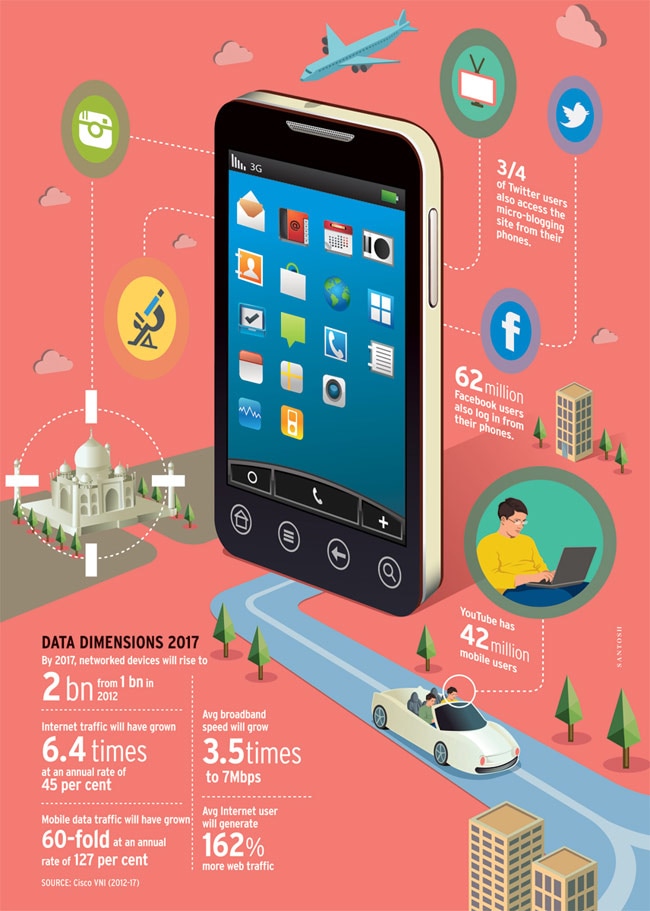 With the number of subscribers growing, revenue from data has also leapt. Data revenue accounted for seven per cent of telecom operators' overall revenue in 2012/13, and is expected to go up to 21.7 per cent in 2017/18, according to equity research firm PhillipCapital India.
Vodafone's data revenue grew 50.5 per cent to Rs 2,000 crore in 2012/13 while Bharti Airtel's average revenue per user from data leapt 59 per cent to Rs 63 in June from last year. Similarly, non-voice accounted for 21.3 per cent of Reliance Communications's revenue in the June quarter.
Most telecom operators riding on the data boom have tied up with social media such as Facebook and Twitter. Airtel, for example, partnered with Facebook for three months of free access to drive growth while Idea offers free Facebook Messenger for three months.
Reliance has a Rs 16-plan to access Facebook only and Airtel offers a Rs 1-a-day plan to access Facebook. Of the 82 million Facebook users in India, 62 million are also on mobile. Kevin D'Souza, Country Growth Manager at Facebook India says an increasing number of users are opening Facebook accounts on mobiles using their phone numbers as an ID and some mobile customers have never used a computer for Facebook. "Sometimes people do not even know that they are buying data, but when they buy a phone they want Facebook to be loaded on the Internet," he adds. "In India, mobile will be the only experience for many users." He is not exaggerating. "For more than a week I haven't used my computer. Everything is on my mobile and iPad," says Sunil Manglore, Managing Director, CA Technologies India.
Vodafone offers three months of free Twitter usage through the browsing page mobile.twitter.com, and recently developed an app 'Twitter for Android'. "Customers can connect in real-time with news, entertainment, sports and other interests on Twitter without data charges," says Vivek Mathur, Chief Commercial Officer, Vodafone India.
Seeing the growing popularity of social media and video streaming, most operators have slashed 3G prices. Most cities are dotted with roadside hoardings advertising affordable data plans, which in turn are expected to increase data consumption. Airtel set the pace by slashing 3G rates by 70 per cent in May 2012. Reliance Communications followed by cutting 3G prices.
"There was a clear anticipation in 2008/09 that there is an upside in data and we have been laying the foundation ever since," says N.Rajaram, Chief Marketing Officer of Bharti Airtel. "Now people are consuming content on the phone, and this is going to go up as they find more content to consume." Gurdeep Singh, CEO of Reliance Communications, agrees. "There is a lot to capture in the 2G and 3G data space. There is a lot of revenue sitting on the handheld in the form of 2G and 3G," he says.
Operators have been quick to cash in on the smartphone boom in India. According to research firm IDC, the number of smartphones in India leapt 166 per cent to 9.3 million in the second quarter of 2013 alone. Apart from big brands such as Samsung, Apple and HTC, data usage has also increased because of the rise of Indian handset makers such as Micromax, Karbonn and Intex. Aircel recently tied up with Micromax to offer free data for three months on every purchase of a Micromax phone. Aircel expects to get four to five lakh new users every month through this tieup.
Intex, another Delhi-based phone maker, sees 50 to 60 per cent of its smartphone sales coming from smaller towns. "Forty per cent log-ins on Facebook are from phones and another 40 per cent of Google searches happen on smartphones," says Sanjay Kumar, Business Head of Intex Mobile.
But the business is still fraught with challenges. Telecom operators face a host of problems such as shortage of spectrum, low margins, price wars, lack of infrastructure and slow profitability in the data business. Most operators have invested big bucks in setting up operations, but it takes a long time to break even. Indian telecom operators have spent Rs 67,719 crore on 3G and broadband wireless access.
According to PhillipCapital India, Idea Cellular is expected to break even on its 3G investments in 2014/15. 3G contributes only 1.2 per cent of Airtel's overall revenue, while Vodafone is just 0.8 per cent. Telecom equipment maker Nokia Solutions and Networks (NSN), which manages almost 40 per cent of India's telecom networks, has seen data consumption double in the last one year. 3G usage has gone up by 200 per cent, but infrastructure has not developed at the same pace. Market experts say the pipe is likely to get choked if the government does not allocate more spectrum for 3G operators.
"An average 3G subscriber consumes mobile data four times that of a normal 2G data user," says
*
Amit Marwah, Chief Technology Officer at NSN. Sanjay Rohtagi, Managing Director of the service provider business of Cisco India and SAARC, says the biggest concern is how to monetise data traffic on the network with the growth of video. "Operators are working on how to optimise their network to carry video traffic more cost effectively," he says.
None of this matters to people like Ansari in Ranchi, He does not even know video is delivered through wireless broadband. All he cares about is watching the next episode of Bigg Boss.
That is good news for India's mobile phone operators.
*The story has been updated with fresh quotes from Amit Marwah, Chief Technology Officer at NSN.