Gadgets are a big no when you're about to sleep because you may end up spending hours either watching your favourite TV series, chatting with your friends or playing games on your smartphone. However, there are a few gadgets that are specifically designed to track your sleep pattern and induce restorative sleep. These aren't your regular gadgets that are easily available. You can either purchase them on international online stores, such as Amazon.com, or pick one while travelling abroad.
Go To Sleep
An eye mask that helps calm the mind, relax the body and improve sleep. Like most other eye masks, it blocks light completely. It also has soft points of blue lights embedded in the cupped eye cover. After putting it on, you need to gaze at the soft pulsing blue lights. As you focus on them, they draw you away from the recurrent thoughts that keep your mind preoccupied. Once you start following the light, you will feel like closing your eyes and as the light starts fading you will end up sleeping. A perfect travel companion, it is well padded and provides cushioning around the eyes.
Price: $25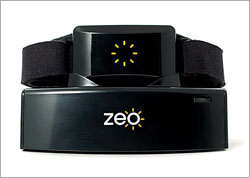 Zeo Sleep Manager Pro
There are many new-age wearable bands that track your sleeping pattern based on the hand movement, but they are far from being accurate. Zeo Sleep Manager Pro does the job perfectly. It has a headband with three forehead sensors and a small electronic module attached to it. There are apps available for the iOS and Android platforms that collect data over Bluetooth. Once paired with the smartphone, wear the headband, which requires two hours of daily charging, to doze off. One can visit the Zeo website to learn more about what to eat and how to relax to improve sleep.
Price: $99
Sleep Infuser
The Sleep Infuser is based on an audio technology that uses natural soundscapes, such as ocean waves, rhythms of steam trains and cocoon environments, to help block background noise and distractions. The soundscapes have a pattern of low pulses with a discreet hum. The company says the pattern works on the brain without interfering with the cognitive and sensory faculty and gently coax the brainwave patterns to induce sleep. The Sleep Infuser has an intelligent timer system that can vary the intensity of the sounds.
Price: $449
Holi SleepCompanion
The Holi SleepCompanion is a smart bulb with 20 light sources that helps you fall asleep. The bulb is designed to synchronise with your body's biological rhythm to generate the right intensity at the right moment. It is measured using a smartphone app that analyses sleep patterns. The lamp can even wake you up by softly increasing the intensity of the light. This bulb can replace the nightstand lamp.
Price: $99
NightWave Sleep Assistant
The NightWave Sleep Assistant is a small, lightweight box that projects soft blue light to help one relax within minutes. It is a seven-minute pre-sleep exercise: breathe in as the blue light gets bright and exhale as it softens. The company says that you are likely to doze off by the time the seven-minute session is over. The gadget is ideal for those who have a tendency to wake up in the middle of the night and find it difficult to go back to sleep again.
Price: $49.95
APPSOLUTELY
A look at some value-added apps.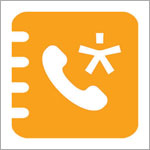 InTouchApp
Phone book is one of the most important functions on your mobile phone. This app helps you to manage, backup, view and restore contacts from any device - Nokia, iPhone, Android, BlackBerry, etc. To get going, complete the app registration process. It will automatically back up all contacts on the server. If you want to access your contacts on a different phone, you simply have to login to it and the contacts will be downloaded from the server. It also eliminates duplication and saves images of visiting cards for future references, but does not add them to the contacts list in text format.
Platform: iOS, Android, BlackBerry; Free
BrainWave Music Control
For most smartphones, accessing music controls can be a tad cumbersome. This is where the BrainWave Music Control app makes a difference. It allows users to control music panels with hand gestures even when the display is turned off. This facilitated by the phone's front camera. The app runs in the background. When you use it for the first time, you will find detailed information on how it functions through a tutorial. Once you link the music player app to it, you can start playing music. If you swipe left the music restarts, while swiping right skips the current track. Placing the hand on the screen plays/pauses the track.
Platform: Android; Free
Simply Voice
Of late, the voice assistant feature on smartphones, such as Siri on iPhone and Google Now on the Android platform, have been really popular. However, if you still wish to use a close-to-flawless app that is quick and responds well to Indian English dialect variants, then Simply Voice is for you. A soft tap on the microphone initiates the voice assistant. The app responds to voice commands within seconds to launch the app, make calls from your contacts list and search the web, among others.
Platform: Android; Free