On Sunday, April 29, Future Group Chairman Kishore Biyani took a 7.35 am Jet Airways flight from Mumbai to Kolkata. He was on his way for a final meeting with Kumar Mangalam Birla, to close the sale of his Pantaloon apparel business. Birla was in the city to attend the 70th wedding anniversary of his grandparents, B.K. Birla and Sarala Birla.

For Biyani, the occasion felt no less than giving away a daughter. And what better place to do it, than Kolkata, where it all started?

Birla Park, the tree-lined residential estate of the Birlas on Gurusaday Road, is barely three kilometres away from the super-busy Gariahat crossing, where Biyani began his journey in 1997 with his first Pantaloon store.

The Future Group Chairman was accompanied on the flight by Sushil Agarwal, chief financial officer of the Aditya Birla Group's holding company, Aditya Birla Nuvo, and Vishal Kampani, head of institutional securities at JM Financial, the only investment banker involved in the deal. The handshake happened at 1 pm, just before lunch.


"It was not easy for Mr Biyani...it was emotional. Kolkata is where he started. It was appropriate," says Kampani. His mandate from Biyani was to help sell Pantaloon to reduce the debt of the Future Group.
SPECIAL:
Biyani's Big Bazaar unveils the power of organised retail
The Kolkata handshake was the last in half-a-dozen meetings between Biyani and Birla to thrash out the deal. With the duo often negotiating personally, aided by Agarwal and Kampani, news of the deal never leaked.
Apart from strategy head Dev Bhattacharya and apparel business head Pranab Barua, few Birla executives were involved. Even lawyers and accountants were kept out to ensure the deal stayed under wraps.
According to the terms of the deal, Aditya Birla Nuvo will subscribe to optionally
fully convertible debentures worth Rs 800 crore
issued by Pantaloon Retail India Ltd. The company now operates the retail formats Pantaloon, Central, Ezone, Brand Factory and HomeTown. Its subsidiary, Future Value Retail, owns the Big Bazaar and Food Bazaar retail chains.
THE BIRLA APPAREL BIZ



1989
Madura launches Louis Philippe in India: 119 stores

1990
Madura launches Van Heusen: 165 stores

1997
Madura launches Peter England: 525 stores

1993
Madura launches Allen Solly: 129 stores

1999
Aditya Birla Group acquires Madura Coats

2001
Launches Planet Fashion: 145 stores

ESPRIT
2005
Launches Esprit in India: 25 stores

2008
Launches The Collective: 4 stores

PANTALOON
2012
Takes over Pantaloon format from Kishore Biyani: 64 stores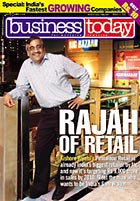 The Pantaloon brand and stores will be demerged and turned into a separate company. This entity will also take on the convertible debentures subscribed by Birla and convert them into equity. According to an MF Global report dated May 2, the conversion will give the Birlas a 44 per cent stake. The company will then be listed.
After the demerger and listing, the Birlas will make an open offer to public shareholders and take their own holding up to at least 50.01 per cent. The Biyanis will continue to hold around 25 per cent. With the Pantaloon brand passing on to the Birlas,
the company will be renamed Future Retail India Ltd
.
Apart from Pantaloon, Biyani is also selling another subsidiary, Future Capital Holdings, the financial services arm. That deal is likely to mature late in May.
PROFILE:
Kishore Biyani - The man who saw tomorrow
Kampani, who had taken the Pantaloon deal to the Birlas, explains how the debt reduction works out for Pantaloon Retail India: "Out of the consolidated Rs 8,000 crore debt of the Biyanis, Rs 2,000 crore is with Future Capital Holding, which is an NBFC (nonbanking finance company). When Pantaloon Retail's stake in the NBFC (53 per cent) is sold, this debt will go out of the group along with that company."
That leaves around Rs 6,000 crore of retail business debt.
The Birlas are infusing Rs 800 crore in debentures immediately while another Rs 200 crore of equity investment is coming from Bennett, Coleman and Company, publisher of
The Times of India
and other dailies.
After the demerger of the Pantaloon business, the new company will take away another Rs 800 crore of debt (not related to the debentures) on its balance sheet from the Pantaloon Retail books.
That would bring down the debt by Rs 1,800 crore to Rs 4,200 crore. The Future Capital stake sale is likely to garner around Rs 500-600 crore for Pantaloon Retail - and the debt will be pared further to around Rs 3,700 crore.
The consolidated EBITDA (earnings before interest, taxes, depreciation, and amortisation) of Pantaloon Retail India, without the Pantaloon format, is Rs 900 crore. So, the company will have an EBITDA-todebt ratio of around 1:4 after both sales happen. A ratio of five or more indicates that a company is unlikely to be able to handle its debt burden. The Pantaloon format had an EBITDA of Rs 200 crore.
SPECIAL:
How Pantaloon Retail made the most of the retail boom
Aditya Birla Nuvo and Pantaloon Retail are both announcing their results on May 15 and declined to participate in this story citing their silence period. For the Birlas, the Pantaloon acquisition is one more step in expanding their retail business.
In 1999, the group had acquired Madura Coats, which today has around 1,000 stores under different brands and formats as a subsidiary of Aditya Birla Nuvo. It also acquired South India-based retail chain Trinethra in 2007, later refashioning it into its retail brand, More. Pantaloon, a largely private label retailer of apparel, will also provide a great opportunity to sell Madura's brands such as Louis Phillippe, Van Heusen and Peter England.
WHAT BIYANI WILL PLAY WITH NOW
Big Bazaar: 157
Food Bazaar: 47
Central: 20
E-zone: 36
Home Town: 15
Figures indicate number of stores
In a report on the deal dated May 1, 2012, Citibank analysts Jamshed Dadabhoy and Aditya Mathur noted: "… based on limited information at this juncture, this appears to be a good deal for Pantaloon Retail India's shareholders."
Abhishek Ranganathan and Neha Garg, analysts at MF Global Sify Securities, wrote that the transaction would reduce earnings and annual saving in gross interest costs could be around Rs 176 crore.
So, what did Biyani and Birla discuss at their meetings?
"It was about understanding each other and their philosophies. Pantaloon was very close to the heart of the Biyani family. Mr Birla dealt with the issues very well, and he was very open," says Kampani.
He has handled a lot of deals involving the Birlas in the past, including L&T, MRPL, the Idea IPO and the Birla AT&T Tata merger. Kampani feels the Pantaloon deal is "one of his best ever". He even plans to preserve and frame the boarding pass of the flight he took with Biyani and Agarwal on that April morning, as a memento.