The India arm of US auto maker General Motors, or GM, is in the midst of a DNA change. The metamorphosis is an offspring of the 50 per cent stake Chinese auto giant Shanghai Automotive Industries Corporation, or SAIC, bought in the company in February 2010 for $650 million, or Rs 2,990 crore. The new GM India plans an audacious assault on the Indian market with no less than five Chinese cars in six months, starting January next year. "By combining the outstanding resources of GM with those of our partners in China, we can respond faster to the evolving domestic market than ever before," says Karl Slym, President and Managing Director of GM India. "It will help us emerge as a volume player in this market in the shortest time." The five launches will include a light commercial vehicle, or LCV.

Slym's hopes are built on the success of the partnerships GM has forged in China, a performance that is in stark contrast to its India story. GM entered the two markets at about the same time in the mid-1990s. Over the years, the company has established itself as the Number Two auto maker in China with seven per cent market share; only German giant Volkswagen is ahead with 12 per cent. Thanks to its prescience in estimating the potential of emerging markets, 43 per cent of GM's sales today comes from the BRIC nations - Brazil, Russia, India and China - with China topping the list. In fact, so vital has China become to GM that the company held its last board meeting in the Middle Kingdom in September this year, the first outside the US.

MUST READ: Can Karl Slym save GM India?


Chinese onslaught
SAIC holds 50 per cent share in GM India
The JV will introduce fi ve vehicles in India next year; four will be unveiled at the January 2012 Auto Expo in New Delhi
The cars will have Chinese design and core architecture; engines will be from GM
The cars will give GM a portfolio of 12 passenger vehicles (not counting variants) in India, and one light commercial vehicle
In comparison, Maruti Suzuki has 11 passenger vehicles, Hyundai has nine, Tata Motors fi ve, and Ford India, four
The five vehicles will allow GM India to better utilise its installed capacity of 470,000 cars per year.
In 2010/11, it produced a mere 108,529 cars
All cars will be branded Chevrolet and will not have any Chinese messaging
In the same period, GM's performance in India has been lacklustre. It came with the Opel line, which had to be discontinued after a few years and Chevrolet was brought in. The focus on sedans in the initial years - there was also a station wagon - meant that GM had to be content with low volumes until it tapped the burgeoning small car market with Spark in 2007 (see Market Share). So weak was GM's image and brand recognition in India that Slym says: "People did not know whether we were General Motors or General Electric."
While Slym's sharp focus on the Chevrolet brand has addressed the brand recognition challenge, the launch of two small cars, Spark in 2007 and Beat in 2010, perked up the sales numbers. But not to the extent GM would have hoped for. For instance, Spark, GM's competing product against Alto - India's highest-selling car from Maruti Suzuki - sells around 3,500 units a month compared to Alto's 25,000. As for Beat, Slym hopes the recent introduction of a diesel variant - diesel cost being subsidised, diesel cars are hugely popular- will help it compete better with the likes of Ford's Figo, which sells around 6,000 units a month. So far, Beat's sales numbers have been similar to Spark's. In terms of financials, too, GM has struggled to be profitable in India (see Bottom Line Troubles).
In this situation, GM needed a booster shot to get a grip on one of the world's fastest-growing auto markets - even if, admittedly, this year has been a blip. And how better to do so than to try and replicate the China success in India? Analysts say the partnership is a smart move.
"Chinese cars may not be very high on quality, but they will be able to price the product competitively," says Ammar Master, Manager, J.D. Power Asia Pacific, referring to the LCV GM plans to bring in. Delhi-based auto analyst Tutu Dhawan calls it an intelligent move. "GM can now leverage the Chinese advantages," he says. In the process, GM's Indian operations are being infused with a dose of Chinese products and processes.
Chinese checkers
At the core of GM India's intricate game of Chinese Checkers is Slym, the 49-year-old Briton with a passion for cars and cricket. Slym jokes that while he shares his accent with the former England cricketer Geoffrey Boycott, he was a more aggressive batsman in his time. (Boycott was known for his dour batting style.) Slym's aggression is evident in the way GM's strategy has unfolded in India since he came in, with small cars becoming the company's focus area, multiple fuel variants being introduced, including CNG, LPG, diesel and hybrids of these, and with a three-year free service offer forming the bedrock of GM's marketing strategy.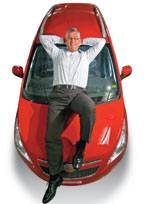 Now, the man who joined GM in 1997 from Toyota, and who has been crucial to its growth in countries such as Japan, is attempting to take GM India the China way. Once every quarter, Slym visits Shanghai to check on the progress. In fact, even as this issue is being put to bed, Slym is in Shanghai, fixing the nuts and bolts of the partnership. "We will grow double the market rate once we come out with our full range," he says.
INTERVIEW
:
General Motors India MD Karl Slym on the carmaker's growth
Over the past 18 months, there has been intense collaboration between GM and SAIC. The latter is providing the core design and engineering of the five vehicles, because the joint venture, or JV, partners feel the designs of certain cars in China are suitable for India.
In the first round, GM's Indian engineers travelled to Shanghai to acquire an understanding of the design of the cars. Slym explains that core design changes, such as altering left hand drive to right, are being done in China.
The cars are undergoing other changes to suit Indian conditions, such as increasing the ground clearance. They are all fitted only with petrol engines in China. Since diesel is a big draw here, GM is bringing diesel expertise into these cars. Its engineering and development centres are based in Talegaon, Maharashtra, and Bangalore. The Talegaon engineering centre is a JV with SAIC, while the Bangalore research and development centre is GM's own and reports directly to Slym. But since the Talegaon centre is small, much of the work on the SAIC vehicles is being done at the Bangalore centre and in China. Most components and parts are being localised to keep down imports from China and elsewhere. GM India will have SAIC experts on the new assembly line as well. "We need them for specific skill sets, like for commercial vehicles," says Slym. GM's association with SAIC has also helped it reduce cost of manufacturing, "particularly with the new products", says Slym. "We have put in new equipment, facilities." He also agrees that this will have a cascading effect on the rest of GM India's manufacturing.
The company remains sensitive to the fact that it will have to tackle perception issues about Chinese products. Most Chinese companies in India, including Haier in consumer durables and Huawei in telecom equipment, face a similar challenge. The only Chinese car in India, the Rio compact SUV sold by Premier Automobiles, sells on average 200 units a month. To counter this negative image, GM is being careful to ensure these vehicles are not seen as Chinese vehicles.
"These are not Chinese cars," asserts Slym. "We are bringing in five vehicles which are Chevrolet's - built here, engineered here, but designed by our Chinese partners." Accordingly, all the cars will sport the well-known Chevrolet logo, and the marketing drive is unlikely to have any message that alludes to China.
Segments and pricing
Much depends on the segments the cars drive into, and their pricing. Predictably, Slym is tight-lipped, though he emphatically rebuts all speculation of an entry-level small car from SAIC to take on Alto, saying Spark will remain GM's entry-level car in India. "Traditionally there has been growth in the small car segment, but entry-level sedans, multi-purpose vehicles and entry-to-middle-level SUVs are also fast growing segments," says Kapil Arora, Partner, Automotive Practice, Ernst & Young. "That is what I think this JV is targeting."
The one segment in which GM does not have any presence in India is the super compact, or entry-level sedan segment, where the likes of Maruti's Dzire, Toyota's Etios and even Mahindra & Mahindra's Verito - the relaunched Logan - are selling well. The segment is growing at 51 per cent, at a time when the overall market is clocking barely two per cent growth. Slym simply smiles upon being asked if this segment will see an SAIC car.
One possible candidate in this segment is the Chevrolet Sail, which is available in two body types - a hatchback and a sedan. Bringing it in would allow GM to not just have another hatchback, but also a cousin entry-level sedan, to emulate the strategy of Maruti, which has Swift and Dzire; Toyota, with Liva and Etios; Volkswagen, with Polo and Vento, and Tata Motors with Indica and Indigo.
Analysts, too, believe the twin Sails are likely to, um, sail into India, but Slym stays mum. Taking forward GM's multiplefuel strategy, the new cars will sport fuels in 14 different variations, including hybrids, but there will not be any electric car. Through this partnership, GM will also enter the commercial vehicle segment for the first time in India, with the launch of an LCV, possibly in the category of Tata Ace, a small subone-tonne truck which has been hugely successful. "We haven't seen any decline in that segment," says Slym. E&Y's Arora agrees. "In the commercial vehicle segment there is room for sub-one-tonne vehicles and MUVs," he says. "But in all categories competition will be intense."
Naturally, GM will not have an open field. In the hatchback segment, which accounts for more than 75 per cent of car sales, competition is cut-throat. Honda recently launched Brio to take on the likes of Swift. "This market is getting more and more new products, but at the same time the market (size) is increasing," says Jnaneswar Sen, Senior Vice President, Sales and Marketing, Honda Siel Cars. Toyota earlier launched Liva in the same segment to encouraging response from customers.
Volkswagen's Polo and Nissan's Micra are already in the fray, and Ford's Figo has done very well, too. Besides, Maruti Suzuki, Hyundai and Tata Motors are gorillas here. Other segments such as sedans, SUVs and MUVs are also seeing increasing competition. At the same time, transplanting a successful formula from one market into another does not always mean sure success. M&M, for instance, believes that transplanting a model into another geography is not the best idea. "I don't think a transplant will be successful; it always has problems," says B. Bhaumik, Senior Vice President and Head, Product Development, M&M, though not necessarily alluding to GM's strategy.
M&M burnt its fingers with Logan, a smash hit in Europe. Interestingly, though GM India has a manufacturing capacity of 470,000 cars every year, it produced a mere 108,529 cars in 2010/11. Hyundai has 300,000 units - 50 per cent of its capacity - earmarked for India, and the remaining for exports. Theoretically, if GM is able to utilise its production capacity far more than it does now, it could put up a strong challenge to the market leaders.
But the big question now is, even as GM India's Chinese association brings about changes in its manufacturing practices and product portfolio, can it also propel the company into the big league? That is another story.