Isaac George is worried. The finance chief of GVK Power & Infrastructure is concerned about two gas-based power plants in Andhra Pradesh. The plants, Gautami and Jegurupadu-1, have a total generation capacity of 700 megawatt (MW) but have been idle for more than a year. "The plants are shut due to non-availability of gas. Our problems will deepen with the new price increase [that takes effect April 1]," he says. "We are in distress."
Falling supply and rising prices of natural gas have left many power companies in a state of distress. State-run NTPC, the country's biggest power producer, as well as private-sector companies such as GMR Group, Lanco Infratech and Essar Energy are all facing the same problems. Overall, more than half the country's total gas-based generation capacity of 19,000 MW is under-utilised due to low fuel supply. Industry executives fear the remaining capacity will also be rendered economically unviable due to the forthcoming hike in gas prices.
Currently, the administered price of gas is $4.2 per million metric British thermal units (mmBtu). From April, gas prices will be linked to international benchmarks. The new price is likely to be about $9 per mmBtu. Petroleum Minister Veerappa Moily says higher prices will boost gas output. But power producers have yet to buy into his reasoning. The average gas output in 2012/13 was 106 million metric standard cubic meters a day (mmscmd). The power sector received 25 mmscmd of gas during the year, far short of the 88 mmscmd it needs to run all gas-based plants at full capacity. The worst affected were those allocated gas from Reliance Industries Ltd's (RIL) D6 block in the Krishna Godavari basin where output dropped sharply. Power Minister Jyotiraditya Scindia told Business Today in January the government was committed to resolving power producers' problems but there were "no immediate solutions" to offer.
Rs 5 Likely per unit cost of power generation if gas is priced at $9 per mmBtu, versus up to Rs 3 for coal-fired plants
88 MMSCMD Gas needed to run all gas-based power plants. The power sector got just 25 mmscmd in 2012/13
According to back-of-the-envelope calculations, at current exchange rates every $1 of gas price translates into half a rupee of power generation cost. Assuming the new price of gas at $9 and adding another dollar as transportation expense, the generation cost will be Rs4.5 to Rs5 per kilowatt-hour, or one unit of electricity. This will make gas-fired plants costlier to operate in comparison with coal-fuelled stations.
According to data from the Central Electricity Authority (CEA), the technical wing of the power ministry, the cost of electricity generated from coal is as low as 70 paise to Rs3 per unit.
Controversial Formula
At the heart of the problem is a new formula to calculate the price of gas. The Union Cabinet approved the formula in June last year and notified the related guidelines in January. The formula was suggested by a committee led by C. Rangarajan, head of the Prime Minister's Economic Advisory Council. According to the new method, the price of locally produced gas will be calculated on the basis of weighted averages of the price India pays to import liquefied natural gas and prices in the gas hubs of the US, UK and Japan.
N.K. Verma, Director of Exploration at state-run Oil & Natural Gas Corporation, backs the formula. "Gas prices had to be increased. Otherwise, we are not in a position to bring in new gas finds. We find the formula very comprehensive," he says. Ajay Arora, oil and gas leader at consultancy Ernst & Young India, says the formula is "a little aggressive" but will encourage explorers to develop more fields. Daniel Yergin, a Pulitzer Prize-winning author and Vice Chairman of energy research firm IHS, told BT the formula will encourage international energy players to invest in India.
Senior Bharatiya Janata Party leader Piyush Goyal says, however, the formula was not developed in a transparent manner. Communist Party of India leader Gurudas Dasgupta has challenged the price hike in the Supreme Court. The controversy peaked on February 11 when Arvind Kejriwal, chief minister of Delhi at the time, recorded a police complaint against Moily, former oil minister Murli Deora and RIL Chairman Mukesh Ambani for allegedly colluding to increase gas prices. Both Moily and RIL have refuted the allegations.
Kejriwal's move might have been aimed at earning some political brownie points, but even energy industry experts say the formula has some flaws. They say the most dominant factor in the formula is the Japan Crude Cocktail (JCC) price, which Tokyo uses to calculate the price of imported liquefied natural gas (LNG). An energy sector analyst, who refused to be named citing the sensitivity of the issue, says it is strange that India is using the JCC when Japan is de-linking it from its LNG imports. Also, the JCC has been factored twice because it is already linked to the price India pays to import LNG from Qatar. Besides, the CEA has also objected to the new pricing system. It says that while gas prices will be revised quarterly, electricity tariffs are fixed annually. "Even if companies want to use gas, this [system] will make it more difficult," says a senior CEA official.
Short Circuit
Power producers say they will feel the pinch of the gas price hike even though they are allowed to pass through the cost of fuel to buyers. "We are not finding buyers for electricity generated at $4.2 per unit of gas. How can anyone expect us to get customers at more than double the price?" asks a top NTPC executive, who does not want to be named. A senior executive at Lanco Infratech agrees. "When it comes to merit order dispatch, we are bound to lose in comparison to coal," he adds, referring to a mechanism followed by grid operators where they ask expensive power plants to shut first when demand falls. The problems had prompted Lanco to try and sell its gasfired power plants but it has not been able to find any buyers.
To help electricity producers, the power ministry in February proposed a subsidy package. In a cabinet note circulated to several ministries including finance and petroleum, the power ministry suggested doling out Rs6,000 crore to stateowned distribution companies to help them buy expensive electricity generated from gasfired plants and sell it at a discount. The note recommended subsidies for two years - Rs3,500 crore for 2014/15 and Rs2,500 crore for the year after. The proposal did not go through because of a lack of consensus among the ministries. "We kept on hearing several proposals to cushion mounting prices, but nothing materialized," says the NTPC executive quoted earlier. NTPC has the biggest portfolio of gas-based capacity - 6,400 MW - in the country.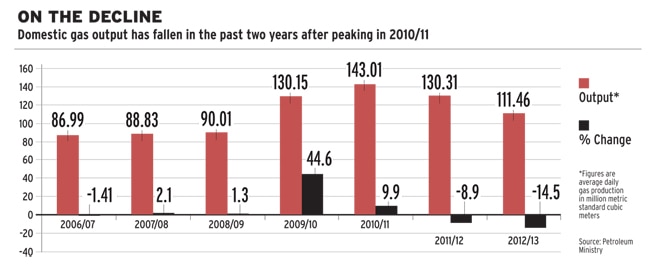 While most companies are still trying out to come up with a solution, Essar Energy has taken a unique - and drastic - step. On June 24 last year, the company said in its earnings press release that it is converting two of its gas-based power plants into coal-fired stations. "We were forced to run our plants at less than 25 per cent of capacity because of low gas availability from domestic sources," says K.V.B. Reddy, who heads Essar's power business.
The task of switching to coal is not easy. Coal-fired plants are more complex than gas-fueled ones, as they require a setup to handle the dry fuel and dispose off ash, besides changing the mechanism to generate heat to run turbines. Moreover, the switch to coal will reduce the combined capacity of the two Essar plants, at Hazira and Bhander in Gujarat, to 430 MW from 1,015 MW. But Reddy is convinced it's the right decision. "We have done our calculations. The new price of gas would make us unviable," he says. Reddy says executives at many companies spoke to him about the company's "innovation". "[They] are probably waiting to see our experience," he says. GVK's George is one of them. "It is not an easy solution to implement. Let's see how Essar implements this. We may learn something," he says.
Deepak Amitabh, Chairman and Managing Director of power trading firm PTC India, says encouraging open access could be a solution for gas-fired plants, as this would allow a consumer to buy electricity from any supplier in the country even if is priced higher. Kameshwara Rao, Partner and Leader of PricewaterhouseCooper's energy practice, agrees but says states levy a heavy surcharge on open access transactions that make them unviable. Rao says the surcharge must be abolished but that would require an amendment to the Electricity Act, a tough task that depends on reaching a political consensus.
While power producers will face the brunt of the gas price hike, some other sectors also will be affected. A recent Citibank report projects that the price of gas allocated to city-gas distribution companies will increase by Rs13 per kg from April. The government will also have to fork out a higher subsidy for the fertiliser sector. The fertiliser ministry estimates that for every $1 increase in gas prices, the government will have to pay Rs3,155 crore to stabilise the price of fertiliser for farmers. Any decisions to help these sectors will now be taken by a new government after general elections that end in May. Until then, at least, there is little hope of a turnaround in the fortunes of these industries.