Photo: Shekhar Ghosh/www.indiatodayimages.com
These are strange times for aviation in India. In February 2013, salt-to-software conglomerate Tata Group tied up with Malaysian budget airline AirAsia. A few months later, the Foreign Investment Promotion Board swiftly cleared the group's partnership venture with Singapore International Airlines (SIA) to start a full-service airline in India by mid-2014. But these events stood out against a gloomy backdrop. The clearance for the SIA deal came just two days after the country's second largest private airline, Jet Airways, announced its biggest ever quarter loss (Rs 891 crore) for the second quarter of 2013/14. Consultancy Centre for Asia Pacific Aviation (CAPA) estimates that Indian airlines collectively lost more than Rs 3,000 crore in that quarter.

Between 2007 and 2013, they lost Rs 53,648 crore, and losses for 2012/13 are pegged at Rs 10,429 crore. But Kapil Kaul, CEO of aviation consultancy CAPA (India and the Middle East), says the tide will turn in 12 to 18 months. "Post 2014/15, the industry will see a better operating environment and will return to sustainable growth," he says.

That may seem hard to believe when the industry is grappling with high aviation turbine fuel (ATF) prices - oil prices have hovered around their peak of $110 a barrel - as also slack demand and rupee depreciation. The last is especially painful for a business in which 75 per cent of costs are dollar-denominated. All these issues have led to softening of yields per seat, an important measure of an airline's health. For Jet, yields for the second quarter dropped 11 per cent to Rs 7,376 from Rs 8,335 in the corresponding quarter of the previous year.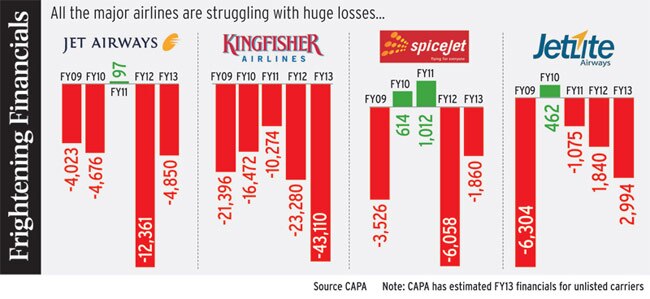 Airlines are resorting to short-term borrowings to fund losses. Trade payables for large airlines such as Jet and Air India have shot up. CAPA notes that industry debt rose eight to nine per cent in 2012/13 to $14.5 billion, in addition to $2 billion of vendor-related liabilities, with an average cash position of just $500-550 million. It also notes that a major contributor to overall debt are the losses that have piled up since 2007, and are close to $9.5 billion as on March 31, 2013, eroding airlines' net worth. As airlines default on dues, airport revenues suffer. A report by India Ratings & Research, a Fitch Group company, notes that the number of domestic flights landing at major government-run airports in Ahmedabad, Chennai, Goa and Kolkata declined 5.27 per cent year-on-year to 22.97 million in 2012/13.
Airports make their revenues
per landing, so fewer landings means less revenue.
Here are five reasons why things could get better starting next year.
1. Jet's Debt
In 2014, Jet Airways is likely to see the benefits of its partnership with Abu Dhabi-based Etihad, which would infuse $600 million in equity into the Indian carrier (pending clearance from the Competition Commission of India). If that happens, Jet will be able to strengthen its balance sheet and focus on fleet expansion.
Ravi Shankar G., the airline's Chief Financial Officer, said in an earnings call in October that the deal, for which Jet expects the last remaining clearance within the third quarter, would allow it to "derive huge cost benefits rising out of cost synergies and commercial cooperation".
It would help Jet restructure its $1.9-billion debt. "We will raise $300 million in ECBs soon, half of which will be through Etihad's banking relationships," he said. This would help Jet clear a chunk of its debt, he added. From a stronger position, the CAPA report notes, the airline could place fresh orders with Boeing or Airbus for 100 aircraft. The deal would also enable Jet to cover 23 more Indian cities, strengthen its US services, and start flights to destinations in Africa and West Asia.
2.Air India's Plans
The other large full-service airline, Air India, is also optimistic. The carrier, which accounts for 60 per cent (Rs 40,000 crore) of the industry's debt and two-thirds of its losses, turned cash-positive in the first quarter of this financial year and cut its debt by over Rs 3,000 crore.
"The budgeted loss for 2013/14 is Rs 3,900 crore, but the airline hopes to be EBITDA-positive by Rs 1,040 crore," says an Air India executive on condition of anonymity (EBITDA is earnings before interest, tax, depreciation and amortisation). The promised Rs 3,574-crore equity support by the government for this year has been deferred. Air India has tied up with public-sector banks for funds backed by government guarantees to raise money from the market, he adds.
The carrier plans to join a global airline alliance, which would boost revenues. It is also likely to benefit from creating two subsidiaries - Air India Transport Services, a ground handling company, and Air India Engineering Services - which would become functional in 2014. It would become leaner by deputing some 13,000 employees to these subsidiaries and cut its wage bill of over Rs 3,000 crore by half.
The issue of privatising Air India is likely to be on the agenda of the successor of current civil aviation minister Ajit Singh. "The group of officers in 2011 who prepared the report on restructuring had recommended that when Air India becomes cash-positive in 2016, the induction of a strategic partner may be considered," remarked a senior Air India official. The carrier recently turned cash-positive, but it will be a while before it consistently shows profits. By adding Dreamliners to its fleet and reaching milestones essential for its turnaround, Air India is likely to cut losses substantially, as the aircraft will help make some routes more viable.
3. More Strategic Tie-ups?
Airlines are likely to have more stable cash flows if carriers such as GoAir and SpiceJet, in talks with foreign carriers, enter strategic partnerships in India. If they fail to attract capital, says Amber Dubey, Partner and aviation head at consultancy KPMG, "the sector will go through another phase of consolidation by the end of 2014".
SpiceJet, which got its strategy right with regional expansion and off-beat destinations such as Kabul, Afghanistan, and Guangzhou, China, is struggling due to lack of leadership after CEO Neil Mills quit in July. According to industry estimates, the airline is expected to post a record loss for the second quarter of this financial year. On March 31, 2013, its debt was Rs 1,802 crore.
But it could bounce back if cash flow issues are fixed soon. CAPA expects that SpiceJet will get a new investor, possibly a foreign airline, soon. This would transform its fleet plans beyond 2017 - it would be able to consider induction of Airbus A320neos and more Boeing aircraft.
GoAir has appointed investment bank JP Morgan to scout for an investor. There have been reports that it is in talks with Japanese carrier ANA, and Germany's Lufthansa, although both foreign carriers have denied this. GoAir's size, its order for 72 Airbus A320neos, its strong presence in the Mumbai-Delhi sector, and the likelihood that the government will ease the 20-aircraft minimum could all make it easier for GoAir to go international.
They also make it a good target for investment and provide the necessary equity base for growth.

4. The Tata Effect
The Indian aviation market will see two new airlines launching operations in 2014 - the Tata-SIA fullservice airline, and AirAsia India, a budget carrier. An official with a private airline, who does not want to be identified, says: "The new players with strong promoters and expertise will change the landscape of Indian aviation. The Tatas coming into the sector will give Indian aviation much-needed credibility that has gone down because of airlines like Kingfisher."
Sharat Dhall, President of Yatra.com, predicts stronger players in the future in the industry. "Because of the efficiency that these players will bring, fares will be pushed down," he says.
According to industry estimates, Indian carriers are likely to see an infusion of $1.3 billion by 2015, and major international players, such as Qatar Airways and Turkish Airlines, are showing interest in investing in Indian carriers.
CAPA notes that joint ventures such as the Tata deals with AirAsia and SIA are likely to pave the way for more greenfield investment, to "avoid legacy issues and ensure that they can establish low costs of operation". After 2014, the new Tata ventures are likely to stabilise and consider expansion.

5. More and Better Airports
CAPA says it expects an airport modernisation push starting 2014. It says in its May 2013 report titled India Aviation in 2013/2014: Seismic Changes Ahead in Domestic and International Markets: "Satellite based navigation (to be launched in 2014 and likely to get certification by November) and flexible use of airspace (agreed recently) that will allow direct routings are two initiatives which will be very important in reducing airline operating costs and carbon emissions through lower fuel consumption."
The 12th five-year plan (2012-2017) envisages investment of $12.1 billion in airports, of which $9.3 billion is expected to come from the private sector. Indian airports were privatised in 2006. Now that the first phase of public-private partnership projects for upgrade and modernisation in Bangalore, Chennai, Delhi, Hyderabad, Kolkata and Mumbai is over, an increase in activity levels is likely.
"As a trend, airport infrastructure basics and finances are sound across the Southeast Asian region," says V.P. Agrawal, Chairman of the Airports Authority of India (AAI), which runs 85 airports in India. He says AAI has sought Rs 2,500 crore as capital expenditure for airport expansion, and is making a list of 50 airports in states such as Andhra Pradesh, Orissa and Uttar Pradesh.
Agrawal says it is not enough to strengthen 'hub' airports in metros - 'spoke' airports in smaller towns need to be strengthened as well. "The key will be the addition of smaller planes - 50- to 70-seaters and also 20- to 40-seaters - for providing connectivity to smaller towns where traffic continues to grow," he says.
Apart from managing 85 airports (some with private players), AAI is looking to develop five new ones, and is inviting bids for management and operation of airports in Jaipur, Bikaner and a few other cities. Nearly 40 per cent of the airline capacity today is deployed on the metro routes. "With adequate infrastructure, and more airlines coming in with the right kind of aircraft, small airports are likely to generate good revenues," he says.
...And Then Some
Besides the above factors, there are a few more that could help aviation revive after 2014. "A changed economic outlook is the first," says Kaul of CAPA. "Over the next 10 months, growth is projected to return to eight per cent, reviving travel activity."
Other factors could be more flexible use of airspace, better technology as airlines get fuel-efficient Boeing 737 MAX and Airbus A320neo aircraft in 2016, a focus on augmenting ancillary revenues, and a nationwide push towards rationalising the tax on ATF. K.N. Babu, CEO of regional airline Air Costa, says: "The government has promised reforms, and we hope they keep the promise for regional airlines, especially ATF tax reforms." Air Costa, based in Vijaywada, Andhra Pradesh, was launched in July - the first new regional airline in seven years.
On the government front, Indian airlines could benefit from the proposal to replace aviation regulator Directorate General of Civil Aviation with an independent Civil Aviation Authority, the government letting foreign airlines add more flights, and the easing of norms for domestic airlines to go international. At present, an airline must have 20 aircraft and complete five years of domestic flying before it can start international services.
"Aviation has the ingredients to be successful now," says an aviation consultant with an international firm who does not want to be named. "The government and airlines need to execute it properly and follow it up with structures on the ground."