Coshish, consisting of (from left) Shrikant Sreenivasan, Anish Nair, Mangesh Gandhi and Hamza Kazi, recently released its first album, Firdous Photographs by Nishikant Gamre
Big names such as David Guetta and Avicii - global giants of electronic dance music (EDM) - were dislodged from the top spot on India's iTunes dance charts in July by home-grown band Lost Stories. Band members Rishab Joshi and Prayag Mehta have done remixes for Grammy nominees Mark Schulz and Andy Moor. Joshi and Mehta's first single, False Promises, was promoted by famous Dutch DJ Tijs Verwest, better known as Tiesto, under the Black Hole Recordings label. The duo recently signed a three-album deal with Contraband, a joint venture between Universal Music, VH1 and Hard Rock Cafe which is a launch platform for independent musicians such as 22-year-old Joshi and 26-year-old Mehta. Their first album, Music for the # Generation, was released in July this year.

The money is not to be sneezed at. Mumbai-based Joshi and Mehta say they play at least four gigs a month, and make anywhere between Rs 75,000 and Rs 3 lakh in an evening. True, they are among the top in their niche in the country, but others are well paid, too. Mumbai-based alt rock band Color Compound, formed in 2009, makes Rs 25,000 to Rs 30,000 an evening, and does at least four to five gigs a month. Frontman Bradley Tellis says he and his three bandmates play regularly at music festivals such as Raagastan, Live On the Console and NH7 Weekender.


Bollywood accounts for more than 90 per cent of the revenues of the country's Rs 10.6-billion pop music industry, but non-Bollywood music is becoming serious business. Just five years ago, a music career would have seemed impossible to Tellis, Joshi or Mehta. "When we started five years ago, though there was interest in our kind of music, thinking about it as a career was a far cry," says Mehta.
Tellis, Creative Director at live events company Oranjuice, says a music career is still a risk, though that is changing. "There is definitely light at the end of the tunnel," he says. "More and more people are able to make a lucrative career out of music."
The number of bands making a living by playing non-film music - rock, Indipop, metal, jazz and the like - has risen from 10-15 in 2007/08 to more than 60 today. There are more than 60 venues in metro cities, says Sony Music's Managing Director Shridhar Subramaniam, where live music is played. On average, more than 600 shows are held around the country each month, not counting college festivals and events such as Sunburn and NH7 Weekender.
For example, Mumbai-based prog rock band Coshish has been playing on the college and festival circuit since 2006. Its first album, Firdous, released by Universal Music in September, was already among iTunes's top 10 most downloaded albums in India in a couple of months.
"Independent music has come of age - it has become serious business," says Devraj Sanyal, Managing Director of Universal and CEO (South-Asia) of EMI. He says that for the past three years, almost half of Universal's revenues have been from non-film music. "Earlier, almost 80 per cent of our revenue came from old Bollywood songs. Non-film was never our focus," he adds.
So what triggered this change? Perhaps the biggest reason is live music festivals such as Sunburn and NH7 Weekender. Sunburn happened by chance, says Harindra Singh, Managing Director of Percept Holdings, the entertainment company that started the annual event. "We had done lots of music shows before, and when my team came up with the ideas of Metal Fest and Sunburn, the former made more sense to me. We even got sponsors for the Metal Fest. My team told me Sunburn was all about EDM, and I had no clue what that was." Though the company lost money on both, Sunburn has survived the test of time, becoming the country's largest live music festival with revenues of Rs 75 crore last year. Singh is confident about making it a Rs 150-crore property this year. The festival has not only brought big names such as the Swedish House Mafia to India, but has also given local talent an opportunity.
Vijay Nair, CEO of Only Much Louder, the company that organises NH7 Weekender, says his festivals have gone beyond showcasing talent to create a music ecosystem of sorts. It helps that people are increasingly willing to spend for such events, he adds. He says NH7 Weekender in Pune in October drew 10,700 people over three days, compared to 2,000 when the event started in 2010. This, despite daily ticket prices being raised from Rs 1,500 to Rs 2,500, and three-day ticket prices going from Rs 3,000 to Rs 3,750.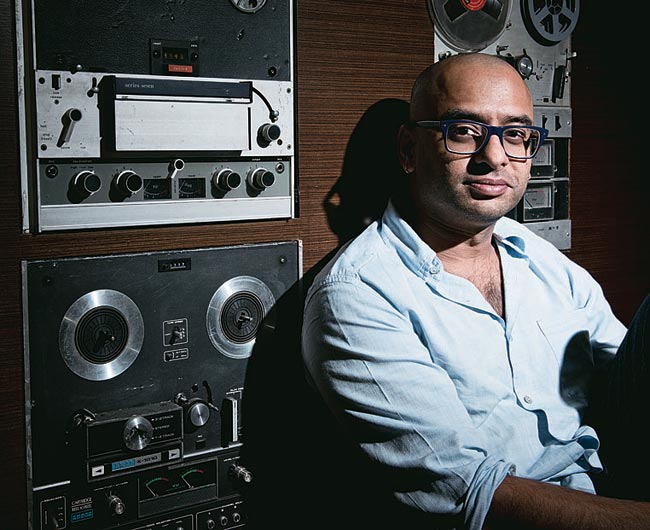 Bass camp
Increasingly, venues and events are supporting musicians. But there are few places to learn music. Nonfilm composer Ashutosh Pathak is trying to change that with his True School of Music, founded in Mumbai in September. It has partnered with schools in the US and UK to offer training in jazz, rock, the blues, and DJ'ing. It has already enrolled more than 100 students. Fees range from Rs 6,000 a month to Rs 6 lakh for an 18-month course.

"Our revenue this year has shot up by 35 per cent," he says. He adds that hotels and restaurants in the host city also get a revenue boost from the festival. "Over 10,000 room nights were booked in Pune during the festival, and clubs in and around the festival venue did sales close to Rs 30 lakh that weekend, as opposed to Rs 4-5 lakh during regular weekends," he says.
Besides festivals, venues such as Hard Rock Cafe (India has four) and blueFROG (one each in Mumbai and Delhi) have helped non-Bollywood music grow in India. Almost 70 per cent of these clubs' revenue comes from food and beverages, but the bands get a platform and customers get to hear independent music performed live. Simran Mulchandani, CEO of blueFROG, says his Mumbai club attracts nearly 10,000 visitors a month. It features live bands nearly every day, charges an entry fee of Rs 300 on weekdays and Rs 600 on weekends. If the artist is a big name, entry could cost as much as Rs 2,000. For Dutch trance music producer Armin van Buuren, the ticket price was Rs 5,000. "Indians are willing to pay for good music outside of films and this has led to the growth of the non-film music economy," says Mulchandani. The investment-banker-turned-entrepreneur's Delhi club hasn't done too well, but that hasn't stopped Mulchandani from planning to open clubs in Pune and Bangalore.
Tabla player Bickram Ghosh says that contrary to the industry's perception that Bollywood is Indian music, live shows are what sustains artists. "I played pure classical music for 15 years in the late 1980s and early '90s, and that was lucrative. Things are far more lucrative now, with more avenues opening up and more people appreciating independent music." Ghosh says that in the last few years his fusion band, Rhythmscape, has averaged six or seven shows a month.
The popularity of independent music is not limited to international genres. Indian folk, classical, Indipop and ghazals are also part of the surge. Soulful Melody, a five-member band based in Mumbai, makes a living out of folk songs, ghazals and bhajans in Hindi, Marathi, Sindhi and Urdu. The band is booked nearly every weekend, and makes Rs 35,000 per event. "I wouldn't mind a career in playback singing, but I'm happy with the shows that I am doing," says lead singer Jaishree Bhatija.
Another example is Sant Gurmeet Ram Rahim Singh Insaan, a spiritual singer from Haryana, who has sold over 75 lakh CDs, says Universal's Sanyal. He adds: "Independent music has immense potential. We at Universal are now pushing it like a monster."
Music companies can't afford to overlook independent music any longer, says Sony's Subramaniam. The company's Day 1 Entertainment division releases and promotes independent albums. Together with Oranjuice, it features first-time bands - typically college bands on the lookout for a commercial platform at its event Live On The Console, held every two months at Mehboob Studios in Mumbai. "We use this as a platform to pick up good talent and then groom it into successful bands."
Hungama Digital, the largest online aggregator of Bollywood music, does this online, via its platform ArtistsAloud.com, which promotes only independent music talent. The portal has launched more than 200 artists in its four-year existence. Business Head Soumini Shridhara Paul says it is not yet profitable, but adds that her company is serious about this business, given its immense potential.
The downside is lower, too, in the independent music business. Acquiring Bollywood music content can cost between Rs 50 lakh and Rs 12 crore, but the most expensive non-film content would cost under Rs 1.5 crore. "Ninety out of 100 films don't make money," says Universal's Sanyal. "If I do 30 non-film albums a year, chances are that only three or four may not work."
However, live shows are not an easy business, and most stakeholders aren't making money. Organising an event as large as Sunburn Goa costs $4-5 million. Big-name artists alone cost half a million or more each. Sunburn Goa, despite selling over 16,000 tickets (prices ranged from Rs 3,000 to Rs 9,000) last year, has yet to turn a profit. "We want to first drive up the total number of visitors and get to new cities," says Singh of Percept. "We will start driving profits by 2015/16."
Though costs are a concern, organisers and advertisers see too much potential to be daunted by them. Oranjuice is looking at creating an EDM event called UXX, targeted at consumers under the age of 20. "This is going to be a non-alcoholic venue," says Owen Roncon, Director, Oranjuice. He adds that the company is in talks with telecom and consumer product brands to support the event.
Percept is launching another format, called Bollyboom, which will feature EDM with a tinge of Bollywood. "Sunburn is the tip of the iceberg," says Singh of Percept. "There is a youth population of around 500 million, which only relates to Bollywood."
Could independent music outsell Bollywood? It will never do that, says Nair of Only Much Louder. "Our subset is about 10 million people. It may go up to 30 million. Bollywood's target will always be one billion."