A handful of entrepreneurs has realised that in the business of love, India could be where the proverbial rainbow touches the ground. There is no data on the online dating business in India , but globally, it is worth $4 billion (Rs 22,184 crore). Singles in neighbouring China, too, are hooking up online, and the market there is expected to reach $315 million by 2014.


"In many ways, the mindset of people in China and India is similar," says Anita Dharamshi, one of the founders of TwoMangoes.com. "We both come from traditional, conservative cultures and are now embracing a more progressive view on many things - in this case, dating, relationships and marriage." She says dating sites have been around in China for over a decade, while India is just getting started. But, she adds, there is no reason why India, with a younger population, won't surpass China.
"The US, a more mature market, sees growth of ... 12 to 15 per cent, so India could easily see growth rates upwards of 15 to 20 per cent for the next few years." The story of Stepout.com (formerly Ignighter.com), illustrates the potential of the online dating business in India. A couple of years after Ignighter.com was launched in 2008, US-based Adam Sachs, Dan Osit and Kevin Owocki found that their website was popular in India. "We had never anticipated this, so we decided to focus on India," says Sachs, who is now based in Mumbai. "This is still a relatively young market, but ... our analysis predicts that by the end of 2014 it will be more than $200 million a year."
The
dating site that he originally started for New Yorkers
now has 4.5 million registered users, of which 95 per cent are in India. By rough estimates, dating sites have some 25 million active members in India. "We saw that the market was saturated with traditional matrimonial sites," says Dharamshi of TwoMangoes.com.
ALSO READ:
Tips to set up your business online
"However, the whole idea of marriage and relationships was going through a revolution, and Indians, like their counterparts in the Western world, were looking to date a potential partner before making a decision about marriage." She started TwoMangoes.com with Rahul Bhardwaj and Paras Dharamshi, with some funding from Indian-Canadian entrepreneur Andy Jasuja.
Until recently, local searches on international sites generally threw up profiles of people soliciting escort services or worse. But the new Indian sites spend a lot of time keeping "creeps" away. "We have zero tolerance for anything that hurts our community," says Sachs of Stepout.com. "Our fourperson safety team monitors members 24X7 to weed out fakes."
Other sites use Facebook logins to fend off spammers. "We would rather people receive a limited number of messages from quality individuals that they can build a connection with," says Dharamshi of TwoMangoes.com.
Ravi Mittal, who quit his father's business to bootstrap QuackQuack.in, says up to five per cent of users have malafide intentions. "But with continuous monitoring, we evict them," he adds. "The key is to have a strong observation team."
ARCHIVE
:
Online specialty stores are catching on
Growing competition has prompted many sites to find a unique selling point. For instance, DateIITians.com focuses on students or graduates of professional courses, and Floh.in fuses online dating with offline events - for instance, yachting, or a sangria-making contest - where members meet. Floh.in is picky: you have to be an urban - and urbane - professional to get through the screening process, which is often done by CEO and founder Siddharth Mangharam himself. "Our events are highly interactive and are not available to the public," he says.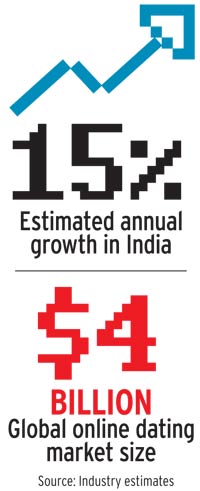 Membership is usually based on referrals, which makes it one of the rare services where women are in a strong majority. "I was introduced to Floh by a cousin who found his life partner through the service," says a Delhi member who joined six months ago. "Since it came highly recommended, I knew it was something I could trust." The 30-year-old has attended three Floh events. "I have good friends of both sexes whom I first met at Floh events."
"Even if you don't end up meeting someone in a romantic context, you will still have fun at these events," says Mangharam. His obsession with safety and quality means Floh has just 500 members spread over Delhi, Mumbai and Bangalore. They are 25 to 35 years old, and pay Rs 1,250 a month just for the subscription (events cost extra). Business is good, says Mangharam, who started the site with wife Simran Mangharam and Sid Misra. "We have been revenue-generating since day one, but don't disclose numbers," he says. "Our primary revenue stream is memberships."
MUST READ
:
How to earn from your online portal
Quackquack.in, too, charges for premium features, such as personalised messaging and unlimited chat. Users pay upwards of Rs 390 a month or Rs 2,650 a year. On Stepout.com, users can buy points to ensure better profile exposure and use premium features. "We offer a variety of options, from free, to monthly subscriptions, to our popular pay-as-you-go model," says Dharamshi of TwoMangoes.com. Users can buy a bucket of mangoes - the site's virtual currency - and use them to do various things on the site. Combine these revenue models with the low customer acquisition cost and manpower requirements, and you have a love story made in India.