On a wintry evening in December 2005, Prithvi Haldea received a phone call from an industrialist friend. The Delhi-based friend sounded worried. He sought help from Haldea, Founder-Chairman of primary market tracker PRIME Database, to find an independent director for his Rs 700-crore company.

The matter was urgent because the Securities and Exchange Board of India's (SEBI) January 1, 2006, deadline for listed companies to appoint non-executive directors was fast approaching. The friend called again a day later to inform Haldea he was appointing Ram Lal, his barber, to the board. Haldea was dumbfounded. He asked his friend how he would justify the appointment to shareholders. SEBI, the industrialist said, hadn't prescribed any qualifications for independent directors. "We are describing him as an expert in personality development," he told Haldea. Neither the company's shareholders nor SEBI raised any questions over the barber's appointment.


Naming a barber to the board may have been an extreme case, but the incident highlights how lightly some Indian companies take corporate governance issues. The situation hasn't changed much nearly eight years after SEBI modified a key clause of the listing agreement that companies sign with stock exchanges. The modified Clause 49 required, among other conditions, listed companies to constitute boards with at least 50 per cent independent directors. The aim was to improve governance and financial disclosure standards at companies.
Has the regulator succeeded? And are independent directors really independent?
In theory, the role of independent directors is to bring objectivity to the board, protect the interests of minority shareholders, and improve risk management. In reality, this rarely happens in India. Independent directors have proved ineffective in improving governance and preventing corporate fraud. The reasons vary. Some non-executive directors stay on a board for decades while some others sit on multiple boards, hampering their ability to effectively scrutinize management decisions. A lack of will among company founders or dominant shareholders to improve governance has also affected independent directors' functioning. Weak regulations haven't helped either.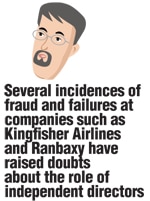 A study released on October 20 by proxy advisory firm InGovern pointed out that, as of March, at least 10 independent directors had been on a board for 20 years or more. These included industrialists Keshub Mahindra and Nusli Wadia as well as renowned lawyer R.A. Shah. Mahindra, Chairman Emeritus at automaker Mahindra & Mahindra, was on the board of mortgage lender Housing Development Finance Corporation for 36 years - he stepped down on October 21. Wadia, Chairman of textile company Bombay Dyeing, has been on the board of Tata Steel for 34 years while Shah has been an independent director with Colgate-Palmolive India for 30 years. "Serving a board for a long duration impairs an independent director's ability to challenge management decisions," says Amit
Tandon, Co-founder of proxy advisory firm Institutional Investor Advisory Services.
Clause 49 suggests a maximum tenure of nine years for independent directors. But it's not mandatory for companies to stick to this limit. The Companies Act 2013 changes that. The law caps the tenure at two consecutive terms of five years each. Directors can be reappointed after a three-year gap. Dilip Thakkar, a chartered accountant by profession who sits on around two dozen boards, argues that tenure does not interfere with a director's freedom to challenge management and that the new law will create a shortage of non-executive directors. "The government is trying to curb demand [for independent directors] without creating supply," he says.
HARDLY INDEPENDENT
A recent incident that raises doubts about the role of independent directors involves Subodh Kumar Agrawal, President of the Institute of Chartered Accountants of India, the country's accounting regulator. Agrawal has been an independent director at Gujarat NRE Coke for 12 years and heads the board's audit committee. He found himself in hot water when proxy advisory firm Stakeholders Empowerment Services (SES) raised questions about the company's audit process.
SES says the company's auditor - N.C. Banerjee & Co. - certified the consolidated accounts for 2012/13 by auditing only nine per cent of its assets and over 33 per cent of revenue. The remaining assets and revenue belong to the company's Australian units, whose auditor - Grant Thornton - had asked for more time and audit evidences to certify the accounts. The audit panel passed the accounts on May 30 without questioning the process the Indian auditor followed. Agrawal was not available for comment despite repeated attempts.
Film distributor Eros International Media is another company with eminent people - Naresh Chandra, Shankar Acharya and Dhirendra Swarup - as independent directors. Chandra is a former cabinet secretary and India's ambassador to the US. Acharya is a former chief economic adviser to the finance ministry. Swarup is a former chairman of the Pension Fund Regulatory and Development Authority. Still, the company has defaulted on its tax payments. As of August, Eros owed Rs 43.2 crore to the government in undisputed taxes, according to SES. The payments have been due for a long time - value-added tax from 2006/07 to 2011/12 and service tax from 2000/01 to 2010/11. Email queries to the company did not elicit any response. Chandra refused to comment specifically on Eros, but said that payment delays "happen in some companies".
Suresh N. Talwar, who sits on the boards of top companies such as Larsen & Toubro and Biocon, says independent directors have their limitations. "We meet four times a year for a couple of hours. In board meetings, everything that's presented to us looks fine. We never come to know of any problems."
Nick Paulson-Ellis, CEO of brokerage Espirito Santo Securities India, says controlling shareholders - whether in a multinational corporation, a state-run firm or a private company - do not like to be challenged by outsiders. "It takes a lot to challenge executive decisions in such a scenario," he says.
Chennai-based Sun TV Network is a case in point. As of June, its promoters own 75 per cent of the media company. Even though Sun TV's remuneration committee is headed by independent director J. Ravindran, its wages are heavily skewed in favour of its promoter directors. In 2012/13, the company's 1,916 employees together earned Rs 85.7 crore, or Rs 4.5 lakh on average. In comparison, the promoter directors - Kalanithi Maran and Kavery Kalanithi - each got Rs 56.2 crore as salary and perks. This is a whopping 1,250 times the average staff salary. "It clearly shows the independent directors have failed to implement fair remuneration policies," says J.N. Gupta, Managing Director at SES. Ravindran didn't respond to a request for comment.
CORPORATE MISGOVERNANCE
Corporate governance came into the limelight in India after an accounting scandal at software exporter Satyam Computer in 2008. The scandal highlighted the need for a strong board with vigilant non-executive directors. Since then incidences of fraud and failures at companies such as Kingfisher Airlines, Ranbaxy Laboratories and S. Kumars Nationwide have raised concerns about the functioning of independent directors.
Kingfisher had five independent directors, including former SEBI chief G.N. Bajpai, who quit between September 2011 and March 2012. Bajpai was appointed to the board of group company United Spirits a few days after he left the Kingfisher board. The airline was grounded in October because of massive debts and failing to pay salaries and taxes for many months. The same month, HMX Acquisition Corp, the US unit of textile company S. Kumars Nationwide, filed for bankruptcy. Its board included former SEBI chief M. Damodaran as an independent director. Damodaran and two other non-executive directors, Suresh N. Talwar and D.D. Avari, resigned soon after the bankruptcy filing.
In May, Ranbaxy agreed to pay a record $500 million fine to settle allegations that drugs from two of its factories did not meet regulatory standards and that it had submitted false data to US authorities between 2003 and 2010. The independent directors on Ranbaxy's board when the alleged malpractices took place were noted investment banker Nimesh N. Kampani, former Procter & Gamble India CEO Gurcharan Das and industrialist Vivek Bharat Ram. Rajesh Shah, an independent director with Ranbaxy for about five years, says there is nothing wrong with the board's functioning. "The board of Ranbaxy is doing what is expected from it," he says.
Chandra, the former cabinet secretary, says the debate on independent directors is "over-influenced" by corporate fraud. Chandra, who sits on the boards of 10 listed companies, says Satyam's auditor was accounting giant PricewaterhouseCoopers. Also, the company, which was listed in New York at the time of the scandal, was governed by the Sarbanes-Oxley Act, a US law aimed at protecting investors and preventing fraud. "What better can you bring?" asks Chandra. "If big business houses commit fraud, independent directors cannot do anything."
Thakkar says independent directors resign because they are scared they will be held accountable for things beyond their control. This fear stems from the fact that the listing agreement does not mention anything about the liability of independent directors in case of corporate fraud. The Companies Act, however, specifies that independent directors will be liable only for their own actions and not for all executive decisions. "It's a right step that will take away fear from their minds," says Richard Rekhy, CEO of consulting and accounting firm KPMG India.

OVERWORKED, OVERPAID
An important issue that worries corporate governance watchdogs is what they call "directorship overload". Clause 49 does not limit the number of boards a person can join as an independent director. The Companies Act 2013 has tried to address the issue. It says a person can join no more than 10 listed companies and 20 overall as a non-executive director.
Sridar Iyengar, an independent director at Mahindra Holidays, Dr Reddy's Laboratories and Rediff.com, says even 10 boards are too many. "The agendas are so voluminous these days that it is important to come prepared for meetings," he says.
Another contentious issue is remuneration. Some experts say companies should adequately compensate non-executive board members while others argue that high remuneration harms their objectivity. "We are paid Rs 20,000 per meeting. I can make three times of that amount in an hour," says Thakkar. The Companies Act has raised the cap on the sitting fee to Rs 1 lakh per meeting from Rs 20,000.
The new law has, however, done away with stock options, which are allowed under the listing agreement. Omkar Goswami, founder of consultancy CERG Advisory, says this could prevent start-ups and companies that do not make a profit in initial years from attracting good independent directors. "Companies like Google and Netscape gave stock options to their directors in the formative years," adds Goswami, who is an independent director with eight listed companies in Business Today's ranking of 1,000 largest companies in India in terms of market capitalisation and makes Rs 2.68 crore a year from these companies alone.
Vishesh Chandiok, National Managing Partner at Grant Thornton India, says compensation needs to be enough to attract young professionals. According to a PRIME Database analysis of 1,465 companies listed on the National Stock Exchange and 197 unlisted companies, more than 91 per cent of independent directors are above 45 years. "People choose to become independent directors very late in their careers and that's why it's difficult to find young people joining company boards," says Paulson-Ellis of Espirito Santo. "The entire ecosystem has to change for independent directors."
A NEW ECOSYSTEM
So, how will the ecosystem change?
The Companies Act requires companies to form nomination committees that will choose independent directors from a database the government will prepare. But doubts remain about its efficacy. "There are fears the database is nothing but a trick to push the government's candidates in the corporate sector," says former bureaucrat Chandra. "This is worrying companies."
PRIME Database's Haldea says even a nomination committee cannot ensure a fair selection of candidates. "No promoter will induct a stranger on the board," he says. Companies' founders or dominant shareholders will continue to influence the selection process because the law prohibits appointing only a certain set of people who are related to a company or its founders, he adds.
Unlisted companies take corporate governance even less seriously. According to PRIME Database, between April 2006 and September 2012, various companies appointed 92 independent directors in the month prior to filing their public offer documents with SEBI.
KPMG's Rekhi says independent directors should be told their key responsibilities at the time of appointment, a practice followed in Australia, Singapore and the UK.
Experts say SEBI should also punish companies that flout corporate governance norms. Clause 49 empowers the regulator to suspend share trading and even delist the defaulters. But it hasn't done so thus far. For instance, when Kingfisher Airlines missed its 180-day deadline last year to appoint new independent directors, the regulator did not take any action. A SEBI official, who does not wish to be named, says the regulator has been taking steps to improve corporate governance standards. SEBI is also examining the recommendations of a panel tasked with suggesting changes to Clause 49 so that it conforms to the new Companies Act, he says.
Tighter regulations, however, will matter little if independent directors don't assert themselves. "There are so many overleveraged companies in the country but no independent director expresses concern," says Grant Thornton's Chandiok. "They need to continuously question management decisions."
With research inputs from Jyotindra Dubey